Why we still can't quite believe this holiday destination is actually British soil
Looking for a staycation where you can snorkel with seals, walk on white sandy beach and have major bragging rights on Instagram? Enter Isles of Scilly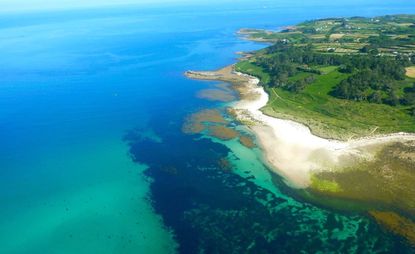 Looking for a staycation where you can snorkel with seals, walk on white sandy beach and have major bragging rights on Instagram? Enter Isles of Scilly
28 miles off the coast of Cornwall are five inhabited islands (and 140 others) that are simply like nowhere else you've been to in England.
Filled with palm trees, white sandy beaches, clear water and over 500 grey seals, it's easy to forget where you are. Some have jokingly called the Isles of Scilly 'the Caribbean of the UK' and tbf, I'd have to agree.
Why go?
Boasting under 3,000 inhabitants, split across the five islands of St. Mary's, Tresco, Bryher, St. Martin's and St. Agnes, I'm almost loathe to tell anyone about this hidden treasure because of how uncrowded and unspoilt it is.
Nothing quite takes you away from daily reality like somewhere like this. There are no big resorts, or water parks, or anything like that. Instead, you're met with cosy and hearty pubs, one supermarket, historical accommodation and miles of undisturbed coast - with the mildest climate in the UK.
Populated since the Stone Age yet still offering deserted beaches and miles of walking without seeing a soul, you might wonder where everyone is - but don't worry, once you find yourself island-hopping via boat, you'll see where all the crowds are.
Accommodation
We stayed in a family run hotel on St Mary's island (where the airport for Isles of Scilly is) that just happens to be inside a sixteenth century castle overlooking the Archipelago.
Historical buffs should stay inside the original rooms at the Star Castle Hotel, while outdoor lovers (and dog-owners) can opt to stay in the more modern garden rooms which overlook the four acres of secluded gardens, and of course, the beach.
And, you can quench that fitness thirst with a game of tennis or a lap in the indoor swimming pool.
The room
Suitably decorated like a British seaside home, our Garden Suite was as spacious as it felt cosy. The veranda, overlooking the harbour, was the perfect spot for star gazing after sunset.
The food
Head to Tresco, where there are no cars (only a universal taxi service in an open-back truck that'll make you feel like you're in Disneyland) to sample local delicacies at The Ruin Beach Café before venturing around the horticultural heaven Tresco Abbey Garden, which boasts over 20,000 plants from around the world and a whole heap of rarely-seen red squirrels.
And, when you're back on St. Mary's, go hearty haute cuisine at Star Castle's restaurant (with an aperitif in their dungeon bar beforehand) or head to popular St Austell Brewery hotel and inn The Atlantic for some proper pub grub.
The vibe
Pack trainers, walking boots, swimwear and anoraks for your day adventures and smart casual Sunday-like garb to head to dinner after as the Scilly isles are relaxed but also chock full of suited and fancy elderly couples down for a chat.
Don't miss
From March/April until the end of September, Scilly Seal Snorkelling offer three-hour trips from St Martin's around the Eastern Isles. The owner Anna, will humbly tell you that she can't guarantee how many seals you'll get to see or interact with, but the fact is, you're probably going to see a lot.
My personal highlight of the weekend in the Scilly Isles, I welcomed the water in my double wetsuit, complete with hood, gloves and boots, as I flopped myself in. Looking far out to the coves and uninhabited beaches, you'd be forgiven for mistaking the sheer amount of seals on the beach for rocks. Whether you're underwater or above it, you'll see them swirling around, nibbling at your fins, and curiously popping their heads up to check what you're doing. The whole experience is surreal and definitely one I'll never forget.
After snorkelling with seals in St. Martin's, you definitely deserve a glass of wine (or two) and a ciabatta at Seven Stones Inn, which just happens to be the only pub on that island but thankfully, the views are so plush, why would you need to go anywhere else?
Getting there...
The saying 'the journey is the destination' rings true when it comes to getting to the Isles of Scilly.
My adventure started the moment I boarded the Great Western Railway train from London Paddington to Exeter St David's, with glorious views of the British rolling countryside, naturally.
And, you can fly with Isles of Scilly Travel from Exeter (in under an hour), Newquay (30 minutes) and Land's End (15 minutes) Airports where you'll board a tiny Skybus plane (it sits around nine) and on a clear day, you'll be able to take in aerial views of the cluster of islands.
To book your journey, visit islesofscilly-travel.co.uk Trains from London Paddington to Exeter with Great Western Railway start at £18.50, gwr.com. To discover more about the Isles of Scilly, go to visitislesofscilly.com.
Fly to St. Mary's with Skybus year round from Newquay and Land's End Airports, and between March and October from Exeter Airport. Prices start from £140 return from Land's End Airport.
Celebrity news, beauty, fashion advice, and fascinating features, delivered straight to your inbox!