If This Woman Doesn't Inspire You To Try Something New, Who Will?
Hannah White has sailed the Atlantic solo three times, presented at the 2012 Olympics and has landed her own TV show. All by the age of 30.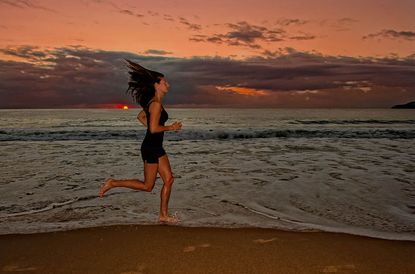 Hannah White has sailed the Atlantic solo three times, presented at the 2012 Olympics and has landed her own TV show. All by the age of 30.
Ever since the London Games there has been a drive to get more women involved in sport and, more importantly, for women in sport to be taken seriously. We caught up with the seriously ambitious adventurer Hannah to chat about working in a male-dominated industry, being inspired by Margaret Thatcher and what it's really like sailing the Atlantic.
Describe your typical working day. I get up between 6 and 6.30, so I have time to get some training in before the working day starts. I love an early morning run or cycle, but it's not always easy to get out of bed! I make myself (and the crew sometimes!) a green superfood smoothie and quickly check my emails before we start filming. Once we have finished filming it's back to the office for more meetings and emails about other projects on the horizon. I try to get some more training in in the evening, then it's back home for a catch up with my boyfriend, and some supper.
What was it like to be involved in London 2012? I was a commentator and presenter for the sailing down in Weymouth. It was two of the best weeks of my life! The sun was shining, the country was on a high, and my job was to watch the sport I love and get the 5000 daily spectators excited. I remember sitting on the grass with my microphone, with Ben Ainslie's friends and family, watching him win another gold medal – and then got to interview him, as Ben is a friend, this was a huge life moment for me. Oh, and meeting and interviewing Lord Seb Coe was a pretty special moment, too!
Tell us about sailing the Atlantic - three times... Sailing the Atlantic solo is never easy, but half the battle is getting to the startline. If you don't have enough funding it's a very difficult thing to do successfully. The first time I attempted it, I didn't make it to America. I was young, inexperienced, underfunded and a crucial piece of equipment onboard malfunctioned and in the middle of the Atlantic. I had to turn back, tail between my legs and defeated. This was the most important lesson I have ever learnt. The next time I attempted it, I was more experienced, confident, and a better sailor. Unsurprisingly I was successful with my second attempt, and it was the best experience of my life.
How would you encourage more women to get involved in sport? Doing a course is a great way to learn the basics and meet a few like-minded people and from there you will be able to confidently be part of a team on and off the water. Yacht Clubs are a great place to get involved. If you are enthusiastic, committed and keen then regardless of your ability, you will be respected for your attitude.
What have you learnt along the way? It is okay to ask for help.
What's your pay day splurge? A trip to Whole Foods, to stock up on lots of exciting superfoods and, as my boyfriend describes them, strange green powders! Do you count your colleagues as friends? Absolutely, I am away working so much that if you don't socialise with your colleagues then you end up sitting in your hotel room seeing no one! I think it's super important to build a trusting relationship with the people you work with, but you still have to maintain the professionalism.
How would your colleagues describe you? Fun, ambitious, professional, hard-working, strong and, I'm sure, slightly annoying at times!
How do you find working in a largely male-dominated industry? 99 per cent of the time, I love it. Guys are generally easy to work with and get along with. You have to be able to take the banter, and rise above the put-downs, or the attention (good and bad) that comes with being a woman in a man's world. More and more women are getting into sport, and I believe it really is no different to any other industry: if you work hard, are good at what you do and earn your stripes then you have every right to succeed whatever your gender.
Who inspires you? Margaret Thatcher is someone who I really take a lot from. I don't agree with all her decisions as a politician, but as an ambitious, driven woman she never stopped believing. A lot of my inspiration comes from people close to me. I try and see what drives people, their wonderful qualities and what makes them tick and then translate that into my own life.
What are your handbag essentials? My Bose headphones, my make-up bag, a water bottle, chewing gum and some gorgeous handcream.
We're obsessed with getting a work/life balance. How do you do it? I would say taking time off is my biggest weakness. It's something I am consciously trying to improve. I have a tendancy to work myself into the ground, and never stop.
What's your plan B? I don't ever have a plan B. I have always believed that plan A would happen, and if it doesn't then you just create another plan A. Plan B is just accepting that failure is a possibility. I don't live that way.
Tell us your five-year plan. I want to continue to grow my business, continue to do more exciting adventures, and hopefully open the eyes of the public to the healthy, and exciting, world that exists outside of computer games and fastfood joints. I want to continue to inspire people, help them believe that anything is possible with some hardwork and belief.
New adventure challenge series 'Go Hard or Go Home' devised and presented by Hannah White will air on Channel 5 in October.
Follow Hannah on Twitter: @hannahwhiteuk
What's it REALLY like working with your mum?
9 ways you can use social media to get your dream job
Celebrity news, beauty, fashion advice, and fascinating features, delivered straight to your inbox!