Yoga could cure your back pain
Yoga not only helps you relax but could also be more effective in treating back pain than physio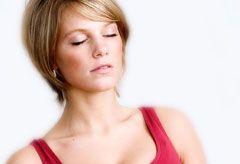 Yoga not only helps you relax but could also be more effective in treating back pain than physio
Yoga is known to help relax the mind and body through a series of stretches, but it could also work as a remedy for back pain.
Patients suffering from a common form of lower back pain claim that after three months of yoga classes they were able to perform daily chores they were previously unable to undertake due to back pain.
A team from the University of York looked at the effects of yoga on around 300 patients with chronic lower back pain and found that after three months of doing yoga classes they were able to complete 30 per cent more daily activities than those who had continued to seek other treatment.
'We're delighted that our trial has shown that yoga provides such positive benefits for people with chronic low back pain,' says Professor Alan Silman, Medical Director of Arthritis Research UK.
'This extremely common condition cannot be managed with painkillers alone and there is an urgent need to have non-drug therapies that sufferers can utilise in their own home.'
Around 80 per cent of Britons will suffer chronic lower back pain in their lives so perhaps it's time to roll out the yoga mat.
Celebrity news, beauty, fashion advice, and fascinating features, delivered straight to your inbox!