The bra for your bottom
Give your rear a lift with the new bottom bra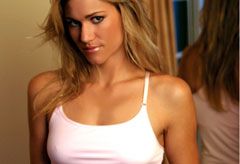 Give your rear a lift with the new bottom bra
Is your rear letting you down? Maybe it's time to try the bottom bra?
Well, maybe not, too. After all, have you seen this thing?
Designed by professional psychologist Karin Hart (yes, we couldn't believe a woman came up with this either), the 'Biniki' apparently instantly delivers shape and tone to your bottom.
'The Biniki buttocks support idea came to me at a moment of personal need,' claims Hart. 'One look in the mirror after some rapid weight loss showed me the unhappy truth, my bottom was sagging.'
So how exactly did she come up with the end product, which features rather unattractive straps and pulleys around your bottom?
'Trying to find a design led me to buy some self-adhesive tape,' she goes on. 'Then working with a mirror and adjusting the tape into several configurations I found one that resulted in just the right support in the right places. Little did I know I had engineered one of the basic concepts for my future Biniki patents.'
On sale in the States for $30, there is also a Maniki version and a Throng, for women who usually like wearing thongs.
Somehow we don't think we'll be stocking up next time we're in New York.
Celebrity news, beauty, fashion advice, and fascinating features, delivered straight to your inbox!