5 Unusual Superfoods To Try In 2015
Here are the five superfoods you need to get on your plate for 2015...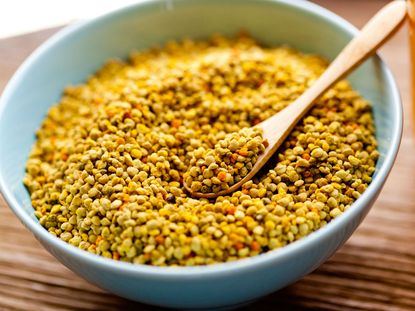 Here are the five superfoods you need to get on your plate for 2015...
We asked nutritionist Yvonne McMeel to talk us through the key benefits of 5 superfoods you have to try in 2015.
Charcoal
'Charcoal, or activated carbon, has been used for thousands of years. It's 100% alkaline and is great for helping the detoxing processes and freeing the body of harmful free radicals. It's known to benefit the intestines and helps alleviate symptoms of IBS, such as stomach bloating, flatulence and foul-smelling odours. Despite its dark appearance, activated carbon is actually great for teeth-whitening, removing acidic plaque and stains, so try dipping a little onto your toothbrush.'
Kelp
'Kelp is an edible vegetable from the sea, low in carbohydrates and fat. It's a rich source of iodine and electrolytes, such as sodium, calcium, potassium and magnesium, as well as protein, making it a great post-workout snack. Iodine deficiency often goes undiagnosed but symptoms have been linked to hypothyroidism, which can contribute to a lack of energy, weight gain or stagnant weight loss.'
Bee pollen
'Bee pollen is made by honeybees and is often considered one of nature's most completely nourishing foods, as it contains nearly all of the nutrients required by humans. Bee-gathered pollens are a rich source of vegetarian-friendly proteins as well as a range of vitamins, particularly the stress-reducing B complex group and folic acid. As a result of this, bee pollen is great for improving energy. Used topically, it can also be used to relieve inflammatory conditions such as psoriasis or eczema, and can also help those suffering from allergies and respiratory conditions, such as asthma. Finally, bee pollen contains digestive enzymes to help break down food and improve gut microbiota, aiding the immune response and improving digestion.'
Freekeh
'Freekeh is similar to barley, an unripe wheat that is often roasted to create a nutty, chewy texture. It's great in comparison to other grains, as it contains about three times more fibre and protein compared to brown rice, and is also low in sodium. In addition, freekeh is a low GI grain, making it ideal for those wanting to control their blood sugars and manage Diabetes.'
Oat milk
'Oat milk is a great staple for those who cannot tolerate cow's milk or don't like the taste of nut and soya milks. It can be used in the same way as traditional milks and is great for those following a vegan diet. It's also a good low fat alternative to cow's milk and low in saturated fat, so perfect for those concerned about their cardiovascular health. Finally, it contains a small amount of protein and is fortified with calcium, required for strong bones and teeth.'
Celebrity news, beauty, fashion advice, and fascinating features, delivered straight to your inbox!