Skin cancer pill available in Britain
A pill which doubles skin cancer survival rates will go on sale in Britain today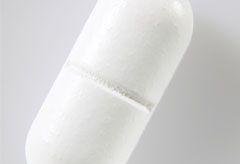 (Image credit: Rex Features)
A pill which doubles skin cancer survival rates will go on sale in Britain today
A breakthrough skin cancer pill will go on sale today in Britain with the potential to double the length of time patients with advanced skin cancer can survive.
Oncologists say the drug, marketed by drugs firm Roche as Zelboraf, will transform the treatment of advanced malignant melanoma.
Trials have shown that taking the pill twice a day can increase survival rates of those with advanced skin cancer by as much as eight to 10 months.
Doctors are also hailing the pill for it's ability to increase energy levels and decrease pain for patients with the disease.
'This drug is a massive difference in what we have had before,' says Dr Paul Nathan, consultant medical oncologist at the Mount Vernon Cancer Center in Middlesex. 'We've never seen anything like it.'
While most tumours are removed from patients before the cancer spreads, a fifth of sufferers are diagnosed too late and only half of those survive longer than six months.
An international trial shows the drug can boost the proportion of sufferers surviving to six months by an incredible 84 per cent, while another study shows a median survival rate of 16 months.
Chief executive of The Royal Marsden Hospital in London, Cally Palmer says: 'This is an important and significant step forward for the treatment of patients with advanced melanoma.'
Every year, 11,000 people in Britain are diagnosed with malignant melanoma.
Celebrity news, beauty, fashion advice, and fascinating features, delivered straight to your inbox!