'My dad was the most positive person I knew, but he took his life'
84 British men commit suicide every week: Beth Campagna, founder of Mama Life London, opens up about her father, John, who took his own life in 2011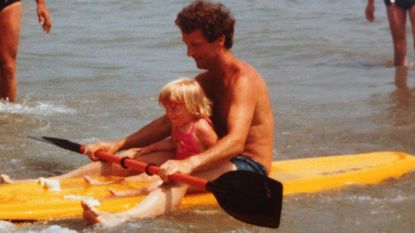 84 British men commit suicide every week: Beth Campagna, founder of Mama Life London, opens up about her father, John, who took his own life in 2011
'I heard if they talk about suicide they won't do it.' said a concerned friend of mine after her friend confided that he'd been having suicidal thoughts. This of course is a dangerous myth, a myth that I wish was true.
Seven years ago, on the 25th of June, my dad took his life. I can't explain the sickening feeling when the paramedic broke the news. Words are powerful, but no words are a match for the tumbling of your world.
The fear that he would one day fulfil his own prophesy was now real. The thoughts he shared privately with us were true. Two weeks earlier, we were all enjoying a family holiday in Ireland. It was his treat to us all ahead of his 65th birthday. It's with the benefit of hindsight that I realise it had been organised by him as a final hurrah
The first evening in a remote pub on a peninsula in County Cork we had an amazing glimpse of the care-free man we knew. He loved to sing and joined in with the locals and the band as they belted out traditional Irish music. That night my husband asked my dad's permission to marry me and for a few hours, in that bubble of fun and happiness, it felt as though things could be fixed.
However, dad was suffering with chronic insomnia. When he got back home his mood shifted, as the fear of hours without sleep stretched ahead of him. That holiday there were occasional moments when he looked completely lost in dark thoughts. His light was slowly being dimmed.
The positivity my dad had always pumped into me, the importance of self-belief and having a positive outlook is the tact I thought was best to take with him. I bought him a 'Happy Book' to journal the things he did in a day that made him happy, I wrote my own list of all the things for him to be happy about and told him how much everyone loved him. When he slipped into his really dark thoughts I would hit him with the guilt stick: 'I'm pregnant, you'll meet the baby soon. What about Sonny? (my 10 month old nephew). It's yours and mum's Ruby Wedding Anniversary in September you could do something nice together.' But it's not until you help someone struggling through mental illness that you find out the 'glad game' doesn't work with depression. It doesn't change the dark thoughts in their head, it just adds an extra layer of guilt.
When we returned from holiday, we arranged for a counsellor to see him. The man told him in the session that he wouldn't be able to help him, and so the isolation and loneliness deepened.
Dad didn't want us to tell anyone about his battle with mental health, he was ashamed and embarrassed about the stigma of it being an illness for someone with a weaker character. But how strong is the person who has to wake up everyday and face those constant battles?
On the brightest of summer days we shared our last cuddle and wave goodbye as he fell into the crippling trap of darkness.
My life after that was a mixture of the best and the worst times. Three days before my 30th birthday my son, Teddy, was born. He became my little light and saved me from spiralling into my own desolation.
As time went on my husband and I decided we wanted to try for another baby. But with no explanation we struggled to conceive for over two years. The strain of trying for a baby was beginning to weigh down heavy on me, it felt as though life was dealing me another bad hand. Then after two years, we finally had the good news we were waiting for, I was pregnant.
We were so overjoyed. We went for an early scan, and as we waited we discussed the possibility of twins. As I lay on the bed the ultrasound technician looked concerned, he couldn't detect the baby's heartbeat. We were told I would have a miscarriage, which I did at 10 weeks.
Once again, my world came tumbling down. I tried to crack on and went back to work, but everyday I felt like I was shedding pieces of my old happy life I had before everything began falling through my hands like grains of sand. I didn't smile as much, I didn't feel truly happy anymore, I struggled to remember the last time I went a week without crying. I couldn't focus at work and I took comfort in being at home with my son.
One day, I met my mum for a coffee and said that I noticed on my ovulation calendar that if I fell pregnant that month the baby's due date would be my dad's birthday, the 8th July. By a freaky coincidence I did fall pregnant that month, six months after my miscarriage, two and a half years after we first tried.
On the 7th of July I went into labour, and the contractions were so strong and close together by the evening that we all felt sure the baby would be born that day. My daughter Isabella was born on the 8th of July, my dad's birthday. From that night, the pain of the last four years began to slowly ebb away.
Six years on from when my dad died, I finally felt prepared to embark on raising awareness on mental health issues. I completed the Three Peaks Challenge on the anniversary of his death, and in November 2017, I launched the slogan brand Mama Life London, which aims to raise awareness of mental health issues through blogging and donating money from the sales of clothing to the mental health charity Mind.
Improving people's understanding of mental illness and encouraging a more supportive view is the driving power for Mama Life London. My dad's determined mindset and my family's experiences over the last eight years continue to inspire me to use the platform as a power for positive change. It can't change what happened in my life, but there is the hope that it can support somebody else.
Mind's Infoline is open 9am to 6pm, Monday to Friday on 0300 123 3393. For urgent medical advice, call NHS 111.
Celebrity news, beauty, fashion advice, and fascinating features, delivered straight to your inbox!
The leading destination for fashion, beauty, shopping and finger-on-the-pulse views on the latest issues. Marie Claire's travel content helps you delight in discovering new destinations around the globe, offering a unique – and sometimes unchartered – travel experience. From new hotel openings to the destinations tipped to take over our travel calendars, this iconic name has it covered.