Laughter is the best medicine
Having a giggle doesn't just improve your mood but also helps combat pain - but only if its genuine laughter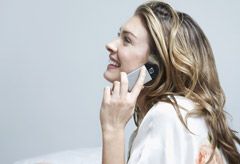 (Image credit: Rex Features)
Having a giggle doesn't just improve your mood but also helps combat pain - but only if its genuine laughter
A good giggle could help people feel less pain as it causes the body to release chemicals that act as a natural painkiller.
By testing the pain thresholds of volunteers, researchers at the University of Oxford found that subjects who had recently experienced genuine belly laughs were able to withstand up to 10 per cent more pain than those who hadn't.
The scientists also insisted the type of laughter was important. Professor Robin Dunbar who led the research believes that uncontrollable laughter releases chemicals called endorphins into the body that generate mild euphoria that reduces pain.
'It's the emptying of the lungs that causes this effect,' he says. 'It's exactly what happens when we say 'I laughed until it hurt'. It seems to be extremely painful and it's that pain that produces the endorphin effect.'
Professor Dunbar's theory also suggests that as well as dulling pain, endorphins make people more susceptible to developing bonds. 'The next stage will be to see whether laughing really allows groups to bond together and work as a group better.'
If this turns out to be the case, it could explain why the first humans were able to form large tribal communities of up to 100 compared to apes and ape-like creatures that existed around the same time.
Celebrity news, beauty, fashion advice, and fascinating features, delivered straight to your inbox!