I'm a top nutritionist who constantly gets asked for her go-to healthy dinner recipes - 10 meals I make on repeat
*Bookmarks for later*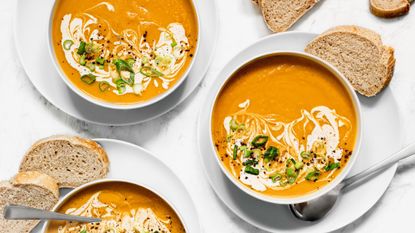 (Image credit: Getty Images)
Autumn is officially here and with it, the season of warming and comforting winter food. As the temperatures drop, so too does our appetite for cold summer salads, fruit-packed smoothies, and ice cream - instead, we're all here for veg-packed soups, warming chillis and bangers and mash.
That said, the shift in the season can be a bit disconcerting as you rack your brains for recipes you enjoyed this time last year. If you're not sure where to start or just fancy some recipe inspiration, below a top nutritionist shares her go-to healthy winter dinner recipes.
That's right - Lauren Windas, nutritionist and founder of Ardere, has shared her go-to comfort dishes that are nutrient-dense, too. "When many envision winter comfort food, they assume it'll be inherently unhealthy - winter is often associated with indulgence, after all," shares Windas. "But the reality is that this doesn't have to be the case. We can find comfort and nourishment in winter dishes while tending to our health and wellbeing goals at the same time."
So, what should you look for when looking for nutrient-dense winter recipes? Windas shares her take: "You want to be looking for meals that provide a balance of all three macronutrients – ensuring there is a source of protein, slow-digesting carbs, and healthy fats." Most importantly, make sure to aim for lots of seasonal winter vegetables, too - think leeks, carrots, squash, or sprouts, she recommends.
Ready to bookmark her go-to healthy winter dinner recipes? You're in the right place. Keep scrolling - and don't miss our guides to nutritionist-approved healthy breakfast ideas and MC UK's go-to healthy meal delivery services, while you're here.
10 healthy winter dinner recipes to try tonight
1. Winter vegetable buckwheat crostata
What a nutritionist thinks? Ever heard of a crostata? It's a rustic tart with a flaky golden crust. FYI. "What's great about this dish is that it includes buckwheat flour, a healthy wholegrain which is an excellent source of resistant starch," shares the nutritionist. "Resistant starch is a type of fibre which ferments in the gut to produce compounds called short-chain fatty acids. These have soothing and protective inflammatory-fighting effects on your gut lining."
Other need-to-knows: This dish also includes leeks and fennel, both of which provide your body with prebiotics. These are great for you as they contain the type of fibres that feed our communities of friendly gut bacteria. Simple gut health hacks? Sorted.
2. Kale, apple and pomegranate salad
What a nutritionist thinks? We know, we know - we said out with the salads and in with the stews. That said, winter salads can be a great way to pack your dinner full of flavour and nutrients.
"As far as winter salads go, this one is a real treat," shares Windas. "Kale is an impressive source of vitamin K which aids with blood clotting, as well as being rich in vitamin C to support the body's cells against oxidative tissue damage. Pomegranates also pack in lots of vitamin C, while pecans are great for blood pressure and pack in potassium, calcium and magnesium."
3. One pan roasted chicken with broccoli rabe and sweet potatoes
What a nutritionist thinks? This simple one-pan recipe takes no time to make and will leave you with leftovers for lunch the next day, too.
"This is a nutritiously balanced meal that pairs up protein via the roast chicken with slow-releasing carbs in the form of sweet potato," she shares. "Broccoli is rich in folate as well as water-soluble nutrients such as vitamins A and C."
4. Easy tempeh and winter veg tray bake with a tahini dressing
What a nutritionist thinks? While you might not have cooked with tempeh before, it's a great plant-based protein that's packed full of flavour, too.
"The tempeh offers an invaluable source of plant-based protein, typically offering around 20g of protein per 100g serving," shares Windas. "Paired with protein- and vitamin E-rich tahini, it provides delicious creaminess. Enjoy with your favourite roast veg for a quick and simple healthy and hearty winter delight."
5. A classic lentil and nut roast
What a nutritionist thinks? This is a great option if you're plant-based or mindful of meat consumption. "Nuts are jam-packed with fibre, healthy unsaturated fats and let's not forget protein, to keep you fuller for longer. This recipe also includes protein and fibre-rich lentils to help keep blood sugar levels stable," she continues.
It'll be full of flavour, too, thanks to the seasonal herbs such as rosemary, thyme and sage and roasted seasonal vegetables like wintery Brussels sprouts, leeks, and carrots.
6. Carrot and ginger soup
What a nutritionist thinks? This one packs a punch in the nutrient department. "Ginger is rich in compounds called gingerols, which hold natural anti-inflammatory properties," Windas explains. "Not only does this soup contain ginger - a powerful health-supporting spice that's ideal for warding off winter colds - but carrot, too, which is a great source of beta-carotene, which converts in the body to vitamin A."
Soup in itself is a wonderful dinner option, she continues, as it supports adequate fluid intake and is super easy on the digestive system. "Not to mention it can be paired nicely with oat cakes, crackers or a slice of gut-friendly sourdough bread," Windas adds.
7. Pumpkin Thai curry
What a nutritionist thinks? This recipe is an easy crowd-pleaser for when you have guests over and want to serve something warm, hearty, and healthy. "This pumpkin Thai curry combines anti-inflammatory spices with seasonal pumpkin and protein-packed chicken for a soothing bowl of goodness," the nutritionist explains.
So what are the benefits of eating seasonal veg? "The nutrients in seasonal produce are particularly abundant for supporting our health during that particular time of year," Windas goes on. "During the autumn and winter time we tend to see a revival of the orange family of vegetables – think sweet potatoes, carrots, butternut squash and, of course, pumpkins. These types of foods pack carotenoids, specifically vitamin A which can support the immune system against winter colds. This is because this fat-soluble nutrient plays a role in maintaining the body's natural defences, such as supporting the mucous barriers in the lungs, eyes and gut to trap infectious pathogens while aiding with the production of white blood cells."
8. Lentil butternut dahl
What a nutritionist thinks? Not only is the humble lentil a powerhouse when it comes to nutrients, it's a cost-effective option, too. "Lentils offer a wide range of health benefits," shares Windas. "Not only are they a rich source of plant-based protein, making them a valuable addition to your diets, but they're high in both soluble and insoluble fibre which aids digestion and can help with weight and blood sugar management."
This recipe also includes butternut squash which will provide you with a wealth of vitamin A and vitamin C. "Vitamin C is an immuno-supportive vitamin ideal for helping defend our bodies against pesky winter bugs," the nutritionist adds.
9. Beef and carrot slow cooker stew with fresh thyme
What a nutritionist thinks? Another simple one-pot meal, this easy-to-make slow cooker recipe should definitely be on your winter recipe rotation.
"This is a really nutritious meal which, because it's made in a slow cooker, will infuse its ingredients together over the course of the day," explains the expert. "Stewing beef is a brilliant source of iron. Add the fresh winter herbs to make this a nourishing winter delight."
10. Cranberry brie turkey sandwich
What a nutritionist thinks? Sure, you might not think of a sandwich as stereotypically "healthy" but news flash for you - pack with some vegetables, protein, and healthy fat and sandwich between wholegrain, sourdough or seeded bread and you've actually got yourself a fairly nutritionally balanced meal.
Windas loves the sound of this turkey, cranberry and brie sandwich for a comforting and quick-to-make winter meal option. Why? Well, "tryptophan is an amino acid found in turkey that supports serotonin production, while walnuts are a source of plant-based omega 3 fatty acids," the nutritionist explains. "Not to mention, brie is rich in vitamin B12 while cranberry sauce is a winter favourite and packs a wealth of vitamin C."
Top tip, here: make your cranberry sauce at home and opt for a lower sugar recipe, where possible.
What should I eat for dinner on a cold night?
According to Lauren Windas, nutritionist and founder of Ardere, comforting, warming dishes are your best bet for chilly winter nights. That said, that doesn't need to mean they aren't nutrient-dense, too - far from it.
Her advice? Opt for dishes packed full of protein, healthy fats, slow release carbohydrates and seasonal vegetables, too. Think anything from soup, to stews, to chilli's, to vegetable tray bakes.
Celebrity news, beauty, fashion advice, and fascinating features, delivered straight to your inbox!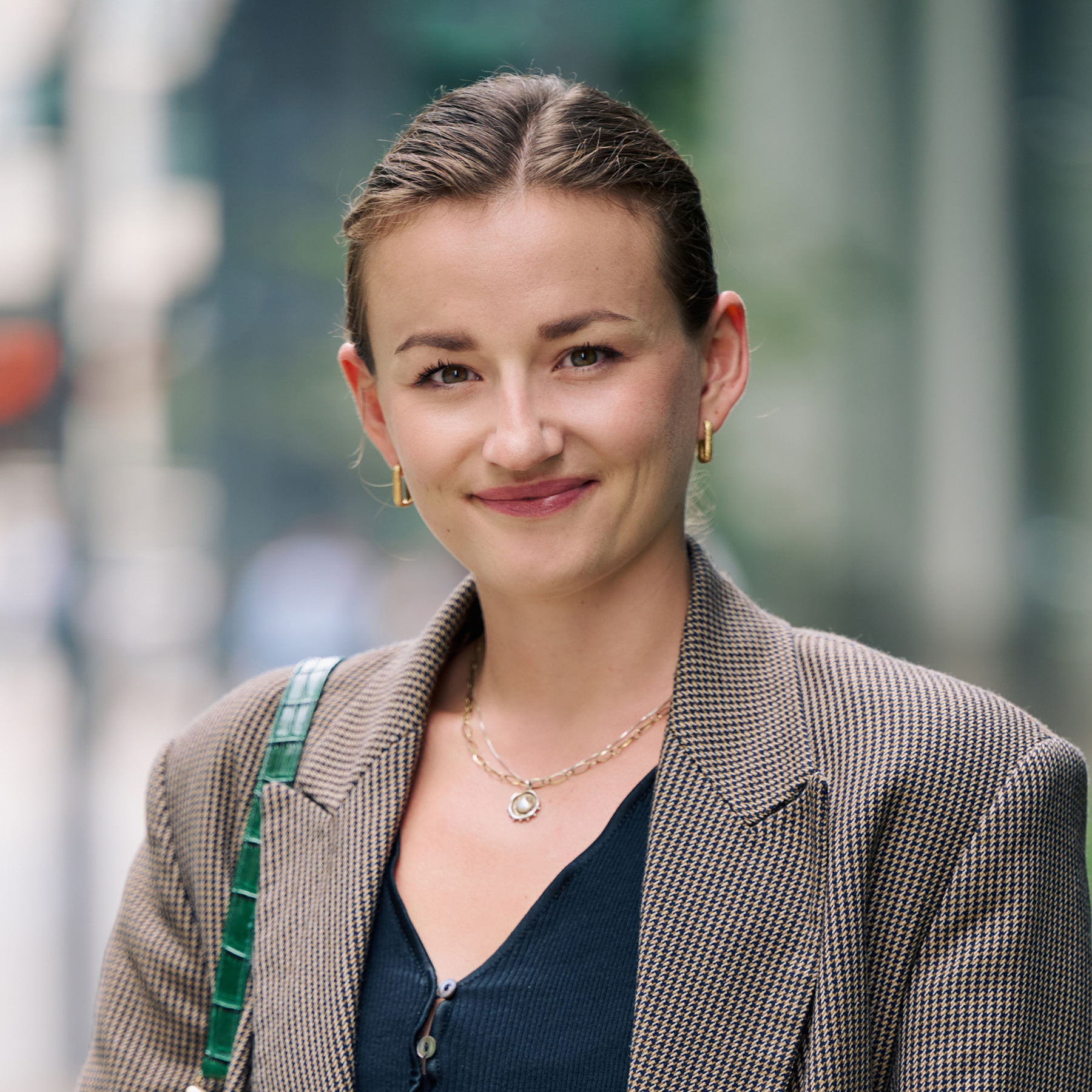 Health, Sustainability and Relationships Editor
Ally Head is Marie Claire UK's Health, Sustainability, and Relationships Editor, eight-time marathoner, and Boston Qualifying runner. Day-to-day, she works across site strategy, features, and e-commerce, reporting on the latest health updates, writing the must-read health and wellness content, and rounding up the genuinely sustainable and squat-proof gym leggings worth *adding to basket*. She regularly hosts panels and presents for things like the MC Sustainability Awards, has an Optimum Nutrition qualification, and saw nine million total impressions on the January 2023 Wellness Issue she oversaw, with health page views up 98% year on year, too. Follow Ally on Instagram for more or get in touch.