Depression in women doubles since 1970s
Depression has doubled in women since the swinging seventies as they try to juggle high flying careers with family life and managing a home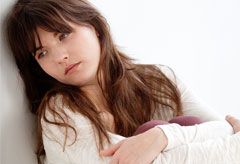 (Image credit: Rex Features)
Depression has doubled in women since the swinging seventies as they try to juggle high flying careers with family life and managing a home
Women are twice as likely to suffer from depression than 40 years ago because they are trying to have it all. Juggling a demanding career with family life is causing one in seven women to experience the condition.
Researchers who have studied mental health problems across Europe claim that the pressure of coping with having a family and pursuing a career is becoming a tremendous burden for women, particularly for women between the ages of 16 and 42.
This age group is between 10 per cent and 13.4 per cent more at risk of developing depression - twice as high as men in the same age bracket. Study leader Professor Hans-Ulrich Wittchen says: 'In depression you see this 2.6 times higher rate amongst females.
'In females you see these incredibly high rates of depressive episodes at the time when they are having babies, where they raise children, where they have to cope with the double responsibilities of having a job and a family.'
The study of 1,600 women conducted at the University of Washington found that women who try to do it all are more likely to feel like failures. The German researchers reveal that depressive episodes among women have doubled since the 1970s.
Marjorie Wallace, chief executive of the mental health charity SANE says: 'The reason we believe that depression is twice as common amongst women than men is that women are more prepared to talk about it.
'Men can find it more difficult to describe their feelings of anxiety, depression or lonliness and may lack the language to express their inner feelings.'
Celebrity news, beauty, fashion advice, and fascinating features, delivered straight to your inbox!