Amber Tamblyn just posted the most relatable breastfeeding picture, ever
Preach!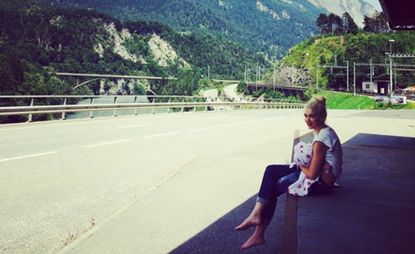 Preach!
If you didn't already know, it's never wise to shame celebrities breastfeeding.
When someone asked Victoria's Secret model Candice Swanepoel to 'cover up' while she was breastfeeding, she responded by posting the below photo of her and her son Anacã (whose father is Brazilian model Hermann Nicoli).
Hitting back at people who express discomfort with women breastfeeding their children in public, Candice said: 'I have been made to feel the need to cover up and [be] somewhat shy to feed my baby in public places but strangely [these people] feel nothing for the topless editorials I've done in the name of art..? The world has been desensitized to the sexualization of the breast and to violence on tv... why should it be different when it comes to breastfeeding? Breastfeeding is not sexual, it's natural.'
And this issue affects women all around the world, who have experienced shaking heads, comments suggesting they should 'go elsewhere' and, at worse, abuse that inappropriately sexualises breastfeeding, such as this account of a woman breastfeeding in public who was met with lewd exclaims like 'go on lad' and 'save some for me.'
It's hard to believe that this is still an issue in 2016. Breastfeeding even came up during this year's awards season when Tom Hardy's wife, Charlotte Riley, had to resort to using a breast pump at the Oscars, every hour, in the regular bathrooms at the Dolby Theatre because there were no other facilities available.
And, when a 21-year-old mother posted a photo of herself breastfeeding at a wedding with the hashtags #normalizebreastfeeding and #breastfeedwithoutfear, it went suitably viral and was met with support.
So, it's no surprise that other famous mums are making powerful statements, too. Here are some famous celebrities breastfeeding who are spreading the word to their social media followers...
Amber Tamblyn
Liv Tyler
Gisele Bündchen
Olivia Wilde
Doutzen Kroes
Jaime King
Natalia Vodianova
Pink
Gwen Stefani
Alanis Morrissette
Alyssa Milano
Blake Lively
Celebrity news, beauty, fashion advice, and fascinating features, delivered straight to your inbox!