Before and after pictures put people off exercising, according to new research
Not only are they seemingly demotivating, they can also leave people feeling insecure about their own bodies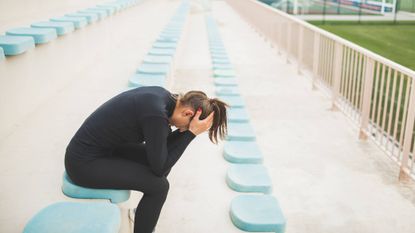 Not only are they seemingly demotivating, they can also leave people feeling insecure about their own bodies
Body 'transformation' images - or 'before and after' pictures - actually put people off exercising, according to new research.
The survey, conducted by Asics, found that 80% of UK respondents said exercise transformation imagery left them feeling demotivated. The sportswear brand also reports that 48% of Brits say the images have left them feeling insecure about their own bodies.
Also - perhaps not surprisingly - the data shows that 73% of Brits polled believed that society's obsession with the perfect body image was damaging for our mental health.
Model and body confidence advocate, Jada Sezer, sat down with Dr Alex George, Motsi Mabusi and the mental health charity Mind to discuss the findings and said she was glad body transformation pictures are being challenged.
"For me it's never been about a physical transformation, more of a mental transformation," she explains. "If I feel good mentally, then I've achieved my goal. No pain, no gain, has never resonated with me, it's always been about how it makes me feel, not look. And I'm proud to be part of a campaign that represents this."
Also speaking about his own experience with exercise and body image, Dr Alex - who is the UK Youth Mental Health Ambassador within the Department for Education - said:
It's not the first time that body transformation pictures have been flagged as being unhelpful at best, and harmful at worst. Eating disorder charities have previously warned of the triggering implications of before and after body images.
Speaking to the Huffington Post, Chelsea Kronengold, Associate Director of Communications at the National Eating Disorders Association, explains: "While sometimes well-intentioned, the impact of before and after photos lend to social and body comparisons, which can cause harm to anyone — especially people struggling with body image and eating concerns."
Think you might be struggling? How to get help
If you feel you are struggling with disordered eating or an eating disorder, you can reach out to a registered professional who can offer help and support or contact charities like Beat, SEED and Mind.
Celebrity news, beauty, fashion advice, and fascinating features, delivered straight to your inbox!
Amy Sedghi is a freelance journalist, specialising in health and fitness, travel, beauty, sustainability and cycling.
Having started her career in The Guardian newsroom working with an award-winning team, Amy's proud to have reported on a variety of topics, speaking to a range of voices and travelling far and wide to do so. From interviews on ski lifts to writing up breaking stories outside courtrooms, Amy is used to reporting from a range of locations (she's even been known to type up a story in a tent).
She also loves being active, spending time outdoors and travelling - with some of her favourite features she's worked on combining all three. Cycling and eating her way round the Isle of Man, learning to sail on the Côte d'Azur and traversing the Caminito del Rey path in Spain are just some of her highlights.
Covering a diverse range of subjects appeals to Amy. One minute she may be writing about her online styling session with Katie Holmes' stylist and the next she's transporting readers to the basketball courts of Haringey where she joined a group trying to lower knife crime in the capital.
While at university, Amy was awarded The Media Society bursary. Following her stint at the Guardian, Amy worked at Google and as well as writing for Marie Claire, she regularly contributes interviews, features and articles to National Geographic Traveller, The Guardian, The Independent, The Telegraph, Stylist, Refinery29, Glorious Sport, Cycling Weekly and Rouleur.
When she's not writing, Amy can be found trying to get through her towering stack of books-to-read, cycling down at Herne Hill Velodrome or looking for the next place to eat and drink with friends.