Get The Full Recipes From Anna Barnett's Delicious MC Instagram Takeover Posts
Did you catch food blogger Anna Barnett's Marie Claire Instagram takeover? Here are the full recipes from each one of her amazing food posts...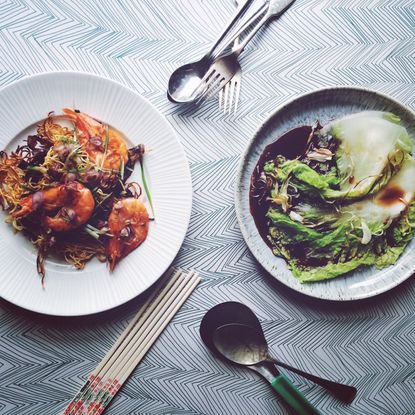 (Image credit: Copyright 2015. All rights reserved.)
Did you catch food blogger Anna Barnett's Marie Claire Instagram takeover? Here are the full recipes from each one of her amazing food posts...
Food blogger Anna Barnett previously worked for MTV and Channel 4 within events and celebrity booking, and was also international sales manager at House Of Holland. Her love of cookery and sharing good food with friends led her to writing a weekly blog for the Independent called 'The Reluctant Vegetarian' as well as a monthly recipe slot on Miss Vogue.
Anna also has her own food blog, Anna Barnett Cooks, and last month she released her first cookbook Eat The Week which has recipes for every day and every meal, taking into account how moods and needs can change as you navigate the week. Here, she shares the delicious recipes from her Marie Claire Instagram takeover.
1. Crispy King Prawn & Seaweed Noodles With Shallot & Spring Onion Topping
Feeds 4 | Preparation time: 10 minutes | Cooking time: 20-25 minutes
Ingredients Dried egg noodles – allow 2 per person for generous portions 2 spring onions – ends removed then cut into thirds and shredded / cut into long fine strips Handful of rehydrated atlantic seaweed Rapeseed oil – allow a generous glug per bundle of noodles 1 large glug of sesame seed oil
Prawns Glug of rapeseed oil 1 tbsp of dried garlic (you can find this pre dried at the Vietnamese supermarket, alternatively regular fresh garlic works) 1inch of fresh ginger – peeled and finely chopped 4 good glugs of oyster sauce 1 large glug of light soy sauce 1/2 pint of fish stock 12 large king prawns (in shells or without if you prefer) Allowing at least 3 per serving Handful of Thai basil leaves
Shallot topping Handful of shallots (around 6-8) – peeled and finely sliced into rings Glug of sesame oil Generous sprinkle of white pepper
Instructions Start by adding your noodles to a pan of boiling salted water, cook for 5 minutes then remove and drain.
Prepare the spring onion and seaweed then once the noodles have dried out a little, combine and transfer to a non-stick baking tray, spreading the noodles out.
In a jar thoroughly combine the rapeseed oil and sesame oil, add in a sprinkle of white pepper too, then pour over the noodles and place under the grill or in the oven until the noodles start to darken and go crisp.
For the prawn sauce add a glug of rapeseed oil to a large pan, add in the garlic and ginger and cook on a low to medium heat for a minute or 2 then add in the both the oyster and soy sauce followed by the fish stock, bring to the boil then reduce the heat and simmer for 5-10 minutes.
Have a try and check the seasoning, if it's too salty add a splash of water.
Add in half of your thai basil leaves and (when the noodles are pretty much ready to eat) add the prawns to the sauce, allowing to cook until pink- this should take around 2-3 minutes.
Once ready you're good to serve, I like to place all noodles on one large serving platter then pour over the sauce and prawns and let people help themselves. Garnish with the remaining basil leaves.
NOTE – For added spice sprinkle on a finely chopped medium red chilli.
2. Chilli & Lemon Zest Mussels With Cracked Black Pepper, Courgette Pasta & Samphire
This is the perfect, super quick, diet dinner. It's filling, tasty and carb-free plus you can eat as many portions as you want without having the guilts. It's a crowd pleaser and satisfying even for those not on a diet. Everyone will appreciate this dish.
Feeds 4-6 | Preparation time: 5-10 minutes | Cooking time: 5 minutes Ingredients Glug of olive oil 1 white onion - diced 2 large cloves of garlic - crushed and finely sliced 1/2 cup white wine (spare a glug of what you're drinking) 500g mussels - de-bearded/cleaned 3 large handful of samphire 3 courgettes - spiralized to create a non carb version of pasta, or finely sliced into long thin lengths 1 medium red chilli - finely sliced Zest of 2 lemons Generous sprinkle of freshly ground/cracked black pepper
Instructions Add a glug of olive oil to a large pan and add the onions and garlic, cook for a minute or so then add the white wine followed by the mussels.
Cover with a lid and cook on a medium to high heat for 2 minutes.
Next add in the samphire, courgette, half the chilli and half the lemon zest, stir then cook with the lid on for a further 2 minutes.
Serve once all mussels have opened (those that haven't opened discard).
Sprinkle over the remaining lemon zest, chilli and add more black pepper.
3. Caper Arrabbiata With Home Made Pappardelle Pasta
Feeds 4-6 | Preparation time - 20 minutes | Resting time for pasta - 30 minutes | Cooking time - 1hr for sauce, 4 minutes for pasta
Ingredients
Pasta 300g '00' Flour 3 large organic eggs Glug of olive oil Generous sprinkle of salt 1/2 cup of fine semolina or '00' flour
Caper Arrabbiata 2 generous glugs of good quality olive oil 1 red onion - finely diced 1/2 red pepper - finely diced 4 cloves of garlic - crushed and finely chopped 1 tin of cherry tomatoes 1 glass of red wine Generous sprinkle of sea salt Generous sprinkle of white pepper and freshly ground black pepper 60g capers - Loosely chopped Handful of basil leaves - roughly torn Handful of parsley leaves - finely chopped 70g Parmesan - finely grated
Instructions
Pasta Pour out the flour into a mound and make a well in the middle.
Whisk the eggs and salt together then pour into the well; with a knife start to work in the flour and the eggs until it all starts to come together, then get your hands involved and knead into a ball.
Knead for 5-10 mins, wrap in cling film and leave to rest for half an hour in the fridge.
It should have air bubbles in it when you slice into the ball of pasta plus it should be springy - that's how you can gauge when it's ready.
Cut into thirds and cover up the pieces you're not rolling out.
With a rolling pin roll one third into a rectangular shape that will fit into your pasta machine, and roll the pasta through the machine, starting at the highest/widest setting.
Put it through twice on each setting until you get to the lowest.
Once the pasta has been fully rolled out, and you have lovely thin sheets of pasta, lightly sprinkle over flour or semolina and fold so you can evenly slice into thick ribbons.
Unfold the ribbons and lay out on sheets of baking paper until ready to cook.
Caper Arrabbiata Start by adding the olive oil to a large pan followed by the finely chopped onion, red pepper and garlic, add seasoning and sweat on a low heat for 10-15 minutes until the onion and pepper has softened and has started to brown.
Next add in the cherry tomatoes and red wine then increase the heat slightly (but still on a medium to low) and allow to cook for as long as your patience allows- at least 20/30 minutes.
Once the sauce is rich and tasting good (don't be tempted to over season with salt as the capers will make it salty enough), add in the capers, half of the chopped parsley and basil and cook for another five minutes.
When your sauce is ready to go, cook your pasta by adding it to a large pan (the largest you have) of boiling salted water, stir so it doesn't stick. Cook for 3-4 minutes or until al dente.
Drain the water and pour over your sauce, gently mix then sprinkle over the remaining basil and parsley, add extra black pepper and sprinkle over the parmesan. Serve and eat immediately.
4. Mega Sarnie Stack
Feeds 1 or 2 | Preparation time: 5-10 minutes | Cooking time - 0 minutes
Ingredients 1 fresh ciabatta (the store-bought bake in the oven ones work pretty well warmed for 2 -3 minutes in the oven, then cut lengthways, then in half) 3 generous slices of brie 1/2 roasted red pepper (the ones you buy in the jars work perfectly) 1 hard boiled egg (boil for 8 minutes) peeled and slice 1/4 avocado - finely sliced Small chunk of red cabbage - finely shredded 1/4 spring onion - finely sliced 1 teaspoon capers Few parsley leaves - roughly chopped (Salad cream or mayonnaise is optional) Sticky Roasted Pepper & Sunblushed Tomato Cheat's Chutney 3 red peppers – charred over a flame and peeled (or out of a jar) – finely slice into thin loops 6-7 sunblushed tomatoes – finely sliced Sprinkle of sea salt Sprinkle of white & freshly ground black pepper 2 Generous glugs of white wine vinegar 2-3 tsp of soft brown sugar (white caster sugar also works) / alternatively add in 3-5 dates, stones removed and roughly chopped (this will offer a non-refined sugar alternative)
Instructions Pack as much of this as you can between two halves of ciabatta - I like to layer mine up and season as I go.
A squirt of salad cream (sorry!) or mayonnaise is a great addition alongside the sun blushed tomato chutney, spread evenly!
Eat in two sittings if you can't pack it down in one.
TIP - make up the chutney and store for 3 or 4 days in an airtight container - use on everything you can, it's delicious!
5. Super Shredded 70s Salad
Feeds 4-6 | Preparation time: 10 minutes | Cooking time: 10 minutes
Of all the salads out there, this is my favourite. Mega simple, requires zero effort or skills and is super tasty. Both my Nan and Mum have for as long as I can remember prepared salads this way, so dust off your Sarsons malt vinegar and white pepper and give it a try.
Ingredients Salad 2 gem lettuce – finely shredded 1 red pepper – finely diced 1/2 red onion – finely diced 3 cooked beetroots – finely diced 2 handfuls of ripe cherry tomatoes on the vine – finely diced 1/2 cucumber – finely diced (skin left on) 1 stalks of celery – finely diced 1 or 2 Hass avocados – finely diced 4 large sprigs of mint – leaves removed then finely chopped 3 good glugs of malt vinegar Generous sprinkle of sea salt & black pepper A seriously generous sprinkle of white pepper
Carrot Crisps 2 Large carrots Tiny glug of rapeseed oil Small sprinkle seas salt
Instructions Prepare all of the salad ingredients as noted above, thoroughly mixing into a bowl then just before you're about to serve add in the vinegar and seasoning. Stir again thoroughly and taste to see if you need extra white pepper and add if you do…I always do!
For the carrot chips, chop the ends off and peel the outer layer then continue to peel one side of the carrot giving you large thin strips of carrot. Place on a non-stick tray or on parchment paper.
Coat your hand in a small glug of oil and lightly cover the carrots, you can use a pastry brush instead but just be careful to not over coat.
Roast in the oven on 180 degrees Celsius for 5-8 minutes and remove once the edges start to brown before sprinkling with salt.
Serve up a generous portion of salad, sprinkle over the carrot chips and you're good to go.
6. Peach & Prosciutto Salad
This mega simple but completely delicious summer salad is perfect now peaches are in season. When concocting such a simple dish it's key to make sure the focus is on great, fresh and ripe ingredients. This is the perfect dish when entertaining, serve it up canapé style or as a sharing plate to start.
Feeds 4 | Preparation time: 5 minutes | Cooking time – 0 minutes
Ingredients 3 peaches – cut into segments (ensure they're ripe and a little soft for maximum flavour) 5 sheets of prosciutto – roughly torn 8 sunblushed / sundried tomatoes – cut in half or left whole Good glug of extra virgin olive oil Sprinkle of sea salt Generous amount of freshly ground black pepper
Instructions Combine all ingredients in a bowl or on a platter, drizzle with oil and add seasoning. Serve.
Anna Barnett's debut cookery book Eat The Week is out now (Murdoch Books)
Celebrity news, beauty, fashion advice, and fascinating features, delivered straight to your inbox!
The leading destination for fashion, beauty, shopping and finger-on-the-pulse views on the latest issues. Marie Claire's travel content helps you delight in discovering new destinations around the globe, offering a unique – and sometimes unchartered – travel experience. From new hotel openings to the destinations tipped to take over our travel calendars, this iconic name has it covered.