What it's really like to live a vegan lifestyle
It may be 2019's biggest food trend, but what are the health and social implications of embracing a vegan lifestyle? Five women share their stories with Marisa Bate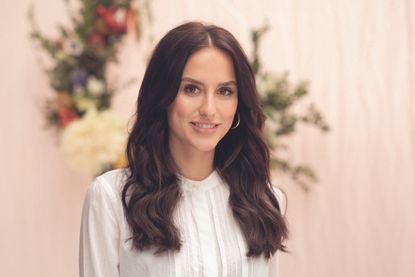 (Image credit: Stephanie Sian Smith)
It may be 2019's biggest food trend, but what are the health and social implications of embracing a vegan lifestyle? Five women share their stories with Marisa Bate
The vegan influencer
Lucy Watson, 27, is an influencer and TV personality
'It was moving with my family to a working farm when I was six that first made me question my diet and turn vegetarian. I loved the animals and thought it was weird and cruel to eat your "pets". Having grown up thinking of myself as someone who doesn't contribute to animal cruelty, I was really upset when I watched the documentary Cowspiracy three years ago, which revealed the shocking truths about the dairy and egg industry (like female cows being artificially, brutally impregnated before they are separated from their calves in order to produce milk). I couldn't keep supporting such cruelty, so I gave up dairy the next day. It was tough − I ate lots of cheese and I loved it.
Becoming vegan has drastically changed my life. I now have so much energy, I feel hyper and it's dawned on me how sluggish I felt before when I consumed too much dairy produce. I've had to become inventive with what I eat, and include more nutritious foods in my diet. As a result, I lost weight, my skin has got better and I feel less bloated.
The rise of veganism has been fantastic to watch. Three years ago, I was considered strange and my family were worried about my health, telling me I'd get ill all the time. I found myself leaving restaurants because of the menus, but now almost every chain and restaurant has vegan options, which is brilliant. I know a lot of brands are jumping on the bandwagon because it's a market they don't want to miss out on, but I think the availability of so many options is a good thing.
I've accumulated a large vegan following online because it isn't just a fad for me. This is my passion, my lifestyle. But I've definitely lost a lot of followers, too. I want to talk and educate the public about the issue and a lot of people don't want to hear the truth about the way their food is produced; they're not ready. The hardest thing has been the narrow-mindedness of others. When you have a following, you are always going to have people who love or hate you, but those sending me photos of raw flesh with the caption, "Get this down you". Really?
My two vegan cookbooks, Feed Me Vegan and Feed Me Vegan For All Occasions, which were aimed at a minority market, have done much better than I thought they would, and last summer I even opened a vegan restaurant with my sister and dad.
It's probably impossible to be completely cruelty-free − even our bank notes contain animal products – but I try to make conscious fashion choices: I got rid of my designer bags that contain animal products and I'd never buy down, leather or wool.'
Lucy (pictured above) wears: shirt, Toast; trousers, 31 Chapel Lane; trainers, Fat Face; earrings, Monarc Jewellery
The recent convert
Amy White, 33, is a women's empowerment coach
'I've been vegetarian since I was 20 but last year, after toying with going "80 per cent vegan", I rationalised that it would be best to go 100 per cent vegan or not bother. I took the plunge because I've always been concerned with animal welfare and I felt that if I was cutting out meat, I should give up dairy too.
Social justice issues have always been close to my heart − I helped to rehabilitate people involved in crime before I became a yoga teacher and women's empowerment coach. When my mum passed away, it propelled me on a more spiritual journey. Veganism feels very true to my values and that makes it easy to live by despite the obstacles. I do face a lot of hostility though − criticism that's loosely wrapped in humour, as well as constant questioning despite people not really listening to my answers.
I think the biggest challenge is preparation. Ideally, I would cook from scratch because it's very hard to find nutritious vegan snacks on the go. I rely heavily on pre-packaged snacks in case I'm somewhere that doesn't serve vegan food. My staples are avocado on toast, hummus, bananas and nut butter. I'm also mindful of getting enough iron, as my doctor recently told me my iron levels were low (animal-based iron sources are more easily absorbed by the body), so I'll try to have lots of smoothies made with iron-rich greens. Generally, I'm not sure I feel any different physically since going vegan − in fact, sometimes I get bloated because it's a carb and veg-heavy diet. I'd say I get less colds, but do suffer from low-energy levels.
Like many vegans, the change has made me question other choices I make, such as what goes into the production of the fruit and veg that makes up such a large part of my diet and the impact it has on the planet. My fashion and beauty choices have changed too − I try to buy products that aren't derived from or tested on animals, although I still have some leather, silk and wool items. Some vegans see silk as cruel because the silkworms are boiled alive in their cocoons. It's tough. You can only do so much, but just because you can't do everything it doesn't mean you shouldn't try to do something. If more brands got on board it would be easier for consumers to live more ethically.'
The vegan parent
Olga Joven, 35, is a marketing manager and mum to Leon, one, who she is raising as a vegan
'My husband and I became vegan three years ago after we grew more aware of the cruelty in the dairy and meat industries. When I became pregnant in 2017, we decided to bring up our son Leon as a vegan, too.
I've done a lot of reading and research – books such as The Everything Vegan Pregnancy Book by Reed Mangels and The China Study by T Colin Campbell, one of America's bestselling books about nutrition, have been helpful – and it wasn't a decision we took lightly. I sought professional support to ensure Leon isn't deprived of any nutrients and, after consulting a vegan paediatrician, I'm 100 per cent confident he's getting everything that he needs.
You don't just survive on a vegan diet, you can actually thrive. I feel a lot healthier and have more energy, although I do take supplements (vitamin D in the winter and B12 once a week) because it can be difficult to get enough without consuming animal or dairy products. It's just about educating yourself and eating a wide variety of pulses, plants and seeds.'
I'm used to criticism about my choices. My parents argue that eating meat and fish is part of our Spanish culture but, for me, "culture" doesn't justify cruelty. When I was little I was never asked if I wanted to eat meat – it was just given to me by my parents because they thought it was best. So, really, I'm just doing the same thing.'
I want my son to stand against violence and injustice and not just conform for the sake of it. To me, all animals are the same – you can't love some and then eat others, that's nonsensical. And it's absolutely my responsibility to educate him, helping him understand all the reasons why he's vegan. Once he's older, he can make an informed decision himself.'
It's actually very easy to feed a vegan family, since he eats what I eat. He's been exclusively breastfed and then he's eaten whatever we've eaten as a family since he was six months old. He is a healthy child and we haven't had any problems so far.'
How far you want to take vegan living often boils down to finances. It can be costly to replace existing items and more expensive to buy specialist products. I'm trying my best on my budget, so I'm conscious about where I shop and what I buy. I don't buy any leather goods – I'd always choose organic and cruelty-free – but I don't see any issue with wearing the leather or woollen clothes I owned before becoming a vegan either. And there are plenty of options for Leon – Clarks for instance, stocks vegan shoes. It's really not difficult to find.'
Right now, it's an exciting time for veganism and I'm convinced that when Leon is older, it will be normal. I'm proud we're bringing him up to be compassionate, respectful and to love all beings equally; I'm trying to give my son the best possible start in life.'
The veganpreneur
Aye Mya Oo, 39, is the owner of tofu brand 'Fu Fighters
'I'm Burmese and as a child, I remember my mum making tofu at home (out of chickpeas, not soya). One day, as she was cooking up a batch, she asked, "Why don't you sell this in the UK? No one else does." That got my mind whirring. I did some research and realised she was right. I launched my business, 'Fu Fighters, last year. I love producing something from my heritage and using my mum's own recipe, which was a favourite of my late father's too.
Starting a company can be overwhelming and I've still got so much to learn, but it really feels like the perfect time to launch a vegan business. Initially I rented a shelf in Brighton's Open Market just to get the product out there; then, Infinity Foods – a health store in Brighton – found me on Instagram and started stocking us.
I was vegetarian as a child and even then, I was militant about my views and why I didn't eat meat because of the cruelty. But I only became vegan in 2017 after watching Dairy Is Scary, a viral video shared on Facebook about cruelty in the dairy industry.
I had arguments with friends about it. But now, I see things differently and believe it's all about personal choice and what's right for the individual. When I do food tastings for my products, the vegan community is really welcoming. But I'm aware I live in the "foodie bubble" of Brighton, which is open to alternative foods and has a large middle-class community. Obviously for low-income individuals or families, the vegan choice just isn't always viable − dairy-free products are often marked up in price, particularly pre-packaged snacks or ready meals.
There's a lot of activism around veganism but ultimately, you can't force people to do things they don't want to do just because you buy into a certain philosophy. I still wear the leather I own, but I don't buy new leather, for instance. I love trainers and can't buy the new ones I want (vegan trainers are very limited), but that's the decision I've made. Being vegan has become my identity now − a stamp of who I am and what's important to me.'
The accidental activist
Immy Lucas, 27, is a vlogger and founder of the Low Impact Movement
'I originally went vegan six years ago in a bid to lose weight. It was later that I discovered the environmental impact of eating meat and the extent of the animal cruelty involved. I became so passionate about raising awareness that I started a YouTube channel to talk about the issues. After one video went viral, I realised how interested people were in the subject and it dawned on me that being a vegan doesn't mean I'm sustainable – I could be eating soybeans shipped from China, or pineapples from Columbia. I desperately wanted to do more, so I saved up £4,000, quit my job in advertising (the content I was creating didn't align with my values), and started my Sustainably Vegan YouTube channel while copywriting on the side. Three years later, I earn the majority of my income through advertising on the channel, which just reached 100,000 subscribers.
I also started the Low Impact Movement 12 months ago, which is an online educational platform that marries my principles of zero-waste living and veganism. Everything we consume has some kind of footprint and the Low Impact Movement is about finding small, positive ways to reduce it. There's a 30-day challenge to help people get to know their own habits and I've been amazed by the reaction it's had. The hash tag I created has been used 45,000 times.
To some, my kind of activism is seen as being "soft", but that's fine with me – I can't always take a hard line on everything. Fashion, for instance, is a tricky one – you have to battle between choosing natural fibres from animals, or synthetic, non-environmentally friendly options made from plastics. I try to support second-hand shopping and am happy to wear wool or silk if it's pre-owned. I do feel uncomfortable wearing leather, but I'm OK with second-hand leather boots if need be.'
Celebrity news, beauty, fashion advice, and fascinating features, delivered straight to your inbox!
The leading destination for fashion, beauty, shopping and finger-on-the-pulse views on the latest issues. Marie Claire's travel content helps you delight in discovering new destinations around the globe, offering a unique – and sometimes unchartered – travel experience. From new hotel openings to the destinations tipped to take over our travel calendars, this iconic name has it covered.