Soon you won't be allowed to take electronic devices on some flights
Sorry, what?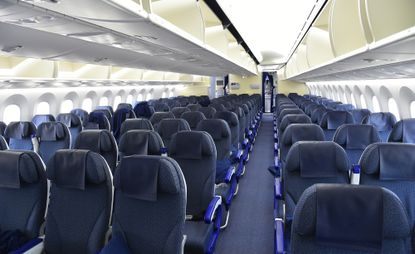 (Image credit: imageBROKER/REX/Shutterstock)
Sorry, what?
When you think about the most common things people carry in their cabin luggage, a laptop, e-reader or tablet is always one of the items that tops the list.
So, when the UK government announced that there's now going to be a hand luggage ban on both these electronic devices, the nation was shocked.
To clarify, this will affect any direct flights to the UK from the follow places: Turkey, Lebanon, Jordan, Egypt, Tunisia and Saudi Arabia.
This is because of the bomb threat that these devices can hide.
Downing Street have called the action 'necessary, effective and proportionate.'
Airlines are now in the process of implementing this ban but there's not been an indication of when the actual start-date for it will be.
The ban affects devices larger than 16 cm long, 9.3 cm wide and 1.5 cm deep - and yes, this includes smart phones if yours happens to be this size. Portable DVD players and gaming consoles are believed to be ok but airlines will also be able to enforce their own specifics on the ban so it's best to know firsthand from whoever you're flying with.
This is obviously going to hit short-haul passengers relying on hand luggage only the worst - and could also result in more airport checked luggage theft.
Laptop airline ban
UK flight carriers who will enforce the ban
British Airways EasyJet Jet2.com Monarch Thomas Cook Thomson
Overseas flight carriers who will enforce the ban
Turkish Airlines Pegasus Airways Atlas-Global Airlines Middle East Airlines Egyptair Royal Jordanian Tunis Air Saudia
Some airlines have already responded to the ban on their social media channel, reminding us that maybe a digital detox isn't so bad...
This decision follows an official severe UK threat level for international terrorism and comes at a time when the nation is still reeling from the Westminster attack. And, although it will be inconvenient for most, we can all agree that safety should be the priority - even at the cost of convenience.
Celebrity news, beauty, fashion advice, and fascinating features, delivered straight to your inbox!