Men have been using this so they can last longer in bed
But, it's sort of controversial...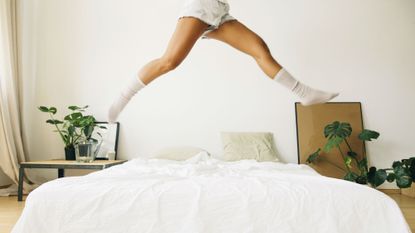 (Image credit: Rex)
But, it's sort of controversial...
It was a dark day when we found out that straight women are having the worst sex, ever.
And, it was an even darker one when we learnt that scientifically it is possible that some women just can't orgasm during penetrative sex.
Now stats are in that say that the average man lasts an estimated five minutes in bed - whereas a woman needs around 18 minutes to orgasm. So, it's no surprise that 80% of women wish their men would last longer in the bedroom.
Well, somewhat worryingly, there's now a 'delay spray' (called Promescent) that can be spritzed onto a penis in order to prolong intercourse and boost lasting time by a reported 64%. The spray delays ejaculation by around four minutes, which in turn makes it 50% more likely for a woman to orgasm.
But just how does it work? The delay spray contains the active ingredient lidocaine, which was introduced by an anaesthesiologist back in 1942. It used to be used by dentists and plastic surgeons, which is kind of scary really.
Essentially, the spray reduces penis sensitivity. But, surely it would make your vagina go to sleep slightly too? (We're not so convinced about this one).
Surprisingly, in the last couple of years it seems to have become fairly popular. Search for the product on Amazon yields around 300 hits of different brands (with STUD 100 being the most popular). And, it turns out that some condoms that promise to 'help you last longer' already have these numbing ingredients lubricated on them. Who knew!?
Celebrity news, beauty, fashion advice, and fascinating features, delivered straight to your inbox!