Petite fashion tips and advice from an expert stylist
What to do if you're fun-sized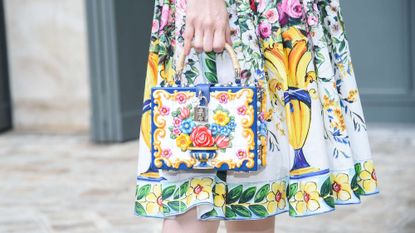 (Image credit: SIPA/REX/Shutterstock)
What to do if you're fun-sized
I'm 5"3 (and a half) and although I've never had a problem with my height, I definitely have had to learn what does - and doesn't - work for my wardrobe.
Add to that the fact I barely wear heels, I pretty much surrendered to my limited options.
But, after meeting fashion editor and personal stylist Shelly Vella, I'm learning more of what I can, rather than 'can't' wear.
The key is to remember it's all about proportion
'There are so many 'rules' in fashion that a lot of women labour under the misapprehension that they can't wear stripes, crop trousers or even maxi dresses. Not so,' Shelly explains.
'With hemlines - generally a petite woman will opt for a length that hits just below the knee as opposed to mid calf, however it's always best to try things on and make sure that your top half balances the bottom half - whatever your shape, showing off your waist - cinching with a belt will even you out, but equally if you're slender - a looser top will still work - try to 'bag' it a little to disrupt the sense of a column.'
Stripes are your friend
'Stripes lengthen your legs, fact, so a pinstripe trouser will work - again, test drive first to find the perfect fit and shape to suit you. Doubling up your stripes is a super cute look on the petite - ie: the iconic Breton top (classic versions are fitted at the waist) worn with a wide leg crop pinstripe pant looks fresh and timeless. Again, depending on where the trouser hem ends you can team with a crisp white trainer, slider or preppy loafer. Great for Petites.'
Keep it fitted
'Long, overtly shapeless dresses will make you look shorter but a maxi dress that fits neatly up top falling away into a long skirt can be super flattering - make sure the dress is a petite fit so the body of the dress falls to the waist and not below.'
But, yes, you can go wide too
'A wide leg, crop trouser is super flattering - keep things simple up top - a tee - a pretty fitted blouse and cinch the waist - sliders work well here for summer and just add a block heel for evening.'
Don't shy away from the children's department
'Petite sizes are based on a height of 5'4" and sometimes for basics you can pick up something perfectly sized more cheaply.'
A-line skirts shouldn't be ignored, either
'For curvier and bustier girls it's key to balance out proportion - a fitted top or empire line that emphasises the waist works well with an a line skirt.'
Find a tailor STAT
'Always consider sourcing a great tailor as you may find the perfect jacket, trousers or top etc that needs the tiniest tweaking to ensure the perfect fit. Baggy sleeves and lose waistlines on jackets can swamp. It's all about fit.'
Celebrity news, beauty, fashion advice, and fascinating features, delivered straight to your inbox!