6 Inevitable Things That Will Happen To You In Harrods' New Shoe Heaven
The pearly gates to Shoe Heaven have opened at Harrods. This is not a drill…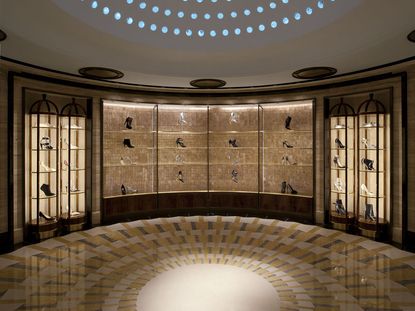 (Image credit: BROTHERTON/LOCK)
The pearly gates to Shoe Heaven have opened at Harrods. This is not a drill…
Stocking 100,000 pairs (yes, you read right) by everyone from Christian Louboutin to Kurt Geiger, Valentino to Ugg, this really is the ultimate shopping experience for footwear fanatics.
"With shoes becoming an ever increasingly important part of the way a woman dresses, and indeed a key part of our business, we are creating a truly fabulous shoe destination in Harrods, to celebrate this," said Harrods Womenswear Director Helen David of the epic new retail destination.
The following six things are bound to happen to anyone who ventures into the Promised Land…
1. The sheer scale of it will cause your jaw to drop… Harrods' special department is the size of 3 Olympic swimming pools (42,000 square feet, to be precise) and 2110 square metres of marble have been used to clad its insides. "It's rich without being overly flashy, and it's designed for trying on shoes," said Simon Rawlings, creative director of David Collins Studio. So it really is like the luxe Knightsbridge apartment we never had.
2. You will find yourself amongst your own 'kind'… This is a place built by addicts, for addicts. "I'm afraid I own over 500 pairs of shoes," confesses Rebecca Farrar-Hockley, Creative Director at Kurt Geiger who has partnered with Harrods for the launch. "[This] is either a terrible or fabulous amount - depending on your perspective! But I love shoes and I am an avid collector so I now have my very own shoe chandelier to catalogue them."
3. You might actually learn something about your favourite designers… "Every shoe [I've ever designed] is named after a daffodil," says Rupert Sanderson. "It was based on a tiny, little book that I found in a junk-shop, which had 18,000 different names of daffodil. 36,000 daffodils have now been bred." See, it's totally educational too.
4. You will fall in love with at least one pair… Did we mention there are 100,000 pairs to choose from? In stock at any one time will be 18 variations of Charlotte Olympia's Kitty flat and 27 styles of Giuseppe Zanotti high tops. For real. Decisions, decisions…
5. And there's a strong possibility that the pair you choose may be silver… You hadn't intended to look at silver stilettos. But after seeing Harrods' limited-edition celebratory "Silver Lining" collection, you may find yourself magnetically drawn to a pair. 37 designers have reworked their ultimate IT style in metallic leather, from Valentino's Rockstud flats, to Manolo Blahnik's Ariona mules and Charlotte Olympia's Kitty slippers. Dancing shoes for everyone, then. 6. You'll come out feeling a little bit better about yourself… "I think it's important to choose shoes that make you smile and feel special," says Charlotte Olympia Dellal. "You can really determine your day by the shoes you choose to wear in the morning." And if that's not reason enough to visit Shoe Heaven, we don't know what is.
Celebrity news, beauty, fashion advice, and fascinating features, delivered straight to your inbox!