You season 5 is Joe Goldberg's final chapter - and things are set to get messy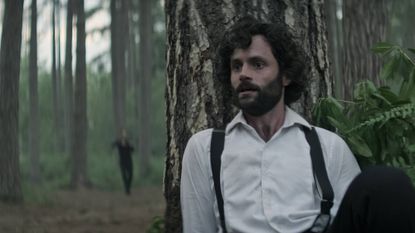 (Image credit: © 2023 Netflix, Inc.)
Anyone who can't wait for another dose of very-creepy-but-strangely-endearing serial killer Joe Goldberg, we have news - You season 5 is on the way, and the main man himself has given us a taste of what's to come in the next instalment of the Netflix show.
In a video released at Tudum: A Global Fan Event in Brazil and shared by the Tudum by Netflix website, actor Penn Badgley explains how a familiar face from Joe's past is about to come back to haunt him—but he isn't revealing which one just yet.
"We all know there are many loose ends from Joe's past," Penn explains. "The question is, who are you?"
This will be the fifth and final season of You, with Joe back in New York where his story first began. The show's creative team 'always conceived it as a five-season journey' according to executive producers Greg Berlanti and Sarah Schechter, but who will be Joe's last fixation and will it be a grisly end for them - or Joe himself?
This is everything we know about You season 5 so far, including what to expect from the last chapter in Joe Goldberg's gruesome story.
When does You season 5 start?
The official date for You season 5 hasn't been announced just yet, but Netflix said previously that we can expect You season 5 in 2024. However, the release might be affected by the SAG-AFTRA strikes, depending on what stage of production it's up to.
You was officially renewed for a fifth season in March 2023, just after season 4 aired. The renewal announcement from Netflix came under two months before the writers' strike began in early May, so it's likely that You Season 5 is still in the scripting stages—meaning we could have to wait a little longer for our dose of Joe.
Who is leaving You - and who is coming back?
There are plenty of faces from Joe's past we're sure he wouldn't like to see again, but it's unclear which character will be the lead in the fifth season (although we're really hoping for Jenna Ortega's Ellie to make an appearance at some point).
As well as Penn Badgley as Joe, Charlotte Ritchie is expected to return as Kate, but it's unclear whether we'll be seeing the two other female leading characters—Tati Gabrielle's Marienne and Amy-Leigh Hickman's Nadia—in the fifth season.
Could You star Amy Leigh Hickman, who played Nadia in season 4 and was wrongfully put behind bars, be the one to bring Joe down? She recently told Digital Spy: "I would love to come back and play her again. I think that if she can pull off everything she did in season four, there's not much she can't do. So I wouldn't put anything past her, I wouldn't past Joe as well. I think that's something they have in common, weirdly."
Marianne, Joe's victim in season 3 and obsession in early season 4, had a happier fate and escaped him to reunite with her daughter in Paris. But actress Tati Gabrielle has also said she wants her character to be part of Joe's downfall, telling Digital Spy: "I would love to come back again. I feel like she hasn't gotten her piece yet, and I do think she deserves that. She's had a hard life, man. She just needs a break. I would love to see more for Marienne. If she's not part of taking down Joe, I just want her to be able to witness it."
It's been confirmed that executive producer and show co-founder Sera Gamble will also be stepping down as showrunner for You season 5. Writers Michael Foley, who's been with the series since its inception, and Justin W. Lo, who joined in Season 2, will be taking the reins as showrunners while Gamble focuses on other projects.
She said of the shake-up: "As I step back from day-to-day show running to focus on new projects, I'm immensely grateful to co-creator and all-around genius Greg Berlanti, Caroline Kepnes, my friends at Berlanti Productions and Alloy Entertainment, and our steadfast partners at Warner Bros and Netflix.
"Making the show alongside our writers, producers, directors, cast and crew has been an honour and ridiculously fun. And I feel lucky to have worked with an artist as gifted and thoughtful as Penn Badgley. I'm proud of what we've all accomplished and feel privileged to pass the torch. I'm excited to watch and support the You team as they bring Joe Goldberg's journey to its delightfully twisted conclusion."
How did You season 4 end?
Season 4 of You ended with a cold and calculated Joe having reached the top of high society with a new partner in crime (Kate played by Charlotte Ritchie), who seems able to overlook his dark past and, bizarrely, accept him for who he is. Living the high life, it would appear that Joe has truly found his place in the world.
This new refined Joe has a whole PR team to help bolster his image and seems almost untouchable with Kate by his side. No longer using his internal monologue to explain away his crimes, Joe is a cold-blooded killer by his own admission—and it would appear that he thinks nothing will get in his way.
In the season finale, we see Joe return to New York City with Kate, able to live a comfortable existence not just because of his new-found wealth, but also an acceptance of his immorality, which he seems excited to explore.
What has been said about You season 5 so far?
It's thought that while Joe may have fallen on his feet (for now), season 5 of You will see him face the consequences of his actions - though the type of retribution we'll see remains ambiguous.
Sera Gamble explained to The Hollywood Reporter: "The conversation we have among the writers, between Greg and I, and a lot with Penn is about the fact that it would be nice to end his arc with some form of justice.
"Guys like this don't usually see a lot of justice from the world. That's challenging to plot. How does Joe Goldberg go down in a world where he's been branding people with bricks in broad daylight for years?
"And he's cute! And he gets away with it. The deeper question that we frequently pitch in the writers' room is, 'What's real justice? What would hurt him the most?'"
It's clear that season 5 of You will give us a sense of closure around Joe's story—this season will be all about completing his character development, as Gamble explains: "The beautiful thing about it is that when his arc is complete, so is the show."
Penn Badgley previously said of season 4 (via Tudum): "I think it sets us up to actually have a really great finale season. Can his inner monologue evolve some now? What does it mean for him to accept himself?"
What's the You season 5 storyline?
It looks as if season 5 will be centred around some kind of judgement day for Joe, but the details are yet to be confirmed.
We know so far that the action will be mainly in New York—where Joe's story began—and will initially see him adjusting to a new life with Kate and resuming his true identity after faking his own death in season 3.
On how the last season will play out, Sera Gamble told Tudum: "It was never anyone's intention to run this one into the ground. When we're done, we'll be done. And we'll pack it up. Even in the early conversations with Penn, the idea was not to crank out episodes forever; it's to feel like we have told the complete story."
While Peter Friedlander, Vice President of Scripted Series, Netflix, US and Canada, said: "We're excited —and a bit terrified—to see how it all ends for Joe Goldberg, but one thing is for sure: You are in for an unforgettable ending."
Bookmark this page to keep up with the latest You season 5 news.
Celebrity news, beauty, fashion advice, and fascinating features, delivered straight to your inbox!
Lauren is the former Deputy Digital Editor at woman&home and became a journalist mainly because she enjoys being nosy. With a background in features journalism, Lauren has bylines in publications such as Marie Claire UK, Red Magazine, House of Coco, women&home, GoodTo, Woman's Own and Woman magazine.
She started writing for national papers and magazines at Medavia news agency, before landing a job in London working as a lifestyle assistant and covers everything from fashion and celebrity style to beauty and careers.