The most romantic movies of all time, revisited
We round-up the best romantic films that have made us laugh and cry again and again and again...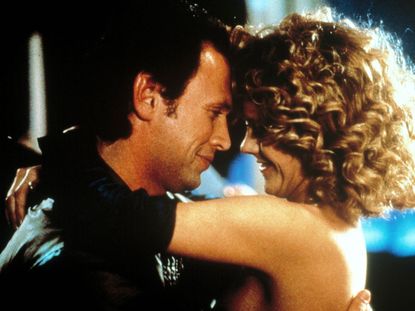 We round-up the best romantic films that have made us laugh and cry again and again and again...
Most of us have reached for the kleenex as Ingrid Bergman walks away from Humphrey Bogart and steps on the plane in Casablanca, or blubbed when Audrey Hepburn and George Peppard finally embrace in the rain before Henry Mancini's Moon River soars and the Breakfast at Tiffany's credits roll. And what about Clark Gable's heart-shattering 'I don't give a damn' as he slams the door on Vivien Leigh? Yup, get's us every time.
Then there are the romantic movies that make us cackle with laughter: whether it be Meg Ryan's big reveal - her ex-boyfriend's days of the week underpants - in When Harry Met Sally or that lobster scene in Annie Hall as Diane Keaton holds out a wooden paddle and Woody Allen quips as he hides behind the fridge: 'Well, maybe we should just call the police. Dial nine-one-one, it's the lobster squad.'
There are romantic movies, and then there are those romantic movies. The movies we watch again and again and again...the timeless classics, the guilty pleasures, Ryan Gosling in the rain, Richard Gere and Julia Roberts getting jiggy on a grand piano, THAT LIFT in Dirty Dancing...we've rounded up the most iconic romantic movies of all time.
Ready? Let's go...
When Harry Met Sally
'What I'm saying is - and this is not a come-on in any way, shape or form - is that men and women can't be friends because the sex part always gets in the way.' It's almost impossible to pick just one stand-out quote from Nora Ephron's sharp-witted script - they're all keepers. In 1989 Billy Crystal and Meg Ryan bickered their way into each other's - and our - hearts. Why do we still quote these two relationship-neurotics in 2015? It asks the age-old question men and women still exhaust themselves with today: can men and women ever just be friends? For this reason, and so many more, When Harry Met Sally tops our poll every time. To quote the film's iconic theme: It had to be you.
Casablanca
'Of all the gin joints, in all the towns, in all the world, she walks into mine.'
It features some of the most famous Hollywood lines of all time, an unforgettable theme song, an A-list cast and consistently tops the polls. Yet, in 1942 it was just one out of hundreds produced that year and nearly didn't get made at all. Similarly to When Harry Met Sally, Casablanca explores an ageless romantic conundrum: the head or the heart? Protagonist Rick (played by a brooding Humphrey Bogart) is an anti-hero with a heavy-beating heart and Ingrid Bergman plays Ilsa, the woman torn between passion and duty. Its famous soundtrack, 'As Time Goes By', is an apt theme for a timeless masterpiece that will never age.
Breakfast At Tiffany's
'I'm like cat here, a no-name slob. We belong to nobody, and nobody belongs to us. We don't even belong to each other.'
It may seem inconceivable now, but when Truman Capote sold the rights to his novella he had one woman in mind to play his conflicted heroine, Holly Golighty: Marilyn Monroe. Lucky for Audrey Hepburn, Monroe picked The Misfits instead and the rest, as they say, is history. As the sun rises on Fifth Avenue, Hepburn devours her croissant and peers into the window of Tiffany's in her black Givenchy dress and killer shades. In those five minutes an iconic romance was born. Who can forget George Peppard's desperate plea in the back of a yellow cab? 'I don't want to put you in a cage. I want to love you.' That final embrace in the rain gets us sobbing like emotional wrecks every time.
The Umbrellas Of Cherbourg
'You think you're in love, but love is something different. You do not just fall in love with a face in the street.'
Who hasn't fallen in love with Catherine Deneuve in this 1964 French musical? Deneuve plays 16-year-old Geneviève, whose dream of marrying a handsome mechanic goes awry when he is drafted. Pregnant and alone, she finally gives in to the wealthy advances of Parisian jeweller, Roland. The young lovers' final encounter at a petrol station on Christmas Eve, as the snow dusts them like icing sugar, is possibly one of the most beautiful and heartwrenching cinematic moments of all time. The film's main theme, 'I Will Wait For You', is enough to make us weep.
La Belle Et La Bête
'I ask of you a little of this childlike simplicity, and, to bring us luck, let me speak four truly magic words, childhood's open sesame: "Once upon a time...'
Jean Cocteau's 1946 French fantasy takes our hand encourages us to tiptoe into a dreamlike world full of mystery and magic. It's a bewitching place to be. Inspired by the fairy tale of beauty and the beast, this grown up's version manages to translate the pain of love into hypnotic imagery and weaves it into a truly gothic masterpiece. Step into this enchanted wonderland: it's mesmerising.
Annie Hall
'A relationship, I think, is like a shark. You know? It has to constantly move forward or it dies. And I think what we got on our hands is a dead shark.'
Considered by many to be the ultimate romantic comedy blueprint, Woody Allen's 1977 classic still gets us shrieking with laughter, and yet its ending still breaks our heart. It's as much a love letter to New York as it is to lost love. The beauty of Annie Hall is that it centres around a man trying to figure out why his relationship failed. Many have imitated Annie Hall since it hit the big screen nearly 40 years ago, yet none have ever captured its magic. Woody Allen himself described this film as 'a major turning point'. He's right. Romantic comedies would never be the same...
The Piano
'At night I think of my piano in its ocean grave, and sometimes of myself floating above it. Down there everything is so still and silent that it lulls me to sleep. It is a weird lullaby and so it is; it is mine.'
If Emily Brontë had written a novel set in wildest 19th century New Zealand - with it's restless waves and airless forests - perhaps she would have penned The Piano. Jane Campion's Oscar-winning 1993 drama isn't just the story of a woman who falls in love with a man. True to its feminist credentials, it's much more than that. The Piano is a deeply poetic tale about a woman who learns to love herself. Ada's story is a haunting lullaby: the mute pianist who doesn't know why she cannot speak. Her silence symbolises her confinement. By the end of this extraordinary film, we finally witness her release.
Dirty Dancing
'I carried a watermelon.' Whether you're an out-and-proud lover or a closet-fan, there aren't many who can honestly reject the unashamed romance of this 1987 smash-hit. And who can forget Patrick's hypnotic hips as they sway-ze (ahem, sorry) to Otis Redding's 'Love Man'? Moreover, show us a woman who hasn't attempted "the lift' after one too many G&Ts on the dancefloor and we'll show you a liar.
Harold and Maude
'You know, at one time, I used to break into pet shops to liberate the canaries. But I decided that was an idea way before its time. Zoos are full, prisons are overflowing... oh my, how the world still dearly loves a cage.'
A young man obsessed with death falls in love with a 79-year-old woman at a stranger's funeral service. Sounds like an unlikely romantic comedy hit, doesn't it? The box office thought so: it didn't start earning money until twelve years after its release in 1983, yet is now considered a cult classic. A list of the most romantic films of all time wouldn't be the same without this offbeat, existential exploration of love, in all it's forms, irrespective of age. It also boasts a glorious soundtrack by Cat Stevens. Take a chance on this delightful romance and put aside all your preconceptions for 90 minutes.
Gone With The Wind
'No, I don't think I will kiss you, although you need kissing, badly. That's what's wrong with you. You should be kissed and often, and by someone who knows how.' Love stories don't get more epic than this 1939 classic. We're not kidding: it's nearly four hours long! Tussling lovers Rhett Butler and Scarlett O'Hara are worth the commitment, however. Their courtship sizzles along with the sweltering Georgian temperatures. Set against the backdrop of the American Civil War, Gone With The Wind weaves its melodramatic love story with the help of sumptuous costumes and spectacular set constructions. The most spectacular of them all, however, is Vivien Leigh herself. One word: stunning.
Roman Holiday
'I've never been alone with a man before, even with my dress on. With my dress off, it's MOST unusual.'
We defy anyone not to visit Rome and imagine Roman Holiday's crowning scene, as Audrey Hepburn and Gregory Peck whip around city street corners perched on a runaway Vespa, knocking over casual cafe diners as Audrey's childlike grin lights up the screen. A delight from start to finish, this modern fairytale of a runaway Princess who falls in love with a tabloid reporter is as charming as it was in 1953. As for it's ending? Break. Our. Hearts.
West Side Story
'Tonight, tonight, it all began tonight, I saw you and the world went away.'
Shakespearean star-crossed lovers transported to New York's Upper West Side in the 1950s and set to music? The gamble paid off. A commercial and critical success, West Side Story became an instant classic. Natalie Wood steals our hearts as romantically-doomed Maria and as for the ending...well...you've read Romeo and Juliet, right? Prepare yourself for a twist.
Pretty Woman
'You and I are such similar creatures, Vivian. We both screw people for money.'
A modern day Pygmalian story, Pretty Woman was originally envisioned to tell a darker tale about sex work in downtown Los Angeles. Hollywood soon waved it's magic wand and we ended up with a rom-com about Hollywood prostitute Vivian, who finds love with wealthy businessman Edward, played by Richard Gere. 25 years after the film's release in 1990 it is one of the most financially successful romantic comedies ever made, with an estimated income of $463.4 million.
The Notebook
'If you're a bird, I'm a bird.'
Where do we start? How about slobbering over Ryan Gosling. In a boat. In the rain. Did we mention the rain?
Let's just end it there, shall we? We're feeling a little faint. (*Fetches a cold flannel and goes for a lie down*).
Brokeback Mountain
'I wish I knew how to quit you.' The emotional depth of this 2006 movie doesn't just make us want to cry, it often makes it difficult to breathe. That doesn't make this tale of loneliness any less of a beautiful journey. Heath Ledger and Jake Gyllenhaal play two men falling in love in 1960s Wyoming - battling their feelings as they suffocate underneath layers of confusion and bigotry. It's raw, unflinching and - ultimately - tragically heartbreaking.
Celebrity news, beauty, fashion advice, and fascinating features, delivered straight to your inbox!
The leading destination for fashion, beauty, shopping and finger-on-the-pulse views on the latest issues. Marie Claire's travel content helps you delight in discovering new destinations around the globe, offering a unique – and sometimes unchartered – travel experience. From new hotel openings to the destinations tipped to take over our travel calendars, this iconic name has it covered.