The 13 Best Film Remakes Of All Time
With a new version of cult horror classic Carrie set for release this week, we've taken a moment to check out the best movie remakes of all time...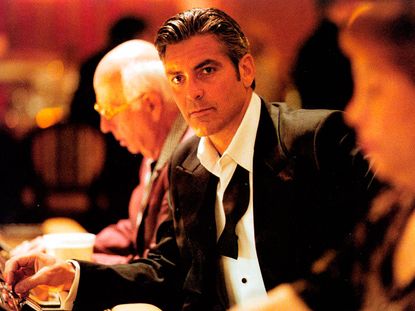 (Image credit: Rex Features)
With a new version of cult horror classic Carrie set for release this week, we've taken a moment to check out the best movie remakes of all time...
1. The Parent Trap
This fabulously heartwarming remake of the 1961 classic, starring Hayley Mills, thrust an adorable and oh-so-innocent Lindsay Lohan into the spotlight. Well, it was 1998...
2. Ocean's 11
This fast-paced and witty 2001 remake added a big slick of modern A-list polish to the original 1960 Rat Pack movie of the same name. A complete classic, thanks to fab performances from George Clooney, Brad Pitt and Julia Roberts. Oh hell, the whole cast was fabulous.
3. True Grit
A brilliant remake of the 1969 classic, starring Western legend John Wayne, this 2010 movie received critical acclaim, thanks to the Coen Brothers' masterful direction, and impressive performances from Jeff Bridges, Matt Damon and newcomer Hailee Steinfeld, who received an Oscar nomination for the role.
4. Hairspray
This pitch perfect 2007 re-interpretation of the original 1987 film features John Travolta in a dress. What's not to love?
5. Charlie and the Chocolate Factory
Closer to the book than 1971's 'Willy Wonka And The Chocolate Factory', Tim Burton's 2005 interpretation was a visually stunning and lavish affair, with a predictably great lead performance from Johnny Depp.
6. The Great Gatsby
Baz Luhrmann's 2013 adaptation was as decadent as they come, with lavish Prada costumes, a to-die-for soundtrack, and performance perfection from Leonardo DiCaprio. We're not saying it was better than the 1974 film, but it was gorgeous through-and-through.
7. War of the Worlds
Starring Tom Cruise, Stephen Spielberg's 2005 remake of the original 1953 film took advantage of the power of 21st century special effects to deliver the fear and paranoia of H.G. Wells' classic novel to a modern audience.
8. King Kong
Peter Jackson lent his visual flair to this 2005 remake of the 1933 original. The amazing, life-like digital animation really brought the classic tale to life.
9. 3:10 to Yuma
This 2007 remake was widely regarded as an improvement on the 1957 original, thanks to knock-out performances from Russell Crowe and Christian Bale.
10. The Departed
Martin Scorcese lent this 2006 remake some of his usual gritty polish, transforming the original 2002 film, 'Internal Affairs', into an engrossing gangster movie, with stand-out performances from Leonardo DiCaprio and Matt Damon.
11. Man On Fire
This 2004 film, starring Denzel Washington and Dakota Fanning, is widely regarded as one of Tony Scott's best-loved movies, but it was originally a 1987 French-Italian production, adapted from the book by British author A.J. Quinnell.
12. Vanilla Sky
13. Three Men And A Baby
Celebrity news, beauty, fashion advice, and fascinating features, delivered straight to your inbox!