This "significant character" on Modern Family passed away in yesterday's episode
It's the first major character death for the series.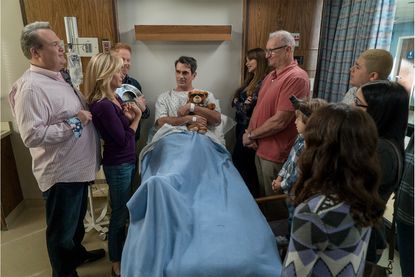 It's the first major character death for the series.
When the showrunners of Modern Family teased in September that a "significant character" would be kicking the bucket, all of us in the MC office immediately panicked. Even if we don't follow the show as religiously as we used to, all the characters hold a very special place in our heart and saying goodbye to any of them would be difficult AF. When the cast began dropping hints that the death would take place in yesterday's Halloween-themed episode, we steeled ourselves and huddled round for support.
I mean, it goes without saying that there's about to be a massive spoiler. Click away now if you don't want to find out who it is.
The Modern Family character death is sad, but you can rest assured that it's not anybody in the main cast. Claire and Mitchell's mother, DeDe Pritchett, is the one who sadly passes away in the episode off-camera. At the start of the ep, Claire receives a call from her stepfather who tells her that DeDe has suddenly died. By the end, it's revealed that she died "peacefully in her sleep".
The entire episode centres around the family's Halloween party, which they still go ahead with, and focuses on each of the character's different ways of mourning. For example, Claire and Mitchell come together to share fond memories about their mother (including when Mitchell realised she had accepted him for being gay).
Luke uses comedy to deal with the death, joking that DeDe will come back as a zombie, while Hayley eats her feelings. Jay, who used to be married to DeDe, can't quite voice how sad he is about DeDe's death and instead fixates on a sandwich he's upset about.
It might sound ridiculous, but dealing with difficult topics through comedy is one of the show's strongest suits. Even though the episode is pretty sad, the fact that everyone's dressed up in goofy Halloween costumes lends it a kind of surreal hilarity (Mitchell and Cameron dressed as Prince Harry and Meghan Markle was everything). There's still some laughs or happiness to be found even amidst the lowest points, which is pretty true to life TBH.
According to the showrunner Christopher Lloyd, DeDe's death will have "repercussions across several episodes" so we're guessing the family will continue trying to process their grief. We're also guessing there's probably going to be a funeral episode, which will probably be quite depressing.
Celebrity news, beauty, fashion advice, and fascinating features, delivered straight to your inbox!
Megan is a freelance journalist who covers entertainment and all things lifestyle, with a particular passion for fashion, beauty, travel and Keanu Reeves stories. She has previously worked on staff for titles including Marie Claire UK, CNN Style and The Evening Standard and has written for titles such as Bustle UK, Wallpaper*, Forbes and Hong Kong Tatler. She splits her time between London and her hometown Hong Kong, where she currently lives with the love of her life - an elderly dog named Poppy - and her husband.