Meet The Boys In The Riot Club: Your Complete Who's Who Guide
The adaptation of Laura Wade's play Posh – based on Oxford University's infamously raucous Bullingdon Club – is autumn's hottest film. We predict a riot.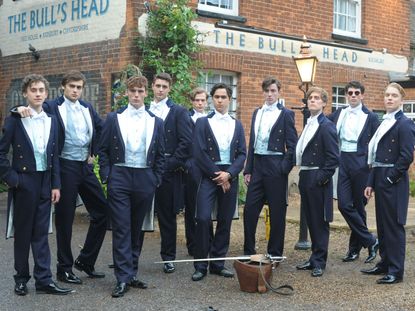 The adaptation of Laura Wade's play Posh – based on Oxford University's infamously raucous Bullingdon Club – is autumn's hottest film. We predict a riot.
This is your The Riot Club who's who guide:
The one with issues Alistair (played by Sam Claflin)
The impossibly handsome Mr Claflin took time out of his busy Hunger Games schedule (in which he plays Finnick Odair) to join The Riot Club. And wreck havoc he certainly does. 'We didn't just want to make him evil, evil, evil,' he explains. 'We wanted to make the audience feel sorry for him so you could understand where all this big chat and that personality came from.'
The wannabe royal Harry (played by Douglas Booth)
A champion fencer with an eye for the ladies (haven't they all?!), the suitably-named Harry has buckets of charm, a stately home and his dad's a Duke. Who better to play him than chisel-cheeked Douglas Booth? Just wait til you see him in his fencing whites… 'Harry has a certain ease, he never has to reach too far for anything in life,' says the Noah and Romeo and Juliet star. 'It's interesting to investigate a character where you wonder what drives him through the story, because ultimately he knows where he will be.'
The one you'll root for Miles (played by Max Irons)
As the less privileged new inductee into the club, Miles is grappling with his identity and doing the right thing. Turns out Max – son of actor Jeremy – who you'll recognize from BBC period drama, The White Queen, was put in a similar quandary. 'When I first read the script I didn't want to do it because I found some of the subject matter so unpleasant!' he declares. Lucky for us he did do it; he's one of the stand out stars.
The leader of the pack James (played by Freddie Fox)
Freddie Fox – younger brother of Emilia and offspring of that dynasty – wasn't originally considered for the role of the president of the club but eventually took to it like a duck to water. Says director Lone Scherfig (whose previous credits include One Day and An Education): 'I'm particularly thankful (to Freddie) because he helped to make the rest of the Club understand how important it is that they work together and how privileged he felt to embark on this journey and be in the film.' Bless.
The 'poetic posh' one Hugo (played by Sam Reid)
Described as 'the sort of person who will never leave college', Hugo is the classics student who's a bit Oscar Wilde in more ways than one. He has an unrequited love for Miles and 'is a bit of an outsider,' says Aussie actor Sam Reid. 'He's quite eccentric and hasn't ever fitted in anywhere until he got to Oxford university.'
The exotic one Dimitri (played by Ben Schnetzer)
The steely son of a Greek shipping magnate, the ridiculously wealthy Dimitri has spent most of his summers fooling around on yachts – and doesn't he act like it?! American actor Ben (who previously starred in The Book Thief) channeled his own 'outsider' into the role. 'He's a bit of a cad, but he's very loose with his money, which is quite fun to play,' he says.
The hapless sidekick Guy (played by Matthew Beard)
Best buddies with Dimitri (since Eton, natch), Guy is a sidekick with (not-so) secret ambitions to overtake James as president. 'He is the plus one in life, trying just too hard to be enthusiastic and that isn't very cool,' explains Matthew who also stars in The Imitation Game alongside Benedict Cumberbatch this autumn.
The lovable one George (played by Jack Farthing)
Lover of dogs, fishing and his family, by rights, kind hearted George shouldn't even be in the Club. So he's definitely the one who'll get your sympathy vote. And of course it doesn't harm that Jack Farthing (who plays John Lennon in this month's ITV drama Cilla) is rather easy on the eye. 'He's a simple pleasures kind of chap. What he might have, that isn't in the others, is that he doesn't feel a need to be cool and hip and trendy.'
The double act Ed (played by Josh O'Connor) and Toby (played by Olly Alexander)
These two are a right pair – doing everything together, even down to chatting up girls (cringe). You can always rely on them to trash the place, as well as, erm, getting trashed. It's a tough job, but someone's got to do it, hey boys?
The Riot Club is in cinemas nationwide from 19 September.
Celebrity news, beauty, fashion advice, and fascinating features, delivered straight to your inbox!