Nine Gilmore Girls guest stars who went on to become super famous
Jessica Jones, Don Draper and Freddie Mercury walk into a Stars Hollow bar...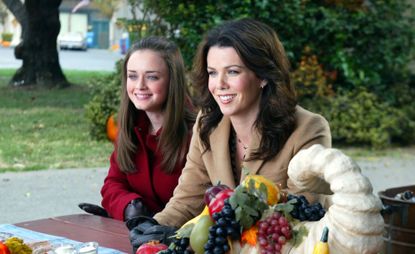 (Image credit: MITCHELL HADDAD)
Jessica Jones, Don Draper and Freddie Mercury walk into a Stars Hollow bar...
One of our favourite early 00s shows is all grown up and eighteen years old today, as the first ever episode Gilmore Girls aired today back in 2000. (Feel old yet?) With several series and a controversial Netflix spin-off under its belt, the tale of Rory and Lorelai Gilmore never fails to get old and will always hold a special place in our hearts — even if the internet's still fighting over who was Rory's greatest love.
Well, after a thorough rewatch, we've realised there's a few famous faces that got their start on Gilmore Girls before stepping into beefier roles. From Mad Men's surly Don Draper to butt-kicking Jessica Jones, here's a few guest actors you didn't realise were going to be a big thing when you watched them on GG the first time round.
Jon Hamm
Blink and you'll miss this one. Jon Hamm starred in an episode of Gilmore Girls called Eight o Clock at the Oasis, where he plays one of Lorelai's short-lived suitors. She bumps into him at an auction house where they proceed to flirtatiously outbid one another for the last glass of red wine, then later go on a terrible date (off camera, sadly). Even if he wasn't a total Casanova in Gilmore Girls, Jon Hamm would then go onto play one of TV's sexiest and most problematic men: Don Draper in Mad Men. You'll also recognise him as that asshole from Bridesmaids and the Reverend from The Unbreakable Kimmy Schmidt.
Krysten Ritter
Before she played no-bullshit, whiskey drinking, ass-kicking Jessica Jones, Krysten Ritter was one of Rory's kind of annoying friends at Yale called Lucy. Back then, she was a theatre major and ended up dating Marty - a boy who had once liked Rory but ended up becoming a major asshole once she told him she wasn't interested. There's a whole drama about it and eventually, Lucy and Rory wind up solid friends while Marty is cut out of the picture.
Since then, Krysten Ritter's stepped away from Stars Hollow in favour of roles on grittier shows like Breaking Bad and Jessica Jones.
Chad Michael Murray
IMHO, if Chad Michael Murray had hung around and hadn't been scooped up by One Tree Hill, he and Rory would've gotten a much longer and romantic arc. Chad played an obnoxious jerk called Tristan Dugray in the earlier series of Gilmore Girls, a fellow classmate of Rory's at Chilton who we later learn has a big crush on her.
Although they do eventually wind up macking on each other, Rory realises she's still in love with Dean, things blow up with Paris (who has a huge crush on him) and Tristan gets booted off to military school — and One Tree Hill, obviously.
Adam Brody
We were DEVASTATED when Adam Brody left Gilmore Girls. This charming fella played Lane's bandmate boyfriend Dave Rygalski back in series three and they were perfect together. Besides giving Lane the love and attention the goddess deserves, it also seemed like like he'd do pretty much anything for her: even pretending to be a devout Christian boy and playing the guitar for Lane's mother's Bible group.
He eventually winds up moving away and eventually splitting up with Lane, but we all know what really happened. He went on to play Seth Cohen (basically the same awkward lovable character) on another show: The OC.
Jane Lynch
The episode that Jane Lynch was on in Gilmore Girls was a total showdown of the titans. The future Glee star, who played a nurse, went head to head with Emily Gilmore while Richard was hospitalised back in series one. Rather than blowing up Sue Sylvester-style at Emily, Jane Lynch's character was just pretty exhausted and exasperated by Emily's antics.
Since then, Jane Lynch has gone on to star in not just Glee but also films like Talladega Nights: The Ballad of Ricky Bobby and The 40 Year Old Virgin.
Rami Malek
You're going to see a lot more of Rami Malek in the coming months as he's slated to play Freddie Mercury in the upcoming Queen biopic Bohemian Rhapsody. However his first ever TV role was on Gilmore Girls, where he played one of Lane's classmates at her religious college Seventh Day Adventist.
He's a long way from his sweater vest days though as he quickly shot to fame for his unsettling yet emotional performance in Mr Robot, as well as an adorable yet naive Egyptian royal in the Night at the Museum franchise.
Max Greenfield
Yep, New Girl's Schmidtty was once a Stars Hollow local. Before he was putting pennies in a swear jar and being generally slimy, he played one of Dean's friends Luke - to the dismay of the one true Gilmore Girls' Luke Danes.
He partied it up with Dean during his bachelor's party and although you don't see him again, we believe it's because he realised how trash Dean was and got out of there. This is not a Team Dean household.
Nick Offerman
If you're a fan of Parks and Rec, it's impossible to forget Nick Offerman as the stern unflappable Ron Swanson. He's totally unrecognisable as Beau Belleville on Gilmore Girls though, a creep who believes that Lorelai's a nymphomaniac and tries to do everything he can possible to get into her pants.
Although the guest of the Dragonfly Inn eventually winds up leaving her alone, he wound up with his fair share of relationship drama on Parks and Rec — dodging his crazy ex-wives Tammy 1 and Tammy 2.
Seth MacFarlane
You might not know this man's face, but you definitely know his voice. Seth MacFarlane both runs and voice acts in shows including American Dad and Family Guy, where he plays Peter Griffin, Steele and a whole range of characters.
Lorelai comes across him while studying at business school and they don't get on well at all, as his character Zack has a big thing against her for coming from a rich family. He's also given the silver screen a go and starred in the Ted franchise.
Celebrity news, beauty, fashion advice, and fascinating features, delivered straight to your inbox!
Megan is a freelance journalist who covers entertainment and all things lifestyle, with a particular passion for fashion, beauty, travel and Keanu Reeves stories. She has previously worked on staff for titles including Marie Claire UK, CNN Style and The Evening Standard and has written for titles such as Bustle UK, Wallpaper*, Forbes and Hong Kong Tatler. She splits her time between London and her hometown Hong Kong, where she currently lives with the love of her life - an elderly dog named Poppy - and her husband.