You won't believe who almost played Joey in Friends
We REALLY can't imagine this.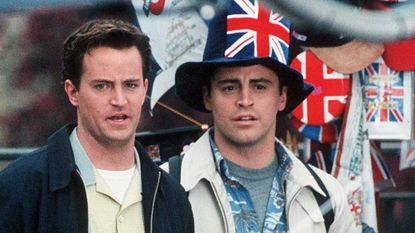 We REALLY can't imagine this.
Just recently our minds were blown by news that Jennifer Aniston very almost didn't play 'gal pal Rachel Green' in everyone's favourite TV show, Friends.
As if that wasn't traumatising enough, we've just learnt that pretty much the whole gang we all know and love were almost played by completely different actors. And we're not entirely sure how we feel about the original casting choices.
We can't really imagine anyone but David Schwimmer playing Ross Geller, but the role of the UK's favourite Friends character (seriously) very almost went to Will & Grace star Eric McCormack. And rumour has it the producers were originally considering Courtney Cox for the role of Rachel before she convinced them that she would be the perfect person to play Ross' younger sister, Monica Geller.
The Geller's weren't the only characters almost played by different actors either, with the role of Ross' best friend and Monica's future spouse almost going to John Favreau. However, John turned down the role of Chandler Bing to focus on the movie Swingers, which just so happened to launch his career. Fans of Friends will remember that John did eventually go on to guest star in the popular sitcom, playing the role of Monica's millionnaire boyfriend Pete Becker.
And in what might just be the most shocking casting choice we can imagine, it just so happens that John's close friend Vince Vaughn was originally considered for the role of Joey Tribbiani. Although the casting directors noted that Vince was 'tall, handsome and a good actor' he was turned down for the role of Chandler's BFF, and to be honest we can't imagine anyone playing Joey better than Matt LeBlanc who eventually got the part.
As if all of this wasn't enough of a bombshell, the original theme tune for the show (which was originally called Friends Like Us, FYI) was Shiny Happy People by REM. It was later replaced with I'll Be There For You by The Rembrandt's, despite the fact that NONE of the cast liked it. Then again, when Friends first came out it reviews absolutely hated what is no doubt once of the most loved TV shows these days.
Christ, we need a lie down after all those revelations.
Celebrity news, beauty, fashion advice, and fascinating features, delivered straight to your inbox!