Clueless is being rebooted, so here's a few other sacred TV shows and films we need to protect
No one told us life was gonna be this way.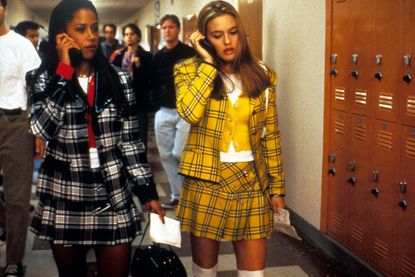 No one told us life was gonna be this way.
There are two kinds of people. First, you have the kind of people who can't wait for the newly announced Clueless reboot. And secondly, you have people like me: who honestly can't think of anything worse. Not because I don't like the film - in fact, I'm obsessed with it - but because it was just so perfect and of its time. Deadline broke the news earlier today that a Clueless remake is currently in 'early development' over at Paramount and it's being helmed by two women whose projects you've probably seen recently. Tracy Oliver, who wrote Girls Trip, will be producing the project while Marquita Robinson, who's behind Netflix's Glow, will be in charge of the script.
Although the outlet revealed they were currently unsure 'whether it's a fresh new take for the millennium and if older characters will be reprising their roles', I don't think either option is a great shout. (I've learned that the long, hard way after Sex and the City 2 and Gilmore Girls: A Year in the Life.) Like it or not, it seems like it's full steam ahead. Cher and Josh, I adore you but I don't know if I can come with you on this journey.
After seeing the announcement come out, it got me thinking about which other classic movies and television shows that Hollywood should just leave the hell alone. By virtue of putting them on this list though, I'm also 150% certain that there are definitely talks behind the scenes about reboots and remakes happening RN. If there's anything 2018 has taught me, it's that nothing is sacred anymore. Here's a few 90s classics and early 00s beauties that should never be rebooted…
Friends
Like Clueless, Friends was this bolt of lightning that just captured a specific cultural moment. Although people have started picking apart the show and exposing its un-PC 90s underbelly, the tale of six pals in New York remains one of the most beloved television shows and continues to spur debates on whether or not Ross and Rachel were really on a break. Nobody will ever be able to fill the shoes that Matthew Perry, Courteney Cox, Jennifer Aniston, Lisa Kudrow, David Scwhimmer and Matt LeBlanc have left behind and capture their chemistry IMO, so there's no point in even trying to remake the entire series. The jury's still out on whether or not a Friends movie is going to happen with them reprising their roles but I honestly don't think that's going to happen.
If you're really keen on seeing what life was like for Monica and Chandler after Friends, an interior design company redesigned Monica's iconic Friends apartment for the 21st century. It's actually pretty cool and I'd move in if I could afford it.
Back to the Future
I swear, every film student I talked to when I was at uni waxed lyrical about this film. The adventures of Marty McFly and Doc hold a very special place in my heart and seeing anybody try to recreate that magic would hurt. Even though the Back to the Future series succeeded with one of their stellar sequels, it wasn't magic every time. Please, I can't do cowboys again.
Matilda
Roald Dahl's novel was one of the first books I ever really resonated with as a kid and unsurprisingly, the film was no different. This 1996 film captured the zany brilliance of the original story with a spectacular over-the-top approach to the story, bringing to life memorable scenes like the Chokey and Miss Trunchbull literally tossing a girl miles away by her braids. I can't imagine a better Matilda than Mara Wilson TBH and if you haven't checked in on her in years, go follow her on Twitter - she's amazing.
The original Harry Potter series
I've resigned myself to the fact that whether I like it or not, this is probably going to happen in five years. Nobody, not even J.K. Rowling, can let this beloved franchise go and I think it's time we all pull a Daniel Radcliffe: hold it in our hearts forever, make our peace with it and move onto other things. The sound of John Williams' orchestral opening still sends shivers down my spine and we all remember that moment that the doors were thrown open and we saw the Great Hall for the first time; I don't think anything's ever going to top that. Plus, let's be real - who else would really be able to play the original trio but Daniel Radcliffe, Emma Watson and Rupert Grint? (Side note: if a remake has to happen, I want it to be in decades and for Daniel Radcliffe to play Professor Dumbledore.)
Bernard's Watch
My friend Conor once said to me on a night out, 'If I had Bernard's watch, I would f*** shit up.' Bernard's Watch was such a sweet, wholesome television show and after hearing my pal say that, I don't trust the powers at be not to abuse the power a magical watch will give a gen Y kid. It probably won't even be a watch, it'll probably be an app on an unbranded smartphone and even just typing that out makes me furious that I've already thought about this.
Ab Fab
This laugh out loud British comedy remains one of the funniest shows ever and even now, the tales of the chain-smoking, vodka-drinking and totally over it all duo remain some of my favourites. If there was to be a reboot or remake, the only way I'd come around to it would be if Jennifer Saunders was attached to write or direct since she was the one that brought the magic the first time round as one of the show's main writers and playing Edina Monsoon. We've already gotten a sequel movie which wasn't great, let's not push our luck here.
The Fresh Prince of Bel-Air
Even though The Fresh Prince of Bel-Air was intended originally for American audiences, after it started airing on BBC 2 it became a British cult classic. People love this show (and the opening song which everybody seems to know backwards), so seeing it rebooted for a 21st century audience would be kind of devastating. Plus, the cast of Fresh Prince have since shut down any possibility of a revival since James Avery - who played Uncle Phil - sadly passed away.
Alfonso Ribeira, who played Carlton, told PEOPLE, 'I think it's impossible with James Avery being gone. Do we really want to see Will and Carlton in their, you know, 40s and 50s?'
He added, 'James Avery, right, he's actually the most important character on the show. ... Without him, everything that Will and Carlton did would mean nothing.'
Buffy the Vampire Slayer
I'm still in denial that this reboot is happening. Buffy was one of the first real feminist television icons I ever came across and she's stayed with me ever since: I'm literally going to a Buffy the Vampire Slayer-themed Halloween party this weekend. The butt-kicking adventures of the vampire slayer were my highlight growing up and seeing how much the Scooby gang cared for one another set the bar high for my own friendships, supernatural disasters and end-of-the-world crises aside. It was bold for its time and I literally can't stop thinking about some of the show's episodes, including the quiet, unexpected death of Buffy's mother and Hush - the experimental completely silent episode.
According to the new showrunner Monica Owusu-Breen, the upcoming Buffy show won't be a reboot and instead will centre on 'a new Slayer'. I mean, I'm still not convinced but I'll reserve judgement till we actually get to see it.
Any Amanda Bynes romcom
What a Girl Wants? She's the Man? Honestly, we were #blessed to grow up with a bounty of Amanda Bynes' films and TV shows. People aren't going to be poring over any of these flicks at film school or championing them as a bastion of romance genre excellence, but I still don't want anybody to touch them. Although Amanda Bynes has faded from the spotlight and gone pretty quiet recently, she was the funny, sassy girl that I desperately wanted to be. Nobody will ever hold a candle to her.
Live-action Studio Ghibli films
Disney's currently on the live-action remake hype train and if Studio Ghibli hops on it, I'm going to lose my shit. These Japanese animated films are untouchable with the likes of Spirited Away, Princess Mononoke, Howl's Moving Castle and Kiki's Delivery Services beloved globally. They were brought over to English audiences pretty respectfully (a rare feat) and even attracted voice acting talent like Christian Bale, Lauren Bacall, Joseph Gordon Levitt and Emily Blunt.
That said, my skin actually crawls at the thought of Hollywood making a live-action Spirited Away - mostly because I'm terrified they would white-wash it and cast Scarlett Johansson as Chihiro. Never forgive, never forget Ghost in the Shell.
I'm sure there's a ton of films and shows I've missed, but I'd be here all day if I listed them all. Off the top of my head, I wouldn't be able to bear reboots of Fight Club, Die Hard, Who Framed Roger Rabbit? and Saved by the Bell.
Are there any films or shows you actually want to see rebooted?
Celebrity news, beauty, fashion advice, and fascinating features, delivered straight to your inbox!
Megan is a freelance journalist who covers entertainment and all things lifestyle, with a particular passion for fashion, beauty, travel and Keanu Reeves stories. She has previously worked on staff for titles including Marie Claire UK, CNN Style and The Evening Standard and has written for titles such as Bustle UK, Wallpaper*, Forbes and Hong Kong Tatler. She splits her time between London and her hometown Hong Kong, where she currently lives with the love of her life - an elderly dog named Poppy - and her husband.