Autumn 2014 TV Shows: 7 We Cannot Wait To Watch
Lock the doors, draw the curtains, and grab the remote; a brand new season awaits. Telly, we've missed you…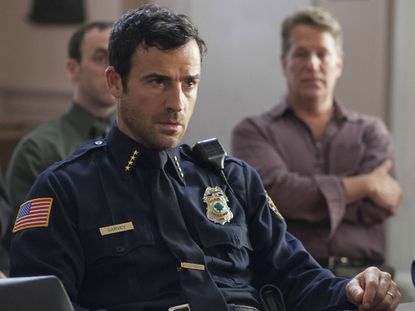 Lock the doors, draw the curtains, and grab the remote; a brand new season awaits. Telly, we've missed you…
After HBO's next big thing? Watch: The Leftovers, Sky Atlantic, September
What do you get if you mix the creator of Lost, a police uniform, and Jennifer Aniston's other half? Only the hottest US TV series of the season. Justin Theroux is compelling (and ok, rather easy on the eye) as a small town cop juggling life as a single dad with the small matter of 2 per cent of the world's population disappearing. Let's just say we won't be referring to him as an 'other half' anymore.
Totally digging the 1960s? Watch: Cilla, ITV, September
Given Sheridan Smith regularly brings us a lorra lorra LOLs (Gavin & Stacey, anyone?), hits those high notes (Legally Blonde!) and loves a real life role (Hello, Mrs Biggs), it's safe to say she's perfect to take on the legend that is Cilla Black (c'mon we all loved a bit of Blind Date, no?). This is the proper vintage back-story and Shezza definitely rocks her ginge beehive.
Craving Broadchurch? Watch: The Great Fire, ITV, October
Soz you'll have to wait until early next year for the second series, but for a fix of the fine and dandy Andy Buchan, look no further than this epic costume drama that recreates 17th century London – before burning it all down! Little known fact? The series is written by ITV's political correspondent Tom Bradby.
All about the Abbey? Watch: Downton Abbey, ITV, September
While Lady Mary (Michelle Dockery) soon got over the hubby's death and back on the horse – so to speak – with her little love triangle in the last series, things came tumbling down good and proper for poor old Edith (Laura Carmichael). Let's hope things pick up in series five, in which Richard E Grant joins the cast. Don't forget to look out for water bottles…
Love a gangster boy? Watch: Peaky Blinders, BBC2, October
Move over Cillian Murphy and your brooding flat-capped gangster ways, it's all about Tom Hardy in the second series of this stylish Birmingham-set period drama. And that's not the only coup for the cast – his fiancé Charlotte Riley is joining too.
Want to get seriously spooked? Watch: The Fall, BBC2, October
It's hard to imagine the oh-so-sexy Irish one before he was Christian Grey now, but this is what first brought Jamie Dornan to our attention. Yep, as serial killer Paul he was as creepy as he was sexy which was a whole world of confusion. And it's exactly the same in this thrilling second series. And Gillian – as the detective chasing his tail – kicks ass too.
Need a good LOL? Watch: Cut, C4, October
If you've been having serious Vod, well, Zawe Ashton, withdrawal symptoms since the last series of Fresh Meat, fret not, she's back, in a big way, as the lead in this brilliant new comedy drama. It might not sound hugely exciting – a group of civil servants who have been relocated to Northampton – but it's topical, fresh and super LOL.
Celebrity news, beauty, fashion advice, and fascinating features, delivered straight to your inbox!