The World-Beating Scientist: 'My DIY kit will transform women's reproductive health'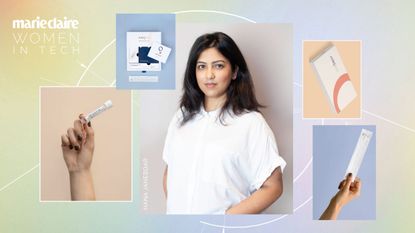 Join Marie Claire and Entrepreneur First on Friday 12th Feb at 1pm for a special STEM panel in light of National Women and Girls in Science day. Editor in Chief of Marie Claire, Andrea Thompson, and Co-founder of Entrepreneur First, Alice Bentick, speak to a host of successful female founders who are making waves across their industries.
Hana Janebdar was outraged at the standard of women's health research so she founded Juno Bio. Its revolutionary at-home test decodes our unique vaginal microbiome for healthy purposes. As Marie Claire launches Women in Tech week, we caught up with the women's health innovator to talk vaginal wellness and the gender health research gap
If you've ever suffered from a UTI, you'll know they, alongside the vaginal infection treatment that follows, can be a pain.
That's where Hana Janebdar comes in. She's an engineer with a specific interest in human microbiome who found herself outraged at the standard of women's health research in the area. Enter stage right, Juno Bio, her brainchild.
It's a revolutionary at-home test that decodes your unique vaginal microbiome. Plus, it looks set to shake up the vaginal wellness world this year. Keep reading for Hana's fascinating story.
A breakthrough in vaginal infection treatment
"I was born in Kabul, Afghanistan, then raised in London from the age of five. After studying Biology and Biochemical Engineering at Imperial College London and UCL, I went on to work on various microbiome challenges. At 25 years old, I joined talent investor Entrepreneur First, which is where I founded Juno Bio."
"Juno was formed out of outrage at the state of women's standard of care and health research. Working in the space, I realised the huge potential that cutting edge microbiome science has in significantly improving human health. However, there was a shocking lack of research and products for the vaginal microbiome. Really, it's one of the most readily accessible and most strongly associative of all microbiome. Meanwhile, other microbiome areas were exploding."
Introducing the first vaginal wellness test
"Implicated in over 30 conditions, vaginal microbiomes range from the taboo to the downright dangerous. Bacterial vaginosis, for instance, is one condition of the vaginal microbiome, and is associated with increased risk of STI acquisition, infertility, preterm birth and even some gynae cancers."
"Research in these conditions also show there is a racial bias in favour of white women in the way that the conditions of and associated with the vaginal microbiome have even been defined, diagnosed and treated."
"In 2018, I formed Juno Bio to change this with my cofounder Dr Leighton Turner. In 2019, we set up and ran The Juno Study. With this study, we unlocked the technical challenges fundamental to the vaginal microbiome. We built one of the richest and most representative vaginal microbiome repositories to power up research which enabled our first product: our Vaginal Microbiome Wellness Test."
We're redefining health and disease
"In 2020, we built and launched the most comprehensive at-home vaginal microbiome wellness test that gives each woman an understanding of her own personal vaginal microbiome, what it means for her wellbeing and what her next steps should be while powering up research for all women at scale."
"We're decoding the vaginal microbiome and redefining health and disease by accelerating access to the information women deserve, creating category-defining products to improve the standard of care for women and closing the gender health research gap."
"Getting a tech idea off the ground isn't easy. The odds are stacked against you. Building a product for women and people with vaginas, as a female founder? Even more so. You need the right people that are technically brilliant and aligned with your mission."
The odds are stacked against you
"These people aren't always easy to find and sometimes, when the tech is new, have to be trained by you. Working in a taboo, new, or ignored area means you've got to get creative. That's especially important when it comes to building your community and communicating. Facebook blocked ads with 'vagina' in them when we first started."
Celebrity news, beauty, fashion advice, and fascinating features, delivered straight to your inbox!
Maria Coole is a contributing editor on Marie Claire.
Hello Marie Claire readers – you have reached your daily destination. I really hope you're enjoying our reads and I'm very interested to know what you shared, liked and didn't like (gah, it happens) by emailing me at: maria.coole@freelance.ti-media.com
But if you fancy finding out who you're venting to then let me tell you I'm the one on the team that remembers the Spice Girls the first time round. I confidently predicted they'd be a one-hit wonder in the pages of Bliss magazine where I was deputy editor through the second half of the 90s. Having soundly killed any career ambitions in music journalism I've managed to keep myself in glow-boosting moisturisers and theatre tickets with a centuries-spanning career in journalism.
Yes, predating t'internet, when 'I'll fax you' was grunted down a phone with a cord attached to it; when Glastonbury was still accessible by casually going under or over a flimsy fence; when gatecrashing a Foo Fighters aftershow party was easy-peasy-lemon-squeezy and tapping Dave Grohl on the shoulder was... oh sorry I like to ramble.
Originally born and bred in that there Welsh seaside town kindly given a new lease of life by Gavin & Stacey, I started out as a junior writer for the Girl Guides and eventually earned enough Brownie points to move on and have a blast as deputy editor of Bliss, New Woman and editor of People newspaper magazine. I was on the launch team of Look in 2007 - where I stuck around as deputy editor and acting editor for almost ten years - shaping a magazine and website at the forefront of body positivity, mental wellbeing and empowering features. More recently, I've been Closer executive editor, assistant editor at the Financial Times's How To Spend It (yes thanks, no probs with that life skill) and now I'm making my inner fangirl's dream come true by working on this agenda-setting brand, the one that inspired me to become a journalist when Marie Claire launched back in 1988.
I'm a theatre addict, lover of Marvel franchises, most hard cheeses, all types of trees, half-price Itsu, cats, Dr Who, cherry tomatoes, Curly-Wurly, cats, blueberries, cats, boiled eggs, cats, maxi dresses, cats, Adidas shelltops, cats and their kittens. I've never knowingly operated any household white goods and once served Ripples as a main course. And finally, always remember what the late great Nora Ephron said, 'Everything is copy.'