Suranne Jones on Doctor Foster, infidelity and 'all that unused sexual tension'
The brilliant Doctor Foster is back, and with it one of Britain's most gifted actresses. We talk to Suranne Jones about the dark power struggle in store for round two, and what she learned from being on Coronation Street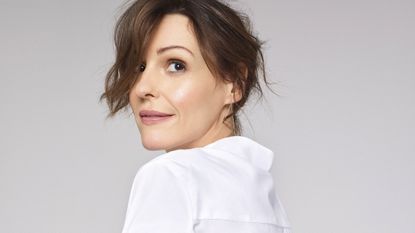 (Image credit: Christopher Fenner)
The brilliant Doctor Foster is back, and with it one of Britain's most gifted actresses. We talk to Suranne Jones about the dark power struggle in store for round two, and what she learned from being on Coronation Street
Two years ago, the nation's productivity took a nosedive as millions of people became virtually unable to talk about anything other than one BBC television show. Doctor Foster, the story of a GP slowly unravelling her husband's affair, was gripping, enraging and ripe for debate. And it ended with a pretty conclusive showdown. So it's perhaps understandable that its star, Suranne Jones, who won a Bafta for season one, was hesitant about bringing it back for part two.
Where could the story go now, with the cheater expelled, the crockery smashed, the marriage (apparently) over? 'When they said, "Should we do another one?" I was suspicious that this was just because the first one was a success,' admits Jones. But then she sat down with the show's writer, Mike Bartlett (Charles III), and realised there was plenty of ground left to cover – and then some.
So Doctor Foster is back, bringing with it one of the country's most watchable and skilled homegrown actresses, after a brief hiatus taken for the birth of her son (now 18 months old) with journalist husband Laurence Akers.
Jones, now 38, was a drama-loving kid who joined the Oldham Theatre Workshop when she was eight – in the same year as Anna Friel – and cut her teeth on Coronation Street as 'bulldog in hoop earrings' Karen McDonald.
She walked away from Corrie in 2004, turning down well-paid offers to appear on reality TV for a stage role in A Few Good Men at London's Haymarket Theatre with Rob Lowe. But it was her turning-point role as a murderer released from jail in Unforgiven – a 2009 drama by Happy Valley writer Sally Wainwright – that really threw her talents into sharp relief.
Wainwright and Jones went on to make five seasons of women-led hit detective drama Scott & Bailey together (with Jones starring opposite Lesley Sharp as chaotic DC Rachel Bailey) and on the week we meet, Jones has just inked a deal with HBO to star in Wainwright's 19th-century biopic of Britain's 'first modern lesbian', Anne Lister. So if she's currently Britain's best-kept secret, she won't be for much longer. But first, there's the small matter of a cheating ex-husband to contend with.
You were initially reluctant to make a second season of Doctor Foster. What changed your mind?
'I had to be sold on the fact that things weren't as tied up as they seemed at the end of season one [but] Mike Bartlett, the show's writer, is exceptional. He said, "When have you seen a show [about] the aftermath of a divorce once everyone seems to have sorted their lives out?" At the beginning of this season, Simon and Kate are together and they've moved away like Gemma wanted. Gemma's gone back to being a doctor and she's looking after her son, who is now turning into an adult. Two years down the line, what happens if that person comes back into your life? You still have to parent a child together, but you really fucking hate each other because of the affair. Those feelings haven't gone away – they're just dormant.'
Much of the drama in season one hinged on Gemma discovering the affair. How will this season be able to maintain that tension?
'From Gemma's perspective, she and Simon had a really active, sexual, loving, working relationship. Not only did the marriage stop and she found out she didn't have the life she thought she'd had for two years, she was also sexually active and in love. What do you do with all that unused sexual tension that's still there?'
Why do you think the show was such a talking point? Is there a fascination with infidelity?
'Maybe it's the fear of knowing that could actually happen to you in real life. It's not a thriller, it's not a murder, it's something that feels more tangible. A lot of people have experienced a relationship betrayal, even if it was when they were 16 and with their first love. It could also be the fear that your beautiful, happy marriage could break down at any point when someone else comes along and taps into things that people can't control.'
Have strangers come up to you on the street to share their own experiences with infidelity?
'Yes, and I actually had two friends going through divorce at the time of filming. I also have a friend who recently spilt up from the father of her child – you can see the pain can go on for as long as three or four years in people when that happens. We also use the word "mental" a lot to describe women who have just had their heart broken. [But] the things they do are because they're probably having a mini nervous breakdown. A lot of women told me they couldn't believe the things they did.'
You were newly married when you filmed the first season. Was that ever a bit of a downer?
'Yes… well, no. We were clearly very happy, but as soon as I finished Doctor Foster I obviously wanted to run straight home to give my husband a big cuddle, and I got pregnant within months of finishing! Luckily I was in a good place to be able to tell that story. Can you imagine if there were any doubts about my own relationship? It would've been awful.'
What can you tell us about your upcoming role as Anne Lister?
'I knew that Sally [Wainwright] was interested in Anne Lister, but it's taken 15 years to get it going. Previously, the timing wasn't right for her to tell it in the way that she wanted to. Period dramas can be quite dry at times, as we look at our history in the same way. Anne Lister is just a different story that needed telling in a different way. The more I read about her, the more I go, "Oh, my god". In the 19th century Lister was a landowner, she travelled, she was an entrepreneur, she refused to marry because she loved women, so she met a neighbouring heiress and "married" her. They went to the church and performed what Lister called a marriage, and then lived and travelled together.'
Is it because there's been a wider conversation about gender and sexuality in the past few years that now feels like the right time?
'I think given the fact that same-sex marriage and civil partnerships have happened, she looks particularly ahead of her time. It isn't just about her sexual preferences, though. It's about the fact that women nowadays have so much pressure, and so much opportunity work-wise and career-wise that not only was Anne Lister in love with women but also she was way ahead of the game in her professional life, too. I've read five episodes of the show and they're brilliant.'
Your first big TV role was on a soap opera, which are notoriously hard work and involve long hours. What impact has that had on you?
'Acting was something I always really wanted to do and, when I left school and was old enough to get an agent, Coronation Street was like the thing to get into. When I got it, my Grandad Bob and Nana Bertha were like, "What?! Oh, my god!" There are some people who are naturally talented, who just have it coming out of their ears; they just sparkle with talent. Some people – and I put myself in this category – don't fit a mould. I always looked a lot older. I was as tall as a giraffe, even at ten, but I found my place and I really worked at it.'
You said you wanted to make Scott & Bailey in 2008 because there were too many women playing 'mothers of' and 'daughters of'. How do you think the landscape has changed now?
'It's an amazing time for television, [and] the parts for women my age are great. When we used to promote Scott & Bailey, series one and two, people were saying, "So, this is about two female detectives?" You would never say, "Ah, so this is about two male detectives?" It's outrageous that people said that six years ago. But not one person ever said to me about Doctor Foster, "So, this is about a female doctor?"
Season two of Doctor Foster begins this Tuesday 5th September on BBC One
Photographs by Christopher Fenner, styling by Grace Smitham
Celebrity news, beauty, fashion advice, and fascinating features, delivered straight to your inbox!