Mary Berry: 11 things you probably didn't know about her
The Great British Bake Off has returned to our screens, which means one thing: the fabulous Mary Berry is back in our lives. Here are 11 things we bet you didn't know about this amazing chef.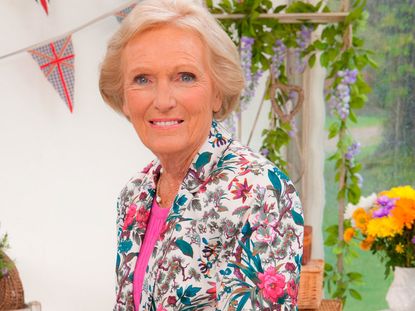 (Image credit: BBC Pictures)
The Great British Bake Off has returned to our screens, which means one thing: the fabulous Mary Berry is back in our lives. Here are 11 things we bet you didn't know about this amazing chef.
1. She overcame serious illness
Mary contracted polio as a 13-year-old and was hospitalised for three months. She was left with a permanently twisted spine, a thinner left arm and a weaker left hand. But she has credited the illness for toughening her up and teaching her to make the most of every opportunity.
2. She's independent
Mary moved to London in her early 20s, sharing a flat with four other girls. Then, while developing recipes for the Dutch Dairy board, Mary persuaded her boss to send her to the prestigious Cordon Bleu cookery school in Paris. She found herself alone in a grubby youth hostel, speaking no French, and eating a baguette for supper every night to save money.
3. She's career-focused
Despite being the original domestic goddess, Mary didn't marry until she was 31 – late for her generation. And after having her three children, Mary went back to work after just five weeks. There was no statutory maternity leave at the time and she didn't want to jeopardise her success.
4. She overcame personal tragedy
Mary's son William was tragically killed in a car accident when he was just 19. His sister Annabel was also in the car, but luckily escaped unhurt. Mary has said the tragedy brought her and her husband closer together.
Mary cooking with her family in 1975
5. She got her big break in magazines
Mary's first big break came when she started writing recipes for Housewife magazine, eventually becoming editor of Ideal Home magazine for three years from 1970.
6. She wasn't always a natural in front of the camera
You wouldn't guess from watching her on The Great British Bake Off, but Mary found TV appearances daunting at first. She got her first TV break in 1973 on The Good Afternoon Show with Judith Chalmers. Mary has revealed that she was extremely nervous and that her voice was 'awful'.
7. She wasn't paid much in the early days
Mary was given a publishing deal and wrote her first bestselling cookbook in 1970. Despite its success, she made next to no money from it, receiving just £162 per 60,000 copies.
8. She doesn't consider herself a feminist
Mary definitely doesn't call herself a feminist. She said earlier this year: 'I would always stand up for women but I don't want women's rights and all that sort of thing. I love to have men around and I suppose if you're a true feminist you get on and do it yourself. I love it when someone says, "I'll get your coat" or, "I'll look after you", or offers you a seat on the bus. I'm thrilled to bits. I'm not a feminist.'
Mary whipping up a storm in the kitchen
9. She's conscious about diet and exercise
Mary always makes sure that she sticks to very light meals after a day of filming and testing large quantities of food. She also plays tennis to keep fit.
10. She likes simple food
Mary likes reasonably cheap restaurant chains like Pizza Express, and starts her day with Marmite on toast every morning. She has revealed that she would opt for pasta with asparagus as her last meal.
12. She's not keen on the competition
Mary recently revealed that she hates Gordon Ramsay's TV programmes, and even used to dislike Jamie Oliver's shows, calling him 'bumptious and irritating'. But she has now come to admire Jamie's lively style, and credits him with making cooking fun.
Mary at a signing for one of her many cookbooks The Great British Bake Off 2014: Meet The Contestants
Celebrity news, beauty, fashion advice, and fascinating features, delivered straight to your inbox!