Kim Kardashian West Talks Motherhood, Business And Her Eternal Johnny Depp Crush
We talk beauty, business, style and babies with the one and only Kim Kardashian West...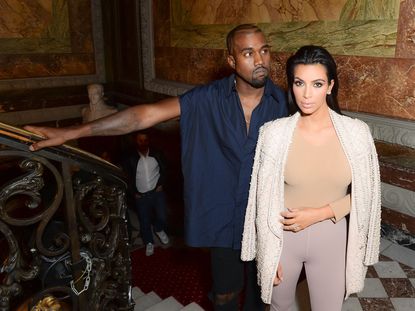 (Image credit: Joe Schildhorn/BFAnyc.com/REX)
We talk beauty, business, style and babies with the one and only Kim Kardashian West...
'My diaper bag is a Birkin… a big one.' Kim Kardashian West is talking me through some of her greatest fashion indulgences, but sweet Yeezus this sounds OTT even by her standards. 'There's milk everywhere, spilled all over it and I want to say, '[North] we need to be a little neater, this is a Birkin.' But obviously it means nothing to her yet.'
Everything about Kim's life - everything she says, does and wears - will be analysed by two camps: her fans and her critics. The woman is Marmite personified and while half of you will see the above statement as fabulous sign that you should totally be best friends, the other will read it as a horrendous statement from the face of conspicuous consumption. You'll feel one way or the other, but, as Kim points out, at least you have an opinion.
We meet in a warren of gilded suites at the suitably decadent Claridge's as Kim gets set to promote the latest installment of Kardashian Kollection at Lipsy, a range of bodycon mini-dresses, cutaway jumpsuits and sexed-up staples that, with the sisters' seal of approval, has stormed the British high street for four sell-out seasons on the trot.
She, Kanye and baby North are in town for a matter of hours. They've made a whirl of 'appearances', hit a few showbiz parties, preached from our radios and just about squeezed in time for some ribs at Hakkasan ('it's my husband's favourite') before the circus will roll on to Australia in the morning.
Even with the jetlag, Kim is Disney pretty; big doe eyes and cartoon skin. Her 'glam process,' as she likes to call it, is renowned and (as with many other aspects of her image) people love to question just how high maintenance she really is.
'I set two hours if I'm having my hair and make-up done,' she reveals, as a matter of fact. 'If it's something like the MET ball then it could be three or four. I have everything imaginable in my makeup bag – literally every product. Then razors, tweezers and double stick tape incase you're going somewhere and you need to tape your boobs...'
'If I'm just at home though, of course, it's really quick. I went to San Diego recently didn't even take a hairbrush. I was with my daughter and Kourtney and her two kids. I was like ok, I'm not gonna take time for myself, I'm just gonna bring my big sunglasses and roll with it.'
How Kim stays in that famous hourglass shape is another topic of much tabloid interest. She fuels speculation on a regular basis – Insta-posting a 'belfie' can ignite 100+ stories on butt implants, stepping out shirtless can garner paparazzi 'proof' that she's just had a boob job (although now we know that one's just a gaffer tape illusion…).
'I do lots of squats and lots of lunges - any butt exercise to firm and tone,' Kim says of her, ahem, asset. 'You can always improve, I think everyone has those insecurities, but I do what I can to minimise them. It's not easy, you've got to put in the work, but I do honestly love to work out.'
'I think you would be surprised to know that I really am athletic. I love extreme sporty things - paddle boarding, surfing and fly boarding - although since I had the baby, I don't do sky diving so much anymore.'
Totally telegenic, even when the Keeping Up With The Kardashians cameras aren't rolling, Kim delivers as many ditzy one-liners in the flesh as she does on the beyond-well-edited show.
For fun I ask what subject she wishes she'd paid more attention to at school.
'History. Just because I travel a lot now and when I'm going to see these pretty castles, people talk about all these kings and queens and families. Obviously I had heard of them but I wish I remember their history. When we were in France we would go have dinner in different people's homes and they'd show us the cool pieces of art they have, all bought from a certain time period and they start describing it… Even going to Versailles and having to hear all the history all over again it's fascinating, but I wish I understood more.'
History aside maybe, there's no denying that Kardashian is an astute businesswoman – she's built an empire from thin air and, as of May this year, is reportedly worth over $45million. Surely you don't need me to tell you how she got here (for the uninitiated, see Wikipedia) but as she tells me stories about her Beverly Hills childhood, it's clear that she's still very much connected to her family and her roots.
'Troop Beverly Hills and Clueless are still my all-time favourite movies, they are iconic,' she laughs. 'I had every outfit Cher had. I would shop in the same places so I would watch it and be like 'Oh my God, I have that'. It was so much fun.'
'Kourtney and I actually shared a room together at one point growing up too. I loved Johnny Depp, I was obsessed with him, and she was really into Leonardo Dicaprio, so we had cutouts of them on our wall next to our Michael Jackson posters. I don't know who Khloe was into - she was younger than us, so it wasn't cool for us to hang out with our little sister.' Fronting the first family of pop culture is hard work. Kim's schedule is relentless, and even when she does take breaks (no paparazzi, no film crews) the queen of the Selfie can't resist sharing. Does she ever get tired of it all?
'It is so great when we do get to take some time off,' she concedes. 'We just went to Mexico and my husband was working there, recording, and he can just relax and we'll do swim lessons with my daughter. I love that private family time.'
And what for the next generation of Kardashian kids – will they all become multi-media moguls? Fashion is already high on the agenda for North West, and her mother's wardrobe is in the process of being catalogued for her future disposal…
'North can have whatever she wants from my wardrobe,' Kim confirms. 'Maybe I'll give her the key when she turns 18! I'll definitely pass down my MET ball dresses and my Givenchy wedding dress- everything I keep for her is organised in storage. Here's hoping we're the same size shoe.'
Read more from our interview with Kim Kardashian West (where she talks about her marriage and family life under Kris Jenner's roof) in the December issue of Marie Claire UK.
Kardashian Kollection at Lipsy is available to buy online from Wednesday 29th October.
Celebrity news, beauty, fashion advice, and fascinating features, delivered straight to your inbox!