16 Kate Moss Model Moments To Celebrate Her Birthday
Happy birthday Kate Moss! We chart the modern icon's 16 greatest modelling jobs and runway turns...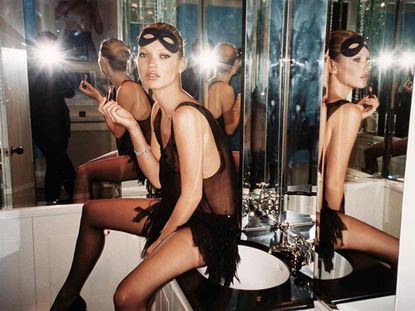 Happy birthday Kate Moss! We chart the modern icon's 16 greatest modelling jobs and runway turns...
1. When Moss Met Mario Kate first met photographer Mario Testino when he went backstage to congratulate her after her catwalk debut for John Galliano. The pair have since created hundreds, if not thousands, of mega-glam images together - enough to fill several sell-out tomes. The below candid, captured in a London hotel bathroom in 2006, is one of our favourite moments between the two. 'Mario took me to a new level of glamour,' Kate revealed in a book of their images. 'I don't think anybody had seen me as any kind of sexy model before he did. He was the one that transformed me. Before him I was just a grungy girl, but he saw me differently.'
Below Image: Kate Moss, London by Mario Testino 2006. From Kate Moss By Mario Testino published by Taschen.
2. The Infamous Calvin Commercial
3. Le Smoking Vamping it up for Louis Vuitton's autumn 2011 show, Kate smoked a single Marlboro Light on the runway, accidentally making headlines on the UK's National No Smoking Day. You can't say the girl doesn't know how to grab attention.
4. Finding The Face Mossy's first ever editorial was shot by Corinne Day for Brit magazine The Face in 1990. The 16 year-old's fresh beauty caught the attention of fashion editors everywhere, who crowned her the waifish new face of minimalism.
5. Galliano's Gal
6. McQueen's Muse And who could forget the fashion magic that happened when Kate Moss and Lee Alexander McQueen got together? The late designer was the first to jump to Kate's defence when she was accused of drug abuse in 2005, wearing a 'we love you Kate' tee to take his post-show bow in front of the world's media. Here she is modelling McQueen's now iconic 'bumsters' in the Autumn 1996 show.
7. Style Heroine Confirming her status as a global fashion hero, Kate led the model charge at the Olympic Closing Ceremony in London, 2012.
8. Mario, Kate... And Naomi Kate and Mario Testino's pictures are iconic, but add Naomi Cambell into the mix... Early snaps of the supermodel bessies are still some of the most shared pictures on Tumblr and Instagram right now.
Below Image: Tumblr @KateMossAndNaomiCampbell
9. Kate For Coco Kate became the first ever face of Chanel's Coco Mademoiselle perfume when it launched in 2001, a campaign that she fronted for 5 more years before Keira Knightley took over in 2006.
10. Posing For Playboy She's still got it... Playboy chose Kate to be their birthday bunny cover girl when they celebrated their 60th anniversary in December 2013, just as the super was about to turn 40. Here she is werking it in fluffy white tail and silk ears.
11. Model Made-Up Kate gave us the original 'London Look' in Autumn/Winter 2001, when her serious millennial eyeshadow game was shot for the first time for Rimmel. The original IT Brit girl has been an ambassador for the high street make-up line ever since.
12. Golden Girl Women everywhere reached for the tan in the can after seeing Kate's bronzed, buffed limbs star in the 2013 St Tropez campaign.
13. Body Art Lucian Freud painted Kate's nude portrait back in 2001, an artwork that later sold for £3.93 million at a Christie's auction. While he was at it, Kate also asked Lucian to tattoo two swallows on her bum, an artwork that, as an original Freud, is now worth over £1million. Beats your average tramp stamp, doesn't it?
14. Teller's Tales Kate's worked with photographer Juergen Teller on hundreds of shoots over the years. Known for his pretty-gritty, raw pictures, Juergen's portfolio includes some of the most candid Kate shots out there. This #PinkHairDon'tCare snap, taken in 1998, is one of our favourites.
Below Image: Tumblr @KateMossHair
15. High Street's Hottest Kate's first collection for Topshop landed in May 2007 and was, as predicted, an instant sell-out. Posing in her own ad campaigns each season as well as playing designer, Mossy proved that she's the full package and can offer both brains and beauty to her major clients.
16. Dream Bride Years before her own wedding, Kate became the coolest bride ever when she modelled a glitzy Versace minidress and veil on the runway with Gianni in 1995. Just imagine actually rocking this look at your own wedding. Confirmation, if ever, that the girl really can sell us anything.
Celebrity news, beauty, fashion advice, and fascinating features, delivered straight to your inbox!