Blue Ivy's Baby Album
Blue Ivy Carter is undoubtedly one of the most adorable A-list children we've ever seen, and here's why...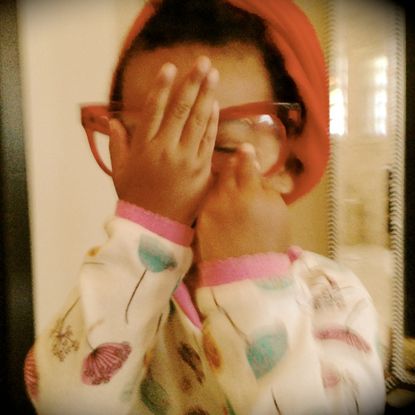 (Image credit: Tumblr)
Blue Ivy Carter is undoubtedly one of the most adorable A-list children we've ever seen, and here's why...
Blue Ivy's parents may have the crowns of hip-hop and pop firmly perched on their heads, but Beyonce and Jay-Z's adorable daughter can't help but steal the spotlight away from her superstar mum and dad.
With her cute curls, a wardrobe fit for a style queen and a grin that leaves us warm on the inside, it's easy to see why we've fallen for this toddler.
What's more, she's given us a glimpse into life as a Carter-Knowles, because Bey can't help but share her collection of touching family moments with her daughter and husband on Tumblr for the world to see.
A Look At Life As Baby Blue...
And for that we thank her, so take a look through Blue Ivy's baby album and prepare to get rather gushy at these gorgeous photos...
Blue Ivy Plays Queen For The Day
Blue Ivy's stolen her mum's style crown (literally) thanks to a wardrobe full of designer togs.
Beyonce Gives Blue Ivy A Loving Pat
Beyonce offers out a motherly dose of affection as she sweetly pats her daughter Blue Ivy on the head.
Blue Ivy Doodles Away
Blue Ivy gets practising her autograph early, scribbling on a piece of paper. Can never start too early, eh?
Jay-Z, Blue Ivy And Beyonce Head Out As A Family
Jay-Z, Blue Ivy and Beyonce treat us to yet another family snap, heading out together in their fineries and holding hands. Super cute.
Blue Ivy Gets Friendly With A Labrador
Blue Ivy gets acquainted with a gorgeous black labrador. Watch out Bey and Jay, she'll be wanting one next...
Beyonce And Blue Ivy Open Presents
As Blue Ivy turned two, it was time for mum Bey to show her daughter how to be a real princess. Well it's only natural, seeing as she's pop royalty...
Blue Ivy And Jay-Z Take In The View
Jay-Z lovingly crouches down next to his daughter Blue to show her something in the sky.
Blue Ivy Gets A Super-Cute Birthday Note
Blue Ivy's birthday celebrations saw the tiny tot receive this absolutely adorable handwritten letter, wishing her a special day.
Blue Ivy, Jay-Z And Beyonce Gaze At The Stars
In one of the sweetest family moments yet, Blue Ivy, Jay-Z and Beyonce spend New Year's Eve gazing at the stars.
Blue Ivy And Beyonce Welcome 2014
Blue Ivy and Beyonce pop on their party hats to welcome the new year in style.
Blue Ivy Dances With Her Daddy
Blue Ivy must get her moves from mum Beyonce, as the cute toddler dances the night away with her dad on New Year's Eve.
Blue Ivy Explores The Deck
As Blue Ivy grows, the adorable toddler is snapped exploring a boat deck on holiday.
Beyonce And Blue Ivy Play Peekaboo
Blue Ivy and mum Bey play a spot of peekaboo as the two nestle down in a hammock.
Blue Ivy Follows In Her Parents' Footsteps
Blue Ivy's caught the musical bug already as she's snapped tinkering on the piano with her cousin, Julez.
Beyonce And Blue Ivy Blow Bubbles In The Garden
Blue Ivy may have access to the world's greatest toys, but bubbles are enough to keep this cheery toddler happy as she plays with Beyonce in the garden.
Jay-Z Lifts Blue Ivy To The Skies
Our heart skipped a beat when we saw this gorgeous photo of Jay-Z and Blue Ivy enjoying some father-daughter time on holiday.
Blue Ivy's Killer Wardrobe
Blue Ivy proves her wardrobe could rival her parents', showing off this cool personalised leather jacket on a day out.
Beyonce And Blue Ivy Let Their Curls Down
Blue Ivy's inherited Beyonce's beautiful curls, and they both know just how to show them off - the natural way.
Beyonce And Blue Ivy Are Fancy Dress Fans
Mum and daughter play dress up as Blue Ivy wears a bee costume and Beyonce suits up as an angel. Butter wouldn't melt.
Jay-Z Gives Blue Ivy A Shoulder Ride
In one of our favourite photos of baby Blue, Jay-Z lifts his little lady onto his shoulders for a ride.
Beyonce And Blue Ivy Take A Sunny Stroll
Beyonce takes the hand of Blue Ivy as the two soak up the sunshine at a playground.
Blue Ivy And Beyonce Hit The Beach
Both donning super-cool holiday headwear, Blue Ivy and Beyonce share some girl time on the beach.
Beyonce And Blue Ivy Soak Up The Bubbles
Forget bath time for this A-list baby, Beyonce soaks her bundle of joy, Blue Ivy, on a rooftop in a jacuzzi.
Blue Ivy Plays Hide And Seek With A Chic Hat
She's used to being kept out the spotlight by her parents, but Bey and Jay-Z don't have to worry, Blue Ivy's got this one covered all on her own.
Blue Ivy And Beyonce Compare Toes
Blue Ivy's dinky feet next to mummy Carter's makes for one adorable family album snap.
Jay-Z Cuddles Up To Blue Ivy
Jay-Z banks some quality time with one of his favourite girls, daughter Blue Ivy.
Blue Ivy Gets A Personalised Throne
Blue Ivy gets the VIP treatment on her mum's tour in this super-cute initialed throne.
Beyonce Blows A Kiss To Blue Ivy
Beyonce shows Blue Ivy some mummy-love, blowing a cute kiss to her daughter whilst the two take a boat trip on holiday.
Blue Ivy's Rock 'N' Roll Wardrobe
Well, when you've got parents as cool as Bey and Jay, you're bound to have a tour tee at the age of 1, eh Blue?
Beyonce Takes Blue Ivy On A Family Day Out
Beyonce has a close hold on her adorable daughter as she and Blue Ivy enjoy a family day out.
Beyonce Gives Blue Ivy A Tender Kiss
Beyonce places a kiss on daughter Blue Ivy's tiny head. We're in love.
Beyonce Looks Radiant Cradling Blue Ivy
As if Beyonce was going to look anything less than perfect after just giving birth to Blue Ivy...
Blue Ivy Is Welcomed Into The World
Say hello to one of the sweetest celebrity babies of all time - Miss Blue Ivy Carter.
Jay-Z Cuddles Up To Blue Ivy
New dad Jay-Z embraces his first steps of fatherhood by giving Blue Ivy loving cuddle.
Blue Ivy Carter As A New Born
One of Blue Ivy's first ever photos sees her wrapped up tight with a thick head of dark hair. Gorgeous.
Blue Ivy Carter
Blue Ivy Carter sure does have some big shoes to fill, but it seems like Beyonce's little one is hot on the performer's heels.

Blue Ivy Carter