Miranda Kerr - 'I've got a mum-bod and it's fine!'
She made her name as a supermodel and now Miranda Kerr is embarking on a new chapter as a skincare mogul. Here, she talks to Alexandra Carlton about learning to let go, raising a modern family and the art of making women feel good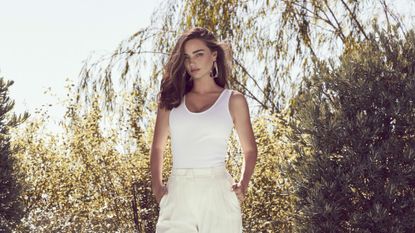 (Image credit: Nino Munoz)
She made her name as a supermodel and now Miranda Kerr is embarking on a new chapter as a skincare mogul. Here, she talks to Alexandra Carlton about learning to let go, raising a modern family and the art of making women feel good
Hair by Teddy Charles at the Wall Group. Make-up by Erika Verrett at Starworks Artists. Nails by Kim Truong at Star Touch Agency, using Essie. LA production unit: Viewfinders. Styled by Jana Pokorny. Photographs by Nino Munoz
On the day before I'm due to speak to her at her LA home, a paparazzi shot makes its way around the internet showing Miranda Kerr picking up her seven-year-old son, Flynn, in her Aston Martin. The little boy had spent the evening with his dad, Orlando Bloom, 42 – who Kerr was married to from 2010 to 2013 – and Bloom's current partner, Katy Perry, 34. In the shot, Kerr is leaning across the passenger seat of the car and handing Perry a birthday gift, smiling. Bloom and Perry, who have been dating on and off since 2017, seem equally relaxed as they usher Flynn into the car with his mum. 'Oh, I haven't seen that photo,' says Kerr. 'But I went to pick up Flynny because it was Katy's birthday, and they walked him out. It was so nice to see Katy. We all get along really well.' The warmth in the photo suggests she's sincere. 'We're like a modern family,' she adds.
Once upon a time, seeing such a candid side of Kerr, 35, would have been a novelty. She has a reputation for being somewhat controlled. The strict organic diet. The schedule of yoga, meditation and positive affirmations. The rumour (not true) that she waited to consummate the relationship with her second husband, Evan Spiegel – the 28-year-old Snapchat wunderkind – until after their wedding in May 2017. Combine the reputation with that face, impeccable hair, jet-set lifestyle and successful business, Kora Organics, and Kerr can come across as superhuman.
But these days there's something more down-to-earth about the girl from Gunnedah, New South Wales in Australia, as she demonstrates when I sit down with her at a Sydney hotel for the first part of our interview. Dressed in blue jeans, a white T-shirt and a shimmer of bling in the form of sequinned Balenciaga heels, Kerr has just finished introducing her new Kora range to a crowd of beauty editors.
The last time I met her was in the same hotel in 2012, when Flynn was barely a year old, and she whipped me up an organic salad of sprouts and kale while we talked. Six years later, Kerr is a mother of two – her second son and first child with Spiegel, Hart, was born last May – and on this occasion she's snacking on hot chips and tomato sauce. 'It's fun to have a little bit of balance every now and then,' she says, following up the chips with a chocolate – albeit organic – from a plate on a side table. 'It's good for the soul.'
The 2019 Miranda Kerr appears to have a stronger sense of balance than I remember from our time together years prior. Perhaps it's that lately she's been able to keep her feet on the ground. For the first time since she hit the global modelling circuit back in 2004 (following her win in a magazine model competition in 1997, aged 13), Kerr has built a settled life – one that doesn't involve a flight every few days. She, Spiegel, Flynn and Hart live together in LA, with Kerr setting aside the transient modelling life for an office close to home. It's a life that's as near to normal as a supermodel and a tech billionaire could hope to have together.
A typical day for the family begins early, with Spiegel leaving home at about 5.30am to go to work, while Kerr takes the time to meditate or stretch. The kids are up by 6am and Kerr breastfeeds Hart and makes breakfast for Flynn. Then she drives Flynn to school and either heads into the Kora office or brings the meetings to her home. Hart has his own cot in the office and he's used to settling down for a nap while Mum gets down to business. 'I'm so lucky that I can take my little one to work,' Kerr says. 'I've been in plenty of meetings where I've had to stop and go, "Sorry, just have to go feed my baby!" But it's such a luxury to be able to be settled, to be in one place and to have routines.' In the evening, she makes the kids dinner before Spiegel gets home and the couple have some quiet time on their own afterwards.
She hesitates to reveal much about her partner of three years ('he's a very private person,' she explains more than once), but says Spiegel has taken to fatherhood with ease. 'I love seeing him with the boys and I feel really grateful for his love and support,' she shares. 'The boys are lucky to have him in their lives.'
Beyond parenthood, the couple collaborate in their respective businesses, with Kerr crediting Spiegel for giving her the courage to take Kora Organics into global cosmetics retail giant Sephora in 2017, a move that involved a large investment of her own money. 'He was like, "You have an incredible product and if you don't do it you'll never know,"' she says. Taking the plunge 'was definitely worth it', Kerr confirms, explaining that sales have grown an estimated 800 per cent since it arrived on Sephora's shelves. 'It's refreshing to have someone I can bounce ideas around with.'
Our Sydney meeting is one of the comparatively rare occasions these days where Kerr has to spend time away from home. She's tired, with a crippling combination of jet lag and the effects of having been up since 2am with the baby. Hart is upstairs in another room being cared for by Kerr's mum, Therese, and Kerr asks one of the hotel staff to turn the lights down as she slips off her shoes. But she is still eager to discuss the phenomenal success of the Kora brand which, since its low-key launch in 2009, is now sold in more than 2,500 retailers worldwide, and has helped her personal wealth reach an estimated £29 million. And the company continues to grow. 'We've recently launched in over 370 stores throughout Europe and this month we're launching in all 64 SpaceNK stores in the UK,' she says. 'I'm really proud to be in SpaceNK. I love to shop there whenever I'm in London, so I can't wait to see my products on the shelves.'
Kerr oversees almost every part of the business herself. 'The turmeric face mask, I worked on that for over a year to perfect it – back and forwards with the lab [saying it] "needs a bit more of this or a bit more of that,"' she explains. The packaging, the social media, the marketing is all Kerr – she has even started doing the photography for the brand's advertisements. 'We didn't really have a marketing budget, so I thought, "Well, why don't I do it myself?"' she says of her most recent #myKORA campaign, which saw her step behind the camera to shoot 13 women of different sizes, ages and skin types. 'I wanted to show that everyone has a different background, different skin and that they can feel good with my products. It was really fun for me to be able to help these women feel special and confident.'Her own confidence has also grown over the years.
During both her pregnancies, Kerr was inevitably hounded by photographers who scrutinised every inch of her growing body. 'Miranda Kerr piled on 40 pounds when she was pregnant!' screeched The Hollywood Examiner shortly after she gave birth to Flynn. The Daily Mail referred to the model's 'big baby bump' and described her euphemistically as 'heavily pregnant' while she was carrying Hart. But none of it fazes her. 'It's really important as women that we're gentle with ourselves and don't feel like we have to snap back into shape after a baby,' she says. 'It's OK, I've got a mum-bod and it's fine!' To prove it, Kerr lifts her T-shirt and shows me the skin around her stomach. It's not exactly a belly, but the rock-hard abs she was famous for back in her Victoria's Secret modelling days aren't visible either. 'I don't mind. It's all part of it. I took nine months – well, ten months – to grow a beautiful child and it might take ten months to feel good in a swimsuit again. Or longer. Or never!'
While Kora is Kerr's 'business baby', nothing makes her light up more than when she's talking about her actual babies. Like any mum with an older child and a newborn, a lot of her focus is on helping Flynn adjust to the new dynamic. 'About a month after Hart was born, Flynn said to me, "Mum, I'm a little frustrated,"' explains Kerr. 'He said, "I know I was the one who wanted a baby brother – like, I know it was my idea,"' Kerr smiles indulgently, '"but I'm feeling a little frustrated that I don't get as much time with you as I used to." I was like, "I know, but honey, it's not going to be like this forever."' Flynn, she says, has been a huge help with Hart, despite his occasional misgivings at having to share Mum. 'He's super helpful,' she says proudly. 'The other day I was like, "Flynny, can you please pass me a nappy" – or, in America they call it a diaper – and he was like, "Yeah, sure Mum." [Then,] "Can you please pass me his pants?" "Yeah, Mum!" It's so sweet that he's willing to help.'
Earlier this year, Kerr told a Sydney radio station that it's unlikely to be too long before Flynn and Hart both have to get used to another little arrival. When asked if she was going to have another baby, her answer was an unequivocal yes, leading the tabloids to speculate that another Spiegel-Kerr family member was already on the way. 'No, no, not right this second, but yeah, definitely at some point,' she laughs. 'I love being a mum. It's just the most rewarding thing.' While they wait for baby number three, there's plenty to keep the family occupied. 'I'm always busy, but I'm balanced-busy,' says Kerr. 'It's all about business, the baby and my big boy.' Add in a committed husband and the odd serving of hot chips with sauce and it's a pretty good mix.
KORA Organics launches this month in the UK exclusively in all SpaceNK stores nationwide and online.
Celebrity news, beauty, fashion advice, and fascinating features, delivered straight to your inbox!
The leading destination for fashion, beauty, shopping and finger-on-the-pulse views on the latest issues. Marie Claire's travel content helps you delight in discovering new destinations around the globe, offering a unique – and sometimes unchartered – travel experience. From new hotel openings to the destinations tipped to take over our travel calendars, this iconic name has it covered.