11 Female Screenwriters You Need To Know About
There's a global shortage of female screenwriters - meet the women fighting to change that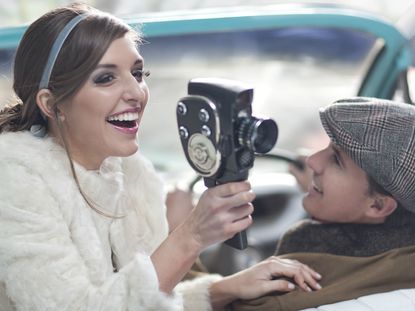 There's a global shortage of female screenwriters - meet the women fighting to change that
We all know that if we want to see more women on screen, we need more women behind the camera. After all, if men continue to write the majority of film scripts, then the majority of female characters are likely to be seen through male eyes. (Which probably explains why so many of them are naked. And thin.)
Which is why we've rounded up 11 female screenwriters who are changing the way women are portrayed on camera, and subsequently deserve a high five. (And not just because one of them has written a book about shaving your bum.)
JEN STATSKY She's written for Broad City, Parks and Recreation and Late Night With Jimmy Fallon, owns a dog and was probably born later than you. But hey, in the spirit of supporting other women (rather than side-eyeing their achievements and wondering whether you can feasibly start a GOMI thread about who they kissed to get to where they are today), we're not going to be jealous of Statsky's career success. We're just going to Google it relentlessly, and then copy her every move.
NAOMI EKPERIGIN When strangers are actively campaigning for you to join the cast of Saturday Night Live, it's time to head to Burger King, pick up one of those paper crowns, and superglue it onto your head. Or just give yourself a pat on the back. (Heads up: anyone who's ever tried to actually pat their own back will know the Burger King option is the more fun of the two. Trust our shoulder blades on this one.) In the space of three years, Ekperigin swapped writing for art magazines in favour of writing for the likes of Broad City. And she's wonderful at it.
MEGAN CALLAHAN Speaking of Saturday Night Live, Megan Callahan has one of the best jobs in entertainment - writing with the likes of Cecily Strong, Kate McKinnon and Kenan Thompson on a daily basis. And if you're a shade of emerald green already, it gets worse: Callahan was hired back in 2006 as an intern, wangled herself a job as an assistant, and worked her way up to becoming staff writer last year. You know, success the way your parents told you it would happen.
SHONDA RHIMES If we'd made a list of female screenwriters without including Shonda Rhimes, we really wouldn't deserve your readership. From Grey's Anatomy to Scandal to her new book, The Year Of Yes, Rhimes is known for hard-hitting, adrenaline-packed dramas featuring three dimensional female characters, not to mention the kind of feminist dialogue that makes womankind want to punch the air. But really you just need to know about her because she wrote Crossroads, starring Britney Spears back when she was half girl, half woman. And that is that.
SARAH SCHNEIDER After starting off writing sketches for CollegeHumour.com in 2005, Sarah Schneider was hired by SNL in 2011 - and is now considered to be one of the show's 'most reliable' writers. (Or at least, she was described as such on the website we just clicked on in order to research her.) And while that could imply that she just turns up ten minutes early to work on a daily basis, anybody who's ever watched The Dudleys will know that - punctuality aside - her scripts are hilarious. (At any rate, she has over 22,000 followers on Twitter, which is generally a good sign.)
KAREY DORNETTO A writer for Portlandia, South Park, Community and Arrested Development, Karey Dornetto originally worked as an investment banker. Which isn't exactly a sentence we ever expected to find ourselves typing out loud, but which definitely teaches us to stop generalising about the kind of people who work in finance. She's also written and illustrated a book called '101 ways to shave your ass'. Which - devastatingly - appears to be out of stock on Amazon.
MEGAN AMRAM Take a minute, stop what you're doing and just imagine being so funny on Twitter that somebody spots you (follows you?) and offers you a paid writing gig. For The Oscars. Then imagine the exact same scenario again, but replace 'The Oscars' with 'Parks and Recreation' and 'A.N.T Farm'. And only then - and depending on how good your imagination is - will you have an idea of what it's like being Megan Amram.
HEATHER MITCHELL Olivia Pope Olivia Schnope. The real 'fixer' on Scandal is totally Heather Mitchell, whose scripts tend to involve awesome women solving terrible mysteries in doublequick time. Originally a journalist, Mitchell moved to Los Angeles to pursue script writing - working with Shonda Rhimes on Grey's Anatomy, before landing a role as writer and producer for Scandal, and creating her own series - Still Star-Crossed - looking at the aftermath of Romeo and Juliet. (Spoiler alert: Neither Romeo, nor Juliet feature in the show.)
ELAINE KO After starting out on Family Guy, Elaine Ko has been a fixture at Modern Family since 2011 - and is contracted to remain on the show until at least next year. And while the show itself has been accused of "hipster racism", Ko is known for writing intelligently about diversity, and has been awarded the Writer's Guild Of America Award for episodic comedy - and seen the Emmys for Modern Family rack up too.
JENNI KONNER It's hard to write about Jenni Konner without mentioning Lena Dunham - and we weren't going to mention Lena Dunham in this list, because everybody has already heard of her. But you know what? We're nearing the end of this article, and who gives a shit? Konner has worked with Dunham on GIRLS since its inception in 2012 - half producing, half writing, sometimes directing. All because she watched Dunham's debut film, Tiny Furniture, and loved it so much that she hounded her until they met up. Which is a technique that we're about to employ with Taylor Swift.
KATIE RICH She's been described as "the smartest person in the room and the silliest", which is the kind of compliment that you're allowed to quietly print off and stick on your mum's fridge with absolutely no explanation. Hired by SNL to work specifically on 'Weekend Update' back in 2013, Rich writes approximately 30 jokes a day. That's more than the total number produced by the manufacturers of any brand of Christmas cracker. Ever.
Celebrity news, beauty, fashion advice, and fascinating features, delivered straight to your inbox!
The leading destination for fashion, beauty, shopping and finger-on-the-pulse views on the latest issues. Marie Claire's travel content helps you delight in discovering new destinations around the globe, offering a unique – and sometimes unchartered – travel experience. From new hotel openings to the destinations tipped to take over our travel calendars, this iconic name has it covered.