This is Margot Robbie's childhood nickname - and she thinks it's hilarious
Even Hollywood stars have questionable nicknames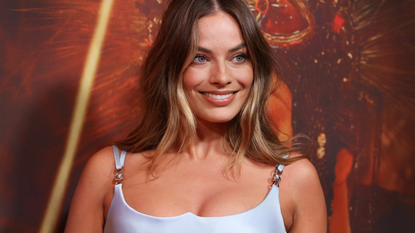 (Image credit: Lisa Maree Williams/Getty Images)
Most of us had a childhood nickname, but you never think about the A-listers being given an unusual moniker by their nearest and dearest.
However, one of Margot Robbie's childhood friends just called her by hers on the red carpet, and it was something that apparently caught on when Margot was a teenager.
The Once Upon A Time in Hollywood star was on the red carpet in Sydney when a friend walked past and shouted out her nickname - and Margot reacted with laughter, and then embarrassment.
The actress, who will star in the upcoming Barbie movie, was attending the premiere of Babylon, the highly-anticipated period comedy drama which also stars Brad Pitt and Tobey Maguire.
Margot, who was wearing a pale blue vintage Versace gown with red lace detailing, was being interviewed by reporter Justin Hill when a group of her friends arrived behind her and called out: "Hey, Maggot!"
As she turned round and saw them she giggled and waved before putting her hands up to her face in embarrassment.
Interrupting Justin, she said: "I saw my school friends. We have been friends since we were four years old."
Possibly a nickname her friends gave her when she was younger, Margot didn't seem to mind and seemed excited by the funny reference.
Before she interrupted the interview, Justin was trying to quiz her about her love of a certain South London nightclub.
Margot, who used to live in a shared house in Clapham, previously said about her love of Infernos: "Everyone is wasted and so sweaty. Everyone looks a mess. By the time I make it to Infernos, I look so revolting that nobody's going to look twice."
In a recent interview, she also admitted: "I actually once inquired as to whether I could rent out Infernos to have a sit down dinner in there just with my friends on a birthday one time. I think they said no, but maybe I'll try again. I'm a little further along in my career, they might say yes now."
Babylon is showing in cinemas across the country.
Celebrity news, beauty, fashion advice, and fascinating features, delivered straight to your inbox!
Sarah is a freelance journalist - writing about the royals and celebrities for Marie Claire, fitness for Women's Health and Tech Radar and travel for the Evening Standard and Woman & Home. She covers a variety of other subjects too and loves interviewing leaders and innovators in the beauty, travel and wellness worlds for numerous UK and overseas publications. Sarah can normally be found trying out the latest fitness class or on a plane to an exotic destination - and of course, writing about them.