The Beauty Vloggers Taking Over The Internet
These days, when we want to learn how to do something, we Google it.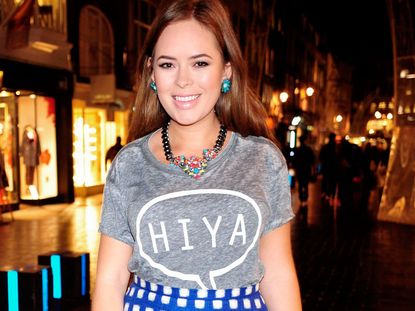 (Image credit: Rex)
These days, when we want to learn how to do something, we Google it.
Whether it's help with DIY or cooking we need, there's always some kind person that has filmed themselves doing the very thing we can't, ready to share the wealth. The same is true when it comes to make-up. Want to create the perfect cat's eye flick? Google it. Want to get Cara-esque eyebrows without looking like Frida Kahlo? It's all online, kids.
Chances are, if you've asked yourself a practical beauty-related question and you've got a laptop near by, you're well acquainted with the plethora of beauty vlogs (you know, blogs but videos) on the internet. If not, then you're about to uncover a treasure trove of beauty how-tos and just how many different types of make-up brushes there are (answer: loads).
Beauty vlogging has become a massive – and, crucially, lucrative – business for its biggest stars over the last couple of years. The Sunday Times recently reported that some vloggers are able to charge up to £20,000 for a banner on their site, and up to £4,000 for mentioning a product or brand. Which, you know, isn't bad going.
Our friends over the pond have been at it for slightly longer than we have (and as such, are earning much, much more. Michelle Phan reportedly earns £3m for her beauty videos), but the UK is fast catching up and has a host of Youtube beauty stars that are now celebrities in their own rights. And they're young. While you and I have been using the internet to watch stupid animals doing stupid things, look at BBC Weather and check Facebook, these bright young upstarts have been using the web to carve out super-successful careers.
While Tanya Burr is arguably the best known of the bunch – the beauty counter worker-turned-vlogger now has her own make-up line and is a regular on the party and film premiere circuit – it's 24-year-old Zoella who is clocking up the most Youtube hits. With four million subscribers and counting, Zoe Sugg is the most influential person on Youtube you've never heard of – unless you've got a 13-year-old sister or niece, in which case, you'll already know that Zoella is pretty much the Queen of Everything.
The archetypal girl-next-door, Zoe is the very definition of bubbly. After watching one of her videos – how to get fresh spring make-up, or just her having a chat at the camera – you'll be able to see why Zoe is so popular. If the internet is one hormonal masse of teenage girls, Zoe's its big sister.
And there are other vloggers climbing the ranks, too. Beauty Crush (watch for her fashion hauls as well as beauty tutorials), Sprinkle Of Glitter (if you want an honest product review, listen to this lady), and Fleur De Force (who knows her audience is on a budget) are fast carving out their own space on the beauty vlog circuit.
Then there's Lisa Eldridge, a make-up artist and the former creative director of Boots No7, whose years of experience working on glossy magazine photoshoots means she is more than well placed to tell you how to apply your blusher.
But none of these ladies achieved success overnight – all have been busy sitting in front of a camera for years, showing their beauty hauls, or filming how-tos, and gradually building the loyal fanbase which means their videos are getting more views than major pop stars. And, when millions of people want to know what your favourite liquid eyeliner is, that's when companies come a-knocking with their cheque books.
Although twentysomethings like Tanya and Zoe have managed to make a living from what they do, it started as a hobby. After leaving school, Zoe began writing blogs that she thought nobody was reading (and they probably weren't at first). It's taken Zoe and Tanya a good few years of hard slog to get to where they are now, and no-one could have predicted the level of stardom they would reach from being amateur filmmakers with a well-stocked beauty bag.
So if you think you've got some beauty wisdom to impart, a decent camera and some time on your hands, then we say get filming. Who knows, you might just be able to give up the day job...
Celebrity news, beauty, fashion advice, and fascinating features, delivered straight to your inbox!