Under-eye wrinkles getting you down? Here's 5 simple, expert-approved tips to help
They're easier than you'd think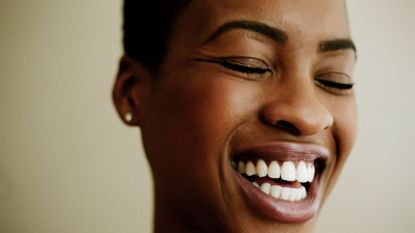 (Image credit: Getty Images 694021181)
Let's face it, under-eye wrinkles are inevitable. Most of us will have noticed a few fine lines appearing around our eye area, and they are nothing to be worried about. Here at Marie Claire UK, we are all about breaking unrealistic beauty standards, and we're here to say that under-eye wrinkles are completely normal.
That being said, we totally understand if you want to know why they might have appeared, and whether your best eye cream can help keep further fine lines at bay.
So, we've taken it upon ourselves to speak to the experts and ask them everything you could ever want to know about under-eye wrinkles.
Keep on scrolling to find out more, and for more inspiration, don't forget to check out our guides on how to get rid of dark circles and how to treat milia under your eyes.
What causes under-eye wrinkles?
First things first, what causes the lines around your eyes? "They are mainly caused by repeated use of the muscles around the eyes for facial expressions," explains Nicola Alexander-Cross, an optometrist and the co-founder of Peep Club. "When we age, the skin around the eyes gets thinner and loses elasticity, which combined with these repeated muscular movements, manifests in the formation of fine lines under and on the sides of the eye." See, totally normal.
How to treat under-eye wrinkles
After reading that, you might be wondering if there's anything you can do to stop this as you get older. Sadly, preventing under-eye wrinkles from happening is not possible, as we all use the muscles around our eyes. However, there are steps you can take to reduce the development and appearance of these fine lines. Keep on scrolling for the expert's top tips.
1. Apply SPF around the eye area
We all know how important SPF is, but a lot of us tend to forget to apply it around our eye area. "Sunlight is damaging to the delicate skin around your eyes," explains Dr Lauren Hamilton, cosmetic doctor, skin expert and co-founder of Victor & Garth. Cross recommends applying a mineral SPF right up to the lash line. Her favourite? Sarah Chapman's Skinesis Eye Insurance Serum.
Sarah Chapman Skinesis Eye Insurance SPF30 Serum
Cross recommends using this SPF by Sarah Chapman, which has been specifically developed for the delicate eye area. It works to defend from the ageing effects of the sun, infrared and pollution, and comes with a dewy tint to neutralise blue shadows. A win win.
2. Aim for 7-9 hours of sleep a night
This might seem like an obvious one, but sleep is so important when it comes to the repair and restoration of the cells within the skin. Cross says to prioritise 7-9 hours of good beauty sleep a night.
In addition to this, make sure to adjust your sleep posture. "Sleeping on the side can accelerate the development of fine lines if your face is 'scrunched' in the pillow for hours at a time," explains Cross. Try sleeping on your back instead to help protect the eye area.
3. Be gentle when applying and removing makeup
Anyone else find themselves roughly removing stubborn mascara with a cotton pad before bed? We've all been there, but when removing make-up, it's important to be as gentle as possible.
"Any tugging, stretching or pulling of the eyelids or area around the eye is a sure fire way to accelerate the formation of wrinkles," says Cross. Instead of using drying alcohol-based make-up removers, choose oil-based formulas that have lots of slip and will melt your mascara straight off.
When it comes to applying eye make-up, try to use soft brushes and apply product lightly. Better yet, Cross recommends using a creamy stick shadow over a powder formula.
Marie Claire UK's Beauty Writer, Grace Lindsay, swears by this cleansing oil for removing stubborn eye make-up. It melts mascara away, and contains a gentle blend of ingredients that are sensitive enough to be used around your eye area.
4. Use the correct eye creams
To see the best results from your eye cream, Cross recommends using two to three different types in rotation. The first is a retinoid-based eye cream that you can use at night for skin rejuvenation. Retinoids help to tackle under-eye wrinkles as they encourage cell turnover, and in doing so boost the collagen levels in your skin.
"The key is to only apply retinoid-based eye creams to the under-eye area and sides of the eyes and not the eyelids themselves, as retinoids can contribute to dry eyes," says Cross.
Alongside a good retinoid-based eye cream, Cross recommends looking for a lightweight, hydrating eye cream to help plump the area. Look for ingredients such as hyaluronic acid, sodium hyaluronate and glycerin.
You can also use an eye cream that will protect your skin barrier during the day, but a lot of hydrating eye creams will already include barrier-supporting ingredients.
Wild Science Lab Root + Fruit Night Shift Renewal Eye Serum
"I love this eye cream. It's an intensive, multi-action serum designed to target the classic signs of fatigue, dehydration and loss of skin tone by helping de-puff and counteract dark circles, while helping to smooth fine lines with natural retinol-like Bakuchiol, nourishing organic Hemp Seed oil and hydrating Hyaluronic Acid," says Cross.
5. LED facials
Finally, there are lots of facials that specifically target wrinkles around the eyes, such as LED or radiofrequency facials.
You can also purchase a range of at-home treatments to help improve the appearance of under-eye wrinkles. The Peep Club Heated Eye Wand uses red LED light to boost collagen and elastin to the eye area. Pretty cool, right?
Celebrity news, beauty, fashion advice, and fascinating features, delivered straight to your inbox!
Grace Lindsay is currently Junior Beauty Editor at Who What Wear UK and previously was Marie Claire UK's E-Commerce Writer. With over three years of experience in the fashion and beauty industry, she covers everything from the best make-up and skincare deals to how to shop the stand out trends of the season. When she's not typing away at her laptop, Grace can be found shopping her favourite vintage markets IRL, or catching up on her never-ending list of books to read.