I've been testing out facial laser treatments for over six months to help boost my glow—here's my final verdict
London's Skin Laundry is supposedly *the* place to go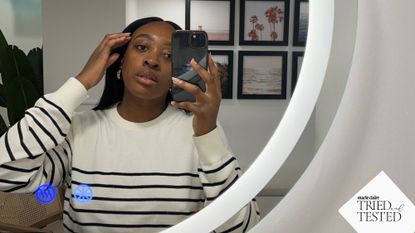 (Image credit: Dami Abajingin)
I am obsessed with glowing skin. I can't pinpoint the exact moment this obsession started, the seeds may have been planted when I discovered the joys of highlighter a few years ago. Or it could also have been more recently when the words 'glazed and glass' became ubiquitous. Needless to say, I am willing to try anything and everything that promises to provide that highly coveted glow—and Skin Laundry laser facials have been top of my list of things to try.
Laser facials are a facial rejuvenation procedure to remove the outer layers of skin to encourage new skin growth. It is thought that specific types of laser can be really effective treatments for acne scarring, fine lines, melasma, sun spots and more.
I wanted to try the Skin Laundry laser facials as I've suffered from acne most of my teens and early twenties. Thanks to Roaccutane, I now only get the occasional period pimple, but when I do, the mark left behind can take anything from 6 months to a year to fade.
I shared all of this with my nurse, the very knowledgeable Nikki Economides, before we started my course of treatments. She provided a series of product recommendations and expert insight such as you should change your pillowcase twice a week—who knew?!
To start, we began with the Skin Laundry Signature Laser Facial, this treatment uses an ND:YAG long pulse laser which is safe for all skin types and complexions (brown-skin girls, you're in safe hands). This treatment penetrates the dermis (the skin's deepest layer) to correct and prevent breakouts, rosacea, and hyperpigmentation, all while boosting collagen. My nurse did explain that I may feel some discomfort but all I felt was a warm sensation (I must say I do have a medium-ish pain threshold). After the laser treatment, a glycolic acid serum was massaged into my skin followed by an SPF moisturiser.
After the first session, I did notice an instant glow, I was so surprised because I was not expecting to see results so instantly. One of the things I loved most about this treatment is there was no downtime at all, once I left the clinic I was able to get back to my day.
My first four sessions were undertaken with two week intervals, at this point my skin was at a glazed-donut level of glow. After two months, I increased the frequency of sessions. I started weekly treatments for the next four months and saw reduction in congestion, acne and my hyperpigmentation—most notably the newer scars.
For the final set of sessions, I did the Thermo Fractional Facial. This treatment combines motion and heat to apply short bursts of evenly distributed thermal energy to the skin surface via a tool with tiny titanium points. The Thermo differs from the Signature in several ways. Firstly, you cannot have the treatment if you have an active acne breakout. Secondly, there is, to an extent, downtime. After the treatment, you can't wear make-up and must avoid extreme heat such as the sauna for 48 hours. Which in comparison to the downtime after a chemical peel, for example, is minuscule.
Remember that medium-ish pain threshold I mentioned earlier? It was put to the test during this treatment. While the Thermo was not unbearable, it definitely was more uncomfortable than the Signature. If you've had microneedling before you will be familiar with the sensation. After the treatment, my skin was red and felt like I had mild sunburn, which is expected. A soothing hyaluronic acid serum was applied to my skin, and I was advised to reapply the serum to my skin every hour for 6 hours following the facial.
In total, I had four Thermo Fractional Facials, and after the second session my skin felt significantly smoother. The most noticeable improvement I saw was in my skin texture. I've always struggled with sections of my skin looking textured yet feels smooth and this is the first treatment that has ever reduced this.
My verdict
If you are looking for a noninvasive treatment that gives your skin an instant glow with minimal downtime, I would recommend Skin Laundry facials. If I have a wedding or an event and I want to look glazed and gorgeous I will definitely look to them to prep my skin and create a smoother base for makeup.
However, while I did see significant improvements in my skin overall, a lot of my hyperpigmentation still remains after over six months of sessions. If you struggle with historic hyperpigmentation (older than one to two years) and are looking for a treatment that will completely clear your complexion you may want to explore other options.
Celebrity news, beauty, fashion advice, and fascinating features, delivered straight to your inbox!
Dami Abajingin is the Affiliate Account Manager at Marie Claire. A self-proclaimed flexi-feminist and popcorn aficionado, Dami occasionally writes opinion pieces for the site and is passionate about women, travel, race and faith (not necessarily in that order). Follow @damiabajingin on Instagram.