Sore lips? You could be dealing with sun damage—these lip balms with SPF are sure to help
If you haven't had burnt lips before, count yourself lucky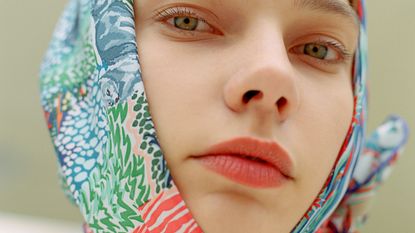 (Image credit: Getty Images/Andriy Onufriyenko)
We already know we shouldn't be going out without a hefty layer of sunscreen on our faces, even when it's cloudy. But did you know your lips need just as much, if not more, SPF attention than other areas of your face and body? In fact, if you've been experiencing lip troubles in recent weeks, you could be dealing with sun damage, which is why it's more important than ever to look into lip balms with SPF.
If you thought your nose was the easiest place to burn, think again. "It's easy for lips to burn," says Dr Paul Banwell, previous head and founder of The Melanoma and Skin Cancer Unit (MASCU) in East Grinstead, one of the largest skin cancer units in the UK. "Your lower lip is especially sensitive as the nose offers some protection for the top lip. The leading risk factor for lip cancer is ultraviolet (UV) radiation from the sun, but tanning beds also contribute," he adds.
Yep, it turns out that burnt lips are way more common that you might think. Not just because the skin is more susceptible to burning, but also because it's an area we often forget to apply our SPF. "The number one area most people tend to forget when applying SPF is their lips," says chartered scientist and Founder of SOS Serum Skincare, Bruce Green. "The skin on your lips is significantly thinner than the skin on the rest of your body, meaning that it is more susceptible to damage caused by UVA and UVB rays emitted by the sun," Green tells us. Although the best facial sunscreens and best spf moisturisers will protect your lips if you make sure to cover your entire face in the morning, the lip area will require reapplication of SPF throughout the day as the constant movement through talking means it rubs off quicker.
And this is where SPF lip balms come in. Chances are, you've seen SPF lip balms around, hell, you've probably even got one in your stash somewhere. But truth be told, the humble lip balm with SPF should actually be a key player in your routine and shouldn't be overlooked.
Is lip balm with SPF necessary?
"Yes, absolutely," says Dr Banwell, "If you use the general sunscreen you use for your face, it not only won't taste nice, but you will also have a tendency to lick it off. The best option for lips is to use a lip gloss or lip balm with SPF. A lip balm with SPF is essential, and you should apply it every two to three hours, or more if you are eating or have wiped or licked your lips," Dr Banwell says.
How can you tell if your lips are sunburnt?
"Sunburnt lips can become very swollen and tender, and in more severe cases, blisters can form. The skin on the lips is thinner and contains less melanin, which means it can't protect itself from harmful sun damage," Dr Banwell tells us. "Sunburnt lips look redder than normal and can be swollen. The skin will feel tender to touch, and there could be blistering. Mild sunburn will last anywhere between three to five days." he continues.
To treat burnt lips, it's advisable to apply rich, long-lasting, emollient lip balms or gloss to keep those moisture levels up as much as possible. "Sunburn on darker skin will show slightly differently. The sun damage may show as dark spots or uneven pigmentation," Dr Banwell explains.
Is SPF15 enough for lips?
Straight up, no—and SPF 30 or above is a must if you want sufficient protection. And it's important to reapply regularly.
Dr Branwell advises using SPF all year round and reapplying every hour. "You are still exposed to UV rays in the winter months. You need to be especially careful when doing winter sports, where the light is reflected by the snow. Most lip balms with SPF are between SPF 15 and 30, and I would advise an SPF of at least 30," he tells us.
The 8 best lip balms with SPF
1. Ultrasun Lip Protection SPF50
Ultrasun Lip Protection SPF50
Best everyday SPF lip balm
Reasons to buy
+
Broad spectrum UVA & UVB protection
+
Works under lip stick
+
Comes in an SPF 50 and 30
This is one of the best-selling lip balms with SPF, and I can see why. It is packed with nourishing ingredients and provides a full spectrum SPF50. It protects against both UVA and UVB and has added argan oil and vitamin E for extra conditioning. It's super lightweight and doesn't get sticky when re-applying, either.
2. Paula's Choice Lip Balm SPF50
Paula's Choice Lip Balm SPF 50
Best lip balm with spf for dry lips
Reasons to buy
+
SPF 50 to protect lips
+
Broad-spectrum
+
Hydrates and nourishes with Shea Butter
Reasons to avoid
-
Quite small (personally think it's a great handbag size)
Super rich and smooth, this lip balm with SPF brings back moisture to dry lips while protecting them from harmful sun rays. It offers broad-spectrum sun protection with added shea butter and olive oil to bring relief to dry lips, leaving lips smoother and more supple.
3. Bondi Sands Lip Balm with SPF50
Bondi Sands Lip Balm with SPF50
Best affordable SPF Lip Balm
Reasons to buy
+
Six different scents to chose from
+
Affordable
Nourishing and hydrating, this lip balm with SPF has six gorgeous scents to chose from, which means you'll struggle to forget to reapply. With shea butter and vitamin E, lips are left super glossy and protected.
4. SOS Lip Long Wear Lip Balm with SPF30
SOS Lip Long Wear Lip Balm with SPF30
Best expert-approved SPF lip balm
A super-nourishing lip balm with SPF30, lips are moisturised and protected whilse also staying matte. Pea and mistletoe extracts hydrate and repair the lips for year-round protection.
5. Sculpted by Aimee HydraLip
Sculpted by Aimee HydraLip
Best for lip balm with SPF make-up hybrid
Reasons to buy
+
Gorgeous lip colours
+
Six different shades
I was wearing the HydraLip in blush every day without even knowing it had SPF in it. Now I know it is a lip balm with SPF, I love it even more and don't feel bad about reapplying it at every given moment. It sweeps on super smoothly and gives a gorgeous colour. Infused with jojoba seed oil and hyaluronic acid, it delivers ultra-nourished and hydrated lips.

6. Lanolips Tinted SPF30 Balm
Lanolips Tinted SPF30 Balm
Best tinted lip balm with SPF
Reasons to buy
+
Four colour options
+
Great for dry lips
Reasons to avoid
-
A little stickier than other formulas
A lanolin-rich lip balm with SPF to deeply moisturise and nourish the lips. With four different tint options, the red apple brightens the natural lip colour, and the nude shade looks incredible on everyone.
7. Kiko X The Little Mermaid Lip Balm with SPF50
Kiko x The Little Mermaid Lip Balm
Prettiest lip balm with SPF
Reasons to avoid
-
Has a strong watermelon scent that not everyone will like
This Kiko x The Little Mermaid Lip Balm with SPF50 and UVA protection is so cute—and it's great for protecting the lips as well as hydrating them. The formula has a gold, shimmering finish, and the watermelon scent makes me want to reapply it all day long.
8. Ultra Violette Sheen Screen Lip Balm with SPF50
Ultra Violette Sheen Screen Lip Balm With SPF 50
Best all-round SPF lip balm
Reasons to buy
+
SPF 50
+
Six shades to chose from
Reasons to avoid
-
No doe foot, so can be messy
The Ultra Violette Sheen Screen SPF for the face is one of my favourites to wear under make-up, and this lip SPF is just as fab. Lightweight and non-sticky but packed with antioxidants and shea butter, this lip balm with SPF is easily one of the best I've ever used.
Celebrity news, beauty, fashion advice, and fascinating features, delivered straight to your inbox!
Dionne Brighton is a writer at Marie Claire UK, specialising in all things shopping, beauty and fashion. Born and raised in North London, she studied Literature at the University of East Anglia before taking the leap into journalism. These days, you can find her testing out the latest TikTok beauty trends or finding out what the next full Moon means.