5 Ways You Can Get Through The Next Few Months With A Flawless Complexion
Skin always takes a beating in the colder months. Here's how to get through the rest of winter looking unseasonably radiant.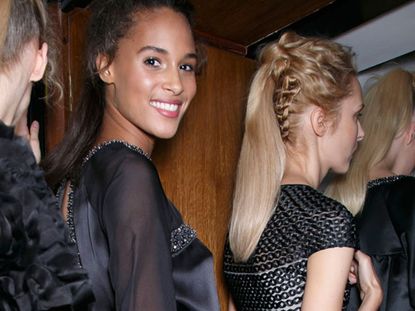 (Image credit: Imaxtree)
Skin always takes a beating in the colder months. Here's how to get through the rest of winter looking unseasonably radiant.
Contrary to popular belief, there's a lot to like about winter. Nights in watching boxsets, gorgeous chunky knit jumpers and feasting on exclusively carbohydrate-based foods unless, of course, you're doing a January detox.
But one thing that is absolutely not okay about the cold months is what it does to your skin. Not only do the harsh weather conditions - those biting winds, the driving rain - do enough damage, but central heating can play havoc with your complexion, too.
To help you get through the coming months with your beautiful skin in tact, we've consulted some top skin experts to impart their wisdom on some of the most common problems and questions.
1. Don't worry about your skin type.
Sarah Chapman, an expert in anti-ageing and skin-health says: 'If your skin feels like it's desperate for moisture, it's a sign you need a product with lipids [molecules containing oils] on your skin. If it's comfortable, you're producing enough oil, so look for products with Vitamin A, which regulates oil production. Don't get too bogged down in what you skin 'type' is. Give it what it needs at the time.'
2. What's best: serums or moisturisers?
'Moisturisers contain emollients that form a layer of protection on the skin's surface against environmental aggressors and transepidermal moisture loss,' says Chapman. 'But try a serum first, which differs from a moisturiser in that it is absorbed instantly into the skin, while the moisturiser acts like more of a shield against whatever your environment has to throw at you. Using both a serum and a moisturiser should act as a double layer of protection and keep your skin soft and supple.'
3. You CAN get rid of dark circles.
'Dark circles reflect an imbalance in the liver and kidneys and are brought about by stress and fatigue', says skin specialist Su-Man Hsu. But, while Hsu says that there are products that can reduce the appearance of dark circles, to make them completely go away is more about a lifestyle change. So it's less burning the candle at both ends, and more lighting a couple of tealights while you take a relaxing bath. And, perhaps turning down that third cocktail at the weekend in favour of a soft drink...
4. Spots be gone
'To help reduce an inflamed spot, look for products that contain salicylic acid and benzoyl peroxide,' says Harley Street cosmetic dermatologist Dr Sam Bunting. 'In the meantime, Vichy Dermablend Cream Stick, £15.50, is a genius product that conceals literally anything.' Whatever you do, don't squeeze it: the spot will only be harder to cover and you'll increase the risk of scarring.
5. How long do new products take to work? In short, be patient. Sarah Chapman says: 'For a product to make any changes at a cellular level, and then for those cells to come to the surface where you can see the change, I'd say three months is fair.'
So all those lovely new cosmetics you got for Christmas will have worked their magic in time for spring. And then it's plain sailing from there, right?
Check out the 10 winter foundations you NEED to know about
Celebrity news, beauty, fashion advice, and fascinating features, delivered straight to your inbox!