No7's has launched a new menopause skincare range that targets visual signs* of Menopause
In partnership with No7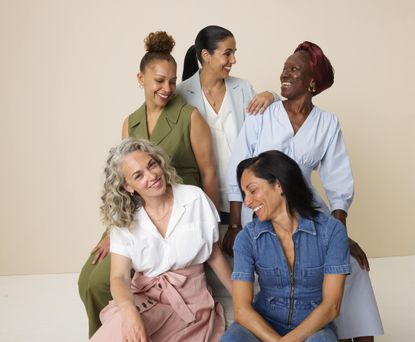 (Image credit: Image credit: No7)
We all know that menopause can be daunting. From hot flushes to forgetfulness and migraines, a whole host of symptoms can take their toll on the mind and body when you're reaching the perimenopausal stage. And to top it all off, the hormone imbalance that occurs during the transition can also impact your skin.
As the level of oestrogen in your body drops, the creation of lipids and ceramides (which capture moisture) does too. Because it's losing oestrogen's firming effect, skin also becomes less equipped to fight off external aggressors like air pollution and harmful UV rays. So it makes sense that some of the most frequently reported symptoms by women experiencing menopause are skin dryness and sensitivity.
It's not uncommon for women to adapt their skincare routine to combat these new challenges. Created in collaboration with a cohort of more than 7,000 menopausal women, No7s new menopause skincare range is made up of ingredients that target the skin concerns linked to menopause, including dull and sensitive skin. No7 has also enrolled all 1,600 of its beauty advisors in 'Skin School', an award-winning training programme that equips them with the skills to confidently consult customers on their changing skin needs - meaning your money is carefully spent on products that'll help control your specific skin concerns.
Ready to browse the four-product collection? Step right up…
No7 Menopause Skincare Instant Radiance Serum, £32.95
With a cooling roll-on applicator, No7's Menopause Skincare Instant Radiance Serum contains hydrating hyaluronic acid for visibly firmer and more radiant skin in 1 week.**
No7 Menopause Skincare Nourishing Overnight Cream, £32.95
A dreamy mixture of hyaluronic acid, collagen peptide technology, No7's overnight cream applies nourishing lipids and ceramides with intelligent collagen peptide technology for deeply moisturised and visibly refreshed skin.
No7 Menopause Skincare Protect and Hydrate Day Cream SPF30, £32.95
Concocted with sensitive skin in mind, this moisturiser is ideal for combating menopause-induced dryness. Containing niacinamide, the SPF30 cream provides 72 hour hydration, as well as protection from UV damage.
No7 Menopause Skincare Instant Cooling Mist , £14.95
Designed to bring the cool and calm to hot, flushed skin, this cooling mist combines organic rose water and glycerin for instantly cooled skin that looks more radiant.
* Key visual signs that the collective range targets: dull skin, fine lines, lack of firmness, lack of firmness, uneven skin tone and sensitive skin
** Consumer study
Celebrity news, beauty, fashion advice, and fascinating features, delivered straight to your inbox!
Niamh McCollum is Features Assistant at Marie Claire UK, and specialises in entertainment, female empowerment, mental health, social development and careers. Tackling both news and features, she's covered everything from the rise of feminist audio porn platforms to the latest campaigns protecting human rights.
Niamh has also contributed to our Women Who Win series by interviewing ridiculously inspiring females, including forensic scientist Ruth Morgan, Labour MP Stella Creasy and ITV's former Home Affairs Editor Jennifer Nadel.
Niamh studied Law in Trinity College Dublin. It was after enrolling in a Law & Literature class on her year abroad in Toronto that her love of writing was reignited. In no particular order, her big likes are Caleb Followill, hoops, red wine, sea swimming, shakshuka and long train journeys.