Margot Robbie's best beauty tips
Hollywood actress and the Wolf of Wall Street star Margot Robbie reveals how she keeps her skin looking flawless with her ultimate beauty products, tips and tricks.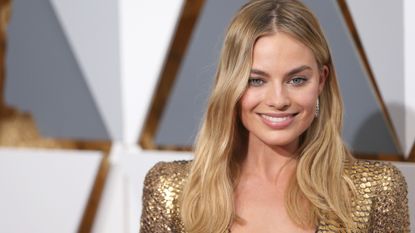 Hollywood actress and the Wolf of Wall Street star Margot Robbie reveals how she keeps her skin looking flawless with her ultimate beauty products, tips and tricks.
Our ultimate girl-crush Margot Robbie chats with us about her love of organic beauty products, her childhood obsession with fluoro eyeshadows and being wrapped in banana leaves all in the name of beauty...
Read on to see our full interview about Margot Robbie's beauty tips.
If you're looking for personalised beauty recommendations don't forget to check out our sister site, Powder. Why not start by taking this quiz to find your perfect cleanser?
Can you talk us through your skincare regime?
One of the great things about my job is that I'm lucky enough to work with so many amazing makeup artists who introduce me to new products, which means I switch up my skincare routine and makeup products quite a lot. I will always start by cleansing my face. At the moment I'm using a Dr Lancer cleanser. For moisturisers I love the La Prairie moisturiser and their eye cream is great too. I'm not a big fan of serums as my skin can be quite sensitive and sometimes it reacts to them but I do love facial mists. The Aesop mist smells delicious and the Caudalie facial mist is so refreshing.
What are your top skincare tips for travelling?
I'd never wear makeup on the plane. I'll wear makeup to the airport though, but only because of the paparazzi and now everyone has camera phones! As soon as I'm in my seat I take my makeup straight off and then I have a little skin routine. The complexion pads by Peter Thomas Roth are great for travelling. You just wipe them all over, they are so cleansing and your skin feels squeaky clean (in a good way) afterwards. I always keep a little Burt's Bees tinted rose lip balm on me and drink tones of water too. If my skin needs a little bit of extra TLC I'll use a 111 Skin Mask, I'm obsessed with them, they've got a jelly texture and they are so easy to use, you just stick one on for 10 minutes and your skin feels so nice afterwards.
What's your favourite fragrance?
When I was younger I never really used to be wear perfumes I would just use an essential oil or I would plait some lavender into my hair but about a year ago I tried Calvin Klein's Deep Euphoria and I still love it now! It's a floral scent, quite a sweet musky rose but it's feminine and isn't too strong so I can wear it everyday.
What's in your makeup bag?
For my day-to-day look I'll use Ellis Faas foundation, it's really light-weight and has a dewy finish. If I'm going on a night out the Suqqu foundation. It gives me a really flawless finish and stays in place all evening. If I've got any blemishes I'm all about Laura Mercier's Secret camouflage concealer and the Laura Mericer's cream blush stick is so easy to apply you can just use your fingers to blend it out. I'll always do a slick of mascara too and then just brush out my brows.
What was the first makeup product you ever brought was and how old you were?
I can actually remember exactly what it was! I must've been around 10 years old and I got obsessed with the Olsen twins movie where they travelled to Paris and then went on dates! In the movie one of the Olsen twins was wearing an orange eye shadow, as a little girl I thought it was just the coolest thing I'd ever seen and I saved up my pocket money and brought a bright orange eye shadow. I rocked that look for quite a long time. It probably looked terrible!
Have you ever had any unusual beauty treatments?
When I visited the Philippines last year I had a really crazy one. First I was smothered all over in clay, then I was wrapped up in banana leaves and my whole face was covered in cucumbers too! By the time it was done I was totally mummified and couldn't move at all and then I was left to lie like that for an hour. I must've looked like a fruit bowl but it did actually feel really nice afterwards.
How do you keep your hair looking so great?
I feel like my hair looks rubbish most of the time but thankfully if I ever have an event to go to there is always a hair stylist to sort it out! A trick I use if my colour is growing out is to spritz on Klorane Dry Shampoo, it's really good for adding texture and also helps disguise dark roots too.
How do you think the Australian approach to beauty differs to British beauty?
Australian beauty has always been very natural. I remember way before it became a big trend, people preferred organic and natural brands in Australia. I think in Europe organic products are seen as more of a luxury but back home natural products are just the norm! Also people are very aware of the sun, everything you buy over there is focused on protecting your skin from sun damage so there is SPF in nearly everything.
Margot Robbie is the face of Calvin Klein Deep Euphoria
Celebrity news, beauty, fashion advice, and fascinating features, delivered straight to your inbox!