What I learnt in 15 minutes from Kendall Jenner's make-up artist
How Hung Vanngo overhauled my bag up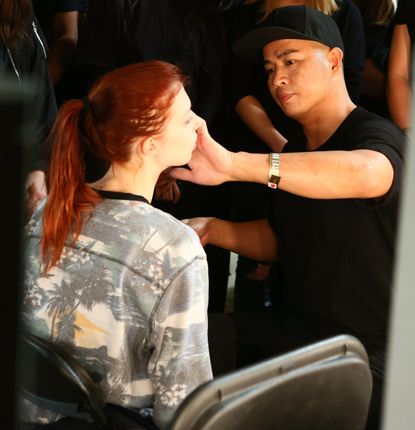 How Hung Vanngo overhauled my bag up
As a beauty editor I like to think I've got my make-up routine down to a fine art. Turns out, Picasso I am not. My liberal use of powder down a T-Zone that can't go an hour without showing up as an oil slick is making my complexion look 'blah'; the sliver of liner on the inner rim of my eyes is stunting their sex appeal and I definitely need to tone down my bronzer if I want to avoid looking like Lindsay Lohan circa 2010. All it took was 15 minutes sipping green juices with Marc Jacobs' Global Make-up Ambassador Hung Vanngo (FYI he with the Instagram feed that reads like the who's who of Hollywood) for me to erase two decades of bad make-up practice, swear off black eyeliner for good and defy my genes with the smoothest skin of my life. What in, too? Then read on…
Lesson 1: Always wear primer
Over the years, one too many sticky encounters with primer that resembled snail slime/snot/super glue had turned me off this undercoat for foundation. But as Hung points out, by skipping this step I'm missing a big anti-ageing trick: "Primer evens out the skin, knocks back oily zones and ensures your foundation goes on smoother. Choose one that is free from heavy silicones – it's a more modern formula that feels like a serum on the face." Actually, he's right. I opt for REN Perfect Canvas, £50 - there's no pilling when I apply my foundation and the combo seems to have life-proofed my base for the duration of the day. Any fine lines remain plumped up, making my skin look altogether fresher.
Lesson 2: Use eye make-up brushes
Confession: I often do my make-up on trains/buses/backs of taxis. And yes, more often than not my ring finger is my tool of choice to get that imperfectly smudged-out, lived-in eye make-up look that cool French girls seem genetically predisposed to. "The trouble is, the natural oils on the tips of your fingers make it much harder to blend eyeshadow so the finish can look muddy." Not exactly what I had in mind when channeling my inner Charlotte Gainsbourg. Time to switch it up and invest in a shadow and blender brush.
Lesson 3: Warm up a smoky
On the subject of shadow application, I've always found the smoky eye a bit like beachy waves – the pros make it look easy, but IRL it takes a lot of practice to perfect. While I love black eyeliner, these days a palette of slate greys around my eyes is also just too severe and ageing, which is why this look had been left on the backburner. "Ditch the grey tones and black eyeliner and choose browns instead as they warm up the face," advises Hung, whose signature AW17 smoky involves teaming the new Marc Jacobs Eye-Conic Palette in Scandalust, £39, with the Highliner in Brown(ie) or Fine(wine), £20 each. "What's key with a smoky is to create a multi-dimensional effect using two different textures: shimmer in the inner corners of your eyes and matte shadows to add definition. Concentrate the darkest colour and the most depth on the outer corner of your eye." As I have almond eyes I should also go thicker on the liner along my lower lashline and taper my flick up to really make them pop. And yes, burgundy near the eye can be tricky but somehow it works. Rather than looking like I pulled an all-nighter, my eye whites seem impossibly brighter.
Lesson 4: Wear highlighter the right way
I love the idea of highlighter – that dewy skin finish that is supermodel DNA and looks like your face is consistently bathed in flattering candlelight. Sadly, past experiments on date night have fallen woefully short of that effect (read: I was a deadringer for CP3O). "For a really natural finish, look for a highlighter with minnescule sparkles," says Hung. "Then thin it out by mixing it with a few drops of primer and dab into onto cheek and brow bones."
Lesson 5: Don't swirl your brush in bronzing powder
Done right, bronzer looks expensive – as if you've spent two weeks in St Barts. I always thought this luxe finish was down to the product itself – hence I have a draw overflowing with so many gleaming powders, cream sticks and gel bronzers it would make RuPaul blush. In fact, it's about making the simplest tweak to your application. "Most women swirl their brush into the bronzing powder and then work it over the skin in circles," says Hung. "This picks up too much powder, making it harder to blend. Instead, lie the brush flat on its side and dab it into the powder. Then lightly drape the sides of the brush over your skin working in a figure of 3 over your forehead, cheeks and along your jawline for an airbrushed effect. Finish with a swish down the bridge of your nose." Literally, obsessed.
Lesson 6: Over-draw your lip line
At the Emmy's I was less concerned about the dresses and more obsessed with the sheer number of pillowy pouts that appeared on the red carpet. And no wonder when you find out it's all down to simple make-up trickery (i.e. no fillers required). "Start with nude liner – I like Marc Jacobs (P )Outliner Longwear Lip Liner in (Nude)ist, £18 – and draw slightly over your natural lip line on the top lip only. Then fill the rest of the lip in with liner, too, to give your lipstick extra staying power." Finish with a nude shade of lipstick over the top and blend the edges (Hung matched my skin tone to the Marc Jacobs New Nudes Sheer Gel Lipstick in In The Mood, £25). Hello fuller, poutier lips.
Voila! I've been Vanngo'd!!
Celebrity news, beauty, fashion advice, and fascinating features, delivered straight to your inbox!
Fiona Embleton has been a beauty editor for over 10 years, writing and editing beauty copy and testing over 10,000 products. She has previously worked for magazines like Marie Claire, Stylist, Cosmopolitan and Women's Health. Beauty journalism allowed her to marry up her first class degree in English Literature and Language (she's a stickler for grammar and a self-confessed ingredients geek) with a passion for make-up and skincare, photography and catwalk trends.