Want your make-up to last all night? Try the latest Korean beauty trend, Jamsu
If you're game enough, that is...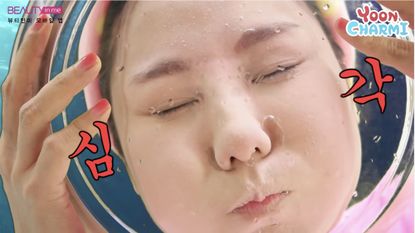 If you're game enough, that is...
If we were to ask you what which part of the world you consider to be the beauty mecca of the moment, where would you say? Because we would hands-down say South Korea. It's where we adopted K-beauty from, including sheet masks, an 11 step skincare routine and cushion compacts. So whenever there's a new technique or trend revealed from this beauty destination, we literally drop everything and embrace it full-heartedly.
Enter Jamsu.
It sounds counter intuitive, but according to Korean beauty gurus, head-planting a bowl of ice water is the key to incredibly matte skin and smudge-free make-up. Roughly translated to 'diving' or 'submerging', the technique was invented by a Japanese beauty blogger and simply involves a bottle of baby powder and a basin of water. Stay with us.
After applying primer, concealer, and foundation to clean, dry skin, you pat handfuls of baby powder on top. Similar to baking. Then, you plunge face-first into a bowl of cold water and stay there for around 30 seconds. Hot tip: if you have dry skin, don't leave your face in the water too long - after all, this technique makes your skin matte.
Love beauty? You have to check out our sister site, Powder. Start by finding your holy grail foundation here!
When you emerge from the water, you're meant to pat your face gently with an absorbent paper towel and ensure no traces of baby powder have been left behind.
You should notice that your skin feels smoother and make-up, like liquid eyeliner, brow pencil and lipstick is applied much easier. But the real astonishment of this technique, is that your make-up will stay put for hours and remain smudge-free for as long as you wear it. So things like blusher (which, let's face it, is always the first to leave) is still in place at the end of the night.
Questions is, are you game enough to plunge your face into a bowl of ice cold water? We're not sure we're quite ready for that, yet.
Celebrity news, beauty, fashion advice, and fascinating features, delivered straight to your inbox!