Yes, you're right in thinking TikTok's birthday make-up trend is steeped in misogyny—here's why
It's my birthday, I'll do full glam if I want to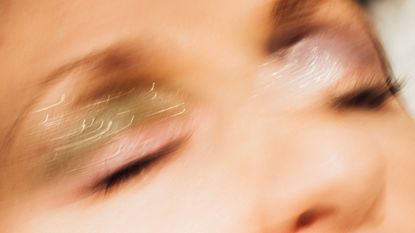 (Image credit: Getty Images)
If you're asking me, the best part of any birthday (minus the flowing champagne) is the getting ready part. I love planning my outfit, visiting one of the best nail salons in London to get a fresh mani with the latest nail trend and then, best of all, spending some time on my make-up. As a beauty lover, creating a super-special look is the most exciting part of the day.
So, when I first saw the birthday make-up trend on TikTok, I was totally outraged. Just when I thought Andrew Tate getting arrested aroused some sort of hope within me, the ugly birthday make-up trend arrived.
What is the ugly birthday make-up trend, I hear you ask? In short, there's a few videos gaining traction on TikTok and they don't promote the sort of message either gender needs to be receiving. A clip of The Disruption podcast, in which two men sit and discuss the reasons in which they really dislike it when girls wear 'birthday make-up'. Yes, really. Because it would seem we live in a world where woman wear make-up for men—*eye roll*.
"Birthday make-up, we need you to give it a rest," the TikTok clip starts. "You know when girls say that they don't wear make-up for guys? Birthday make-up makes me believe it." Yes, here we go again.
"What is up with birthday make-up and why is it from the pit of hell?" one questions.
Other supposedly comedic TikToks have gone around before in which men joke about leaving their girlfriends at home if she has birthday make-up on. And while it's all quite gross, the most disturbing part of the whole thing is the sheer number of comments from other accounts agreeing.
While, to me, the misogyny is blatant and transparent—it appears others don't see it that way. However, in the run up to my own birthday, I wanted to really get to the bottom of this grotesque TikTok trend once and for all.
What *actually* is birthday make-up?
#birthdaymakeup currently has 137.5 million views on TikTok, and over 30,000 searches on Google. In essence, birthday make-up is that full-glam, camera-ready make-up look that is so special, you only pull out all the stops for on your birthday. For me, that means a flawless base, sharp cheekbone-defining contour and a bold lip. It's also one of the only occasions I get my favourite false eyelashes out for, too.
I know that my birthday make-up look will be in every photo and every memory, so it's only natural that I want to spend a healthy amount of time on it and go all out in the process.
"Birthday make-up is like red-carpet glam. It's you, but the best you. No disguise—just celebrating your beauty and enhancing it by using a look that makes you feel the most beautiful," says celebrity make-up artist Buster Knight.
Why is the birthday make-up trend problematic?
Think about the previously mentioned definition of birthday make-up and it's not hard to see the misogyny. Our birthday make-up looks are often when we feel our most beautiful—sometimes being the one night a year we really choose to celebrate our beauty. And it's this very notion that makes the birthday make-up TikTok trend so deeply misogynistic.
It seems as though what the birthday make-up TikTok moaners are really trying to say is that they don't like it when women chose to express themselves. They would, instead, I suppose, prefer women to opt for a no-makeup-makeup look without even a smidge of a flaw left on our faces. They want us to look good but not have to try to look good.
Beyond that, the idea they share that we are doing make-up for men is completely absurd. It's 2023 and there are genuinely men who have never tried to do a full glam look in their lives commenting on how our makeup turns out. I can't get over how ridiculous it all is. I would love to see one of them try to execute a smokey eye that looks this good.
I'm found having to remind myself there is nothing wrong with birthday make-up—even if I completely flunk my winged liner. It's my birthday so I can do whatever I like. Despite the podcast, I know that my make-up is for me and it's what makes me feel good. I know for certain that I have never done a make-up look with a man in mind.
My birthday make-up
To remind myself of the above facts, I decided that 2023 would be the year of my biggest and best birthday make-up look yet. When they go low, my highlight goes higher.
My birthday make-up prep started at least a week prior to the event. In the lead-up, I used the Omorovicza Deep Cleansing Mask twice a week to fight off any breakouts and ensure a smooth complexion to act as a good base for my make-up. A long-wearing foundation is a must-have for me if I want my make-up to last the whole night, plus I didn't want to risk any flashback in pictures.
I reached out to Buster for some advice before heading out to celebrate. His top tip for birthday makeup? "Stay in your comfort zone when it comes to ability. For example, if you know you struggle with liner, don't start on the day you want to wear it. Practice every day leading up to your big event." And while the advice is good, I didn't have any time to practice my winged liner, but I winged it anyway and smoked it out when it didn't go to plan. It's my birthday, I'll have messy eyeliner if I want to.
The results? I spent the whole night feeling (and looking) great.
From here on out, I don't want to see a single ugly birthday make-up video on my For You Page. It's way past time for men to stop commenting on our faces.
Celebrity news, beauty, fashion advice, and fascinating features, delivered straight to your inbox!
Dionne Brighton is a writer at Marie Claire UK, specialising in all things shopping, beauty and fashion. Born and raised in North London, she studied Literature at the University of East Anglia before taking the leap into journalism. These days, you can find her testing out the latest TikTok beauty trends or finding out what the next full Moon means.