L'Oréal partners with Net Zero Now to support high street hair salons
The Net Zero Salons Programme launches to support salons through the process of becoming a Net Zero business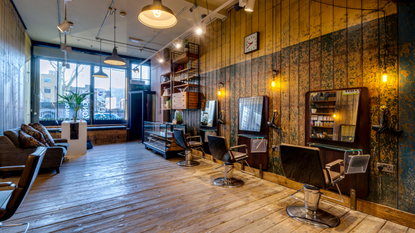 (Image credit: L'Oreal)
In a positive move for the environment, L'Oréal and Net Zero Now, the climate action platform, have partnered to develop an industry-first initiative, the Net Zero Salons Programme, to enable hair salons to embark on the journey to Net Zero, open to salons across the UK and Ireland.
The Net Zero Salons Programme guides salons through the process of calculating, tracking, and reducing greenhouse gas emissions through tailored carbon reduction plans, with the ultimate ambition of certifying as a 'Net Zero Salon'. Developed by Net Zero Now in partnership with L'Oréal, as well as involving peer reviews and input from across the industry, the programme is based on a salon-specific roadmap and tool for measuring, tracking, reporting, and reducing greenhouse gas emissions.
With approximately 31,000 hair salons up and down UK high streets, they unequivocally play a significant role in the beauty economy. Data from the initial Net Zero Salons Programme pilot estimates that the average salon appointment produces 3.1kg of greenhouse gas emissions. In line with Science Based Targets, the programme aims to empower salons and clients alike to play their role in taking carbon reduction action and recommends that salons on the programme work towards a benchmark of 2kg per salon appointment. If all salons in the UK achieved this benchmark, the industry could remove approximately a third of its greenhouse gas emissions.
As our habits and expectations on sustainability are evolving, recent L'Oréal surveys found that nearly half of British women said they made more sustainable choices in 2022 than in previous years, and when looking more specifically at salons 43 per cent wanted to see their salon doing more to be sustainable, and nearly a quarter said they now expect a beauty or wellness service provider to be committed to reducing their environmental footprint.
Adam Reed, hairdresser and salon owner of Adam Reed London is delighted to be one of the first salons to be part of the L'Oréal and Net Zero Now 'Net Zero Salons Programme', and he sees sustainability as something that is incredibly important to him, his team, and his clients, who actively ask about and want to see him taking action.
"I have been embarking on my salon's sustainability journey for some time and new tools like the programme protocol are invaluable for our sector. The tool has helped me to understand where I am at on my journey by calculating and tracking, and has importantly helped me to accelerate with a personalised reduction plan to make my salon business more resilient for the future."
Now more than ever – especially post pandemic – salons play an essential role on our British high streets and local communities. Millie Kendall OBE, CEO British Beauty Council, believes salons have the power to "not only inspire confidence and promote wellbeing, but to be an advocate for positive change – not only from a business perspective, but extending to influencing consumer habits on important topics such as sustainability. This new Net Zero Salons Programme, coupled with L'Oréal's new educational offerings to help upskill hairdressers on sustainability, is really empowering the salon sector to play its role and take action."
The programme aims to make the journey to becoming a "Net Zero Salon" accessible for all salons by providing personalised and actionable recommendations – from switching to renewable energy and becoming more energy efficient, to improving waste treatment and management, to reducing water consumption and heating, to incentivising employees with ride to work schemes or encouraging public transport options. The programme is open to salons in the UK and Ireland who can discover more and sign up to the programme now: www.netzero.salon
Leading names in the salon industry, including London's Adam Reed, Manchester's Trevor Sorbie, and Scotland's Linton and Mac, were amongst the 17 salons who enrolled on the Net Zero Salons Programme pilot to help develop this industry-first actionable salon carbon footprint tracker and roadmap.
The Net Zero Salons Programme is only the start - it forms part of L'Oréal Group's wider 2030 sustainability roadmap, L'Oréal For The Future, a set of measurable targets on climate, water, biodiversity, and natural resources. As part of this roadmap, L'Oréal is committed to supporting its partner salons - and the wider industry - to adopt more sustainable business practices through its Hairstylists for the Future programme. This programme has been developing innovative solutions to support salons across environmental pillars, such as waste, through a partnership with the Green Salon Collective and water, providing solutions for responsible water use and lowering water consumption with the new L'Oréal Water Saver, a shower head that uses jet-fusion technology to significantly reduce a salon's water consumption at the backwash, which is set to roll out in a few months.
Celebrity news, beauty, fashion advice, and fascinating features, delivered straight to your inbox!
An award-winning health and beauty writer, stylist and creative director, Lisa Oxenham is one of the UK's top beauty editors and the Beauty and Style Director at Marie Claire UK. With 20 years of editorial experience Lisa is a brand partnership expert, and a popular speaker, panelist and interviewer on a range of topics from sustainability to the future of beauty in the digital world. She recently spoke at Cognition X and Beauty Tech Live and is on the Advisory Board for the British Beauty Council's Sustainable Beauty Coalition.
A well-respected creative director she works on celebrity, model and influencer shoots with the highest calibre of photographers, filmmakers, make-up artists and hairstylists to create timeless images, attention-grabbing videos, digital events and masterclasses. Most recently Lisa has directed covers such as Lily Cole and Jameela Jamil, films such as Save The Arts featuring Francesca Hayward and sustainable fashion shoots such as Be The Change. Supporting the beauty industry over the pandemic has been a top focus, directing the British Beauty Council's six inspirational short biographical films for their Bring Back Beauty campaign.
Lisa is a wellbeing and beauty influencer with a focus on mental health and a large and engaged audience on Instagram, Facebook and Twitter.