I just asked 4 of the most stylish French women I know what their go-to perfumes are
And they're not what you'd expect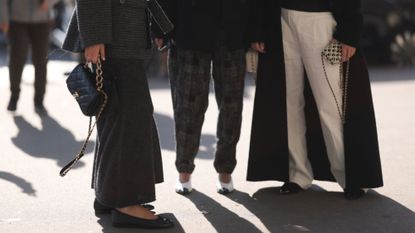 (Image credit: Photo by Jeremy Moeller/Getty Images 1431983796)
If you've been on TikTok lately, then you will have definitely seen the viral video of a French women being asked what the best perfume in her collection is. The clip has racked up a casual 15.6 million views and counting, with hundreds of people rushing to buy the lady's signature scent.
If you're wondering what the fragrance in question is, it's none other than Narciso Rodriguez's Musc Noir Rose. The creamy perfume contains notes of fresh bergamot, spicy peppercorn, vanilla and patchouli, and it lingers on the skin all day long.
After smelling it myself, I was immediately transported to the streets of Paris, standing under the twinkling lights of the Eiffel Tower. According to our (potentially stereotyped) British views of French women, they practically ooze sophistication. But it got me wondering, what other perfumes do French women actually wear?
Luckily for me, I'm in a position as a journalist to reach out to four of the most stylish French women I know to find out, and they were more than happy to share their go-to perfumes. Keep on scrolling to find out what their signature scents are, and for more fragrance inspiration, don't forget to check out our guides to the best long-lasting perfumes and the best fresh perfumes to see you into spring and beyond. If you want to try a classic French perfume, then my guide to the best Chanel perfumes should do the trick.
Franny Monzemba (@frannfyne)
1. Maison Margiela Springtime in a Park
Maison Margiela Springtime in a Park Eau de Toilette
Key notes: Pear, bergamot, blackcurrant, lily of the valley, jasmine, rose, musk, vanilla and ambrox
First up, a fresh, floral fragrance by Maison Margiela, recommended by the queen of vintage fashion, Franny Monzemba. "This particular scent is perfect for spring. I love it so much, and my husband has also started wearing it!"
With fruity notes of pear, blackcurrant, floral notes of lily of the valley and jasmine and a sweet touch of vanilla, it makes a perfect everyday option.
2. Givenchy L'Interdit
Givenchy L'Interdit Eau de Toilette
Key notes: Mandarin, bergamot, orange, tuberose, jasmine, orange blossom, vetiver, patchouli, cistus flower and sandalwood
Another one of Franny's favourites is L'Interdit by Givenchy. "It's a classic. Feminine, elegant and timeless all at once. No wonder it's so popular." Opening with citrus notes of mandarin, bergamot and orange, the perfume features a floral heart of patchouli and cistus flower with a rich sandalwood base. The result? A sensual scent with a refreshing edge.
3. Yves Saint Laurent Libre
Yves Saint Laurent Libre Eau de Parfum
Key notes: Tangerine, neroli, lavender, jasmine, orange blossom, vanilla and white musk
Franny says that this scent by YSL perfectly represents a strong, French woman. "It's bold, delicate and free." It's no surprise that one of the key notes is French lavender, combined with fruity notes of tangerine and creamy notes of vanilla and white musk. When they come together, the result is a fragrance that's truly unique.
Ellie Delphine (@slipintostyle)
4. Christian Louboutin Beauty Loubiraj
Christian Louboutin Beauty Loubiraj Eau de Parfum
Key notes: Suede, cedar and pink pepper
Ellie Delphine, also known as @slipintostyle on Instagram, says that Loubiraj by Christian Louboutin is her go-to perfume. "It's the most incredible scent I've ever worn. It's very potent, and I always leave a powerful woody floral trail behind me whenever I wear it. People will stop me on the street and ask me what perfume I'm wearing. It's sensual, intriguing, seductive and intoxicating, I'm addicted."
Violette (@violette_fr)
5. VIOLETTE_FR Avec Amour
VIOLETTE_FR Avec Amour Perfume
Key notes: Amber, santal, vetiver, ylang-ylang and bergamot
French make-up artist and creative director of make-up for Guerlain, Violette knows a thing or two when it comes to beauty. Her favourite perfume? One from her namesake brand. "Avec Amour, my love perfume."
"It's the last step to my beauty ritual every morning. I like to apply a warm layer of Avec Amour on my neck and décolleté…or areas where I like to be kissed. Its roll-on application is more intimate than a traditional spray perfume. It's a musky, vetiver fragrance that aims to give you a warm hug and a scent that is uniquely your own."
Tamara Mory (@tamaramory)
6. Buly 1803 Eau Triple Scottish Lichen
Buly 1803 Eau Triple Scottish Lichen Eau de Parfum
Key notes: Moss, sage, Tonka bean and galbanum
Photographer and content creator Tamara Mory loves this scent by Buly 1803. "I love it because it's really soft. Also, there's no alcohol in the formula, so I don't feel guilty about spraying as much as I want on my neck as I know that it's gentle on the skin." Although the brand is based in Paris, this scent is inspired by the Scottish hills. Think rich, woody and earthy notes.
Celebrity news, beauty, fashion advice, and fascinating features, delivered straight to your inbox!
Grace Lindsay is currently Junior Beauty Editor at Who What Wear UK and previously was Marie Claire UK's E-Commerce Writer. With over three years of experience in the fashion and beauty industry, she covers everything from the best make-up and skincare deals to how to shop the stand out trends of the season. When she's not typing away at her laptop, Grace can be found shopping her favourite vintage markets IRL, or catching up on her never-ending list of books to read.