10 Things You Didn't Know About Your Bikini Line
What were women really doing with their bikini lines in 2013? We investigate...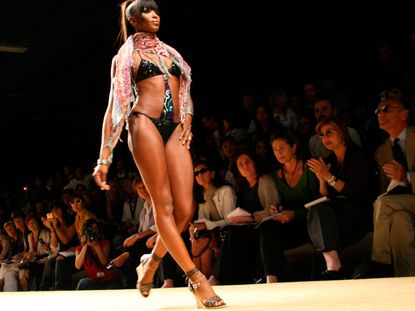 (Image credit: Rex Features)
What were women really doing with their bikini lines in 2013? We investigate...
1. Bikini Waxing Follows Seasonal Trends 'The heart Brazilian is always very popular on Valentine's Day,' says Chloe Scriminger, Salon Trainer at Ministry of Waxing. 'Whereas at Christmas time we get a lot of requests for Christmas trees. One of the most popular shapes will always be an initial though, whether that's their's or a partner's.'
2. A New Type Of 'Selfie' Is Causing A Rise In Buttock Waxing 'With the introduction of a 'belfie' [a self shot of your behind, over one shoulder made famous by Kim Kardashian, Lady Gaga and Rihanna] more women are booking in for a full Hollywood wax and buttocks. Photo sharing sites like Instagram have made what was once a taboo subject something people open up about and share,' says Chloe.
3. The Olympics Encouraged Men To Get Intimate Waxes 'Every male competitor in the 2012 Games had smooth hair-free skin - from the swimmers to the gymnasts - causing men to up their game in the grooming stakes. They now go for 'boyzillians' and choose to remove all of their body hair,' explains Ministry of Waxing's Chloe Scriminger.
4. Celebrities Are Teaching Us It's Not Just Bikinis We Need To Wax For 'The effect of celebrity on society is becoming very obvious, just take Gwyneth Paltrow's sheer panel premiere dress for Iron Man 3. Celebrities are well groomed from head-to-toe and never seem to be underprepared for a red carpet or public event. That's becoming the way that women want to be,' says Carleigh Rayner, Head Therapist at Strip Waxing Boutiques.
5. You Can Book Your Next Wax On Facebook 'More and more people are using social media platforms to book in a wax. Our therapists also have their own Twitter pages to offer help and advice to our clients, and we use iPads to show our clients videos and past campaigns of our treatments,' tells Chloe.
6. Bikini Waxing Can Be More Slimming Than Your Control Underwear 'It's now popular for clients to request 'flattering' shapes from their waxes,' says Strip Boutique's Carleigh Rayner. 'For example, the higher you keep your pubic hair, the longer your legs will look because that's where your legs stop.'
7. Reality Television Shows Are Creating The Trends In Bikini Waxing 'Laser hair removal is a big trend at the moment thanks to the Kardashians, where fans watched Kim Kardashian have her entire body lasered to remove hair,' says Carleigh. 'Due to the popularity of programmes such as The Only Way Is Essex introducing the Vajazzle, we are also getting more requests for "completely hair free, with a bit of bling",' agrees Ministry of Wax's Chloe Scriminger.
8. The Recession Is Having The Opposite Effect On Our Grooming Spend 'If anything, the recession has increased women's dedication to beauty. Beauty is affordable, accessible and makes people feel good, and confident about themselves.' says Carleigh.
9. You May Not Know Where Your Hair Really Grows 'Not everyone knows that the inner labia doesn't grow hair; it's the hair on the outer labia that we want to get at,' explains Intimate Waxing Expert Kim Lawless. 'Most women try home hair removal but always return to waxing. It's difficult even for a pro to wax herself, so you can imagine the complications with trying to wax in those regions yourself.'
10. Not Everyone Who Says They Can Wax Is Qualified 'You might be surprised to learn that there's currently no requirement in the UK to have specific training for Brazilian waxing, so be wary. If a therapist is qualified in basic waxing; legs etc, they're likely to be covered by their insurers to do Brazilian waxing but it is a true skill. For example, a wax spatula should be dipped once, applied to skin and thrown. Don't be embarrassed to ask your waxer not to double dip,' advises 'Wax Queen' Kim Lawless.
Celebrity news, beauty, fashion advice, and fascinating features, delivered straight to your inbox!