James Corden can do no wrong in our eyes – but getting Adele onto The Late Late Show is an absolutely stellar move.

In what has become one of our favourite bits of James's Stateside show, Adele and James go for a little drive and a round of Carpool Karaoke.

It will come as no surprise that Adele's voice sounds as glorious as ever, even when riding through traffic – but it may come as some surprise that James is rather skilled at providing the backing lyrics.

The video kicks off outside Adele's house, with James picking up the phone and saying (predictably): 'Hello, it's me. I was wondering if after all these years you'd like to meet?'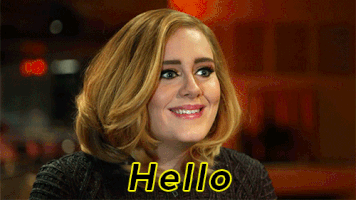 Source: giphy
Of course, she does want to meet – and after hopping into the car, the pair begin to sing her hit song,
Hello
, before discussing what Adele should do with her hair.
'Aww thanks,' says Adele after James compliments her new 'do. 'I'm tempted to wear a wig… I can't work out whether I should wear a wig or have a weave.'
James wonders why on earth she is seeking his hair advice, saying 'I mean, what I like is that you're coming to me for this advice' – and they then begin to singa bunch of the songstress's most famous tunes, which is when James shows off his excellent skills as a backing singer – plus, some interesting dance moves.
All we're saying is, this is not an advert for road safety, but it could well be one for dodgy – but adorable - dad dancing.
Adele even raps in the video, launching into a brilliant rendition of Nicki Minaj's
Monster
- and also reveals she got drunk three nights in a row over Christmas.
In the video, she also talks about being mates with Beyonce - and announces that
25
will be the last album named after her age.
But we don't want to spoil it all for you... watch the video below:
James has previously entertained the likes of Stevie Wonder, Justin Bieber and One Direction in his car, as well as celebrities including Mariah Carey, Iggy Azalea and Rod Stewart.
Any chance we can go in the back of the car next time, please?
Watch the teaser below...
What do you think of this Carpool Karaoke pairing? Let us know @marieclaireuk